Are there careers for pedophiles in the justice system? In positions where they can support pedophilia by "bending" justice? Positions where they can act in a manner of supporting co-pedophiles to continue in their lusts? Where leniency can be exhibited with dismissive attitudes towards exploitation crimes against the weakest and most innocent in society?
https://www.sydneycriminallawyers.com.au/blog/family-law-system-grants-access-to-child-sex-offenders/?fbclid=IwAR0jSYspRHct2CBY9QenI_TXvoHcXwpUqUu8QaRnqycJYLPwejg9UtKDcz8
Bravehearts is a child sexual assault awareness organisation with a focus on prevention. They recently released a report of an independent inquiry into the experiences of families in their dealings with the family courts.
The report title Abbey's Project identifies fourteen more case studies where children have been put into the care of a parent or carer, who's either been convicted or under suspicion of child sex offences.
In most of the cases, the crimes were carried out against their own children and yet the parents were still given unsupervised access.
Europäischer Gerichtshof spricht Sex mit kleinen Kindern heilig

European Court of Justice sanctifies sex with young children
Red. 26 Oct 2018 foreign countries 2 comments
What flourishes Switzerland in rejecting the self-determination initiative, shows a judgment of the European Court of Justice. According to him, an Islam saint should not be called a "pedophile" who approached and had sex with a 9-year-old. Now many EU citizens are wondering if these judges themselves have pedophile tendencies or just not all cups in the cupboard anymore.
The European Court of Human Rights confirmed on Thursday a scandalous decision of a Viennese court. A Viennese woman said in a lecture on the Muslim saint Mohammed, "A 56-year-old and a six-year-old? What do we call it, if it is not pedophilia? »
Affirmation of Islam against freedom of expression
This Prophet Muhammad, according to tradition, had sex with 9-year-old Aisha bint Abi Bakr, the youngest and third wife of this "saint" whom he married when she was 6 years old. That's historically proven. Some contemporaries would say afterwards that he was a "kiddie". But the Viennese did not want to express that hard. She said, among other things, Mohammed "liked to have a little something with children".
Because of this factually correct statement, the Supreme Court had sentenced her to a fine for degrading religious beliefs, so the woman brought the case to the ECJ. That should not have done better.
"Foreign judges" in Strasbourg confirmed the first judgment of the Vienna court on Thursday. The woman was fined almost 500 euros and paid the costs of the proceedings.
https://www.dailymail.co.uk/news/article-6635731/More-2-000-sex-offenders-spared-jail-went-reoffend.html?fbclid=IwAR2VU-idKIdA4hsyPZzjQgoMbptvh670eOKISxwLL-yhjUQlEMkYq76BRjw
More than 2,000 sex offenders who were spared jail [by judges]  in the past five years went on to commit similar sickening crimes. Official figures reveal that 2,026 sex offenders in England and Wales who were convicted between 2014 and 2018 had previously escaped a prison sentence for a sex crime. They include 389 cases in 2018 – an average of more than one a day. The statistics, released by the Ministry of Justice following questions from former Cabinet Minister Priti Patel, have raised fresh concerns that victims are being let down. The shocking figures come days after official Home Office figures showed sex attacks increased by 14 per cent in the year to September. Only 7.5 per cent of reported sex crimes resulted in charges.
Numerous examples of the soft justice scandal include Rhys Miller-Offiong, who was given a suspended sentence in 2017 for grooming a girl under 16 to engage in sexual activity. Three months later, he raped a woman. Woolwich Crown Court heard how the 24-year-old – who was jailed for 15 years in December – created fake social media profiles to lure women into sending him explicit photographs so he could blackmail them into performing sex acts. In another case, Kevin Hollingshead was spared jail for persuading children to play 'strip Twister' and for downloading hundreds of extreme images in 2014. His barrister claimed that sending him to prison would prevent him being rehabilitated, telling the judge: 'He would never repeat such actions.'  Within two years he was locked up for inciting a 13-year-old girl into sexual activity and distributing indecent images. Lieutenant Colonel Mark Smyth was spared jail in 2013 for having 5,000 indecent pictures of children. But weeks later, the commanding officer in the Royal Electrical and Mechanical Engineers was caught taking pictures of little girls changing on a beach and later jailed. And former Sergeant Major Jonathan Sword received a suspended sentence in 2016 for having extreme pornography on his laptop. After that case, a girl came forward to say he had previously carried out a 'terrifying' sex attack on her, yet he escaped prison again last year. Last night, Miss Patel said the figures should act as a 'wake-up call' for the Ministry of Justice, which is planning to scrap all prison sentences of under six months to ease pressure on overcrowded jails. 'Simply avoiding sending criminals to jail in the first place will have huge repercussions for the public's safety,' she said.
https://mobil.stern.de/panorama/stern-crime/crime–wie-die-polizei-einen-kinder-sexskandal-vertuschte-8796888.html?fbclid=IwAR0WYG_nfnU3fCgHxuABTwlngZ0_Mbrx3OwTkJ6Px4WAhvgvvq63o6M32PE
Dozens of men abused girls from the lower classes for years. The investigation was suppressed. Former police officer Maggie Oliver now describes how inhumane her superiors thought about the abused girls. In Rotherham and Rochdale, the largest abuse scandal in the UK occurred. Several groups of men abused countless children and teenagers for years. Then there was the tremendous suspicion: The authorities knew about it and covered the perpetrators. The reason sounds absurd. The authorities wanted to avoid racial tensions, because the perpetrators were of Pakistani origin. At that time there were complete lists of abused children but no actions of the police. The procedure was always the same. The victims were white girls, about eleven years old and mostly from the nursing home. First they were approached by young men who became their "friends", who then passed them on to older men for sex, they were threatened with beatings and there was also a bit of money, Oliver reports about sex parties, in which 20 men over one little girl attacked.
Oliver had a waterproof case together. She had DNA evidence, detailed statements, and eight identified perpetrators. But when she went to her superiors, she realised that something was wrong. Nobody congratulated her. "They should have been ecstatic, instead the situation felt like someone had died." Then came the shock of her life as a policewoman. A senior official turned to her and said, "Maggie, let's be honest, what will these kids ever do to society, I mean, they should have drowned the girls after they were born."And so was the investigation. Oliver was withdrawn from the case. Amber was not called as a witness. In order to use their statements nevertheless, Amber was listed as perpetrator.Instead of several dozen perpetrators, eight men were sentenced in 2012. Maggie Oliver was not silenced, she collaborated on the "BBC" docudrama "Three Girls," aired in 2017. At that time, only two offenders were in custody. The authorities have not forgotten the humiliation of the much acclaimed BBC series. When Amber gave birth to her second child, the Social Welfare Office immediately wanted to prevent her from taking the child home with her. Documents that proved that the baby was at risk did not exist. Since then, Amber has been persecuted by employees of the Office.
https://thecount.com/2020/02/10/lawyer-patrick-francis-lomax-attorney-child-pornography-charges/?fbclid=IwAR2tKeY7uzICuYKLU7Gcri1aGXWD-7fhpi6HymtdKWP5Az3YEcTEa43l0ts MEDIA, PA. (THECOUNT) — Patrick Lomax has been identified as the prominent Delaware County lawyer arrested over multiple child pornography charges including "Photographing and Videotaping."
https://www.sydneycriminallawyers.com.au/blog/police-protect-paedophile-within-their-ranks/?fbclid=IwAR34r1sreRIjJXAU1FzeDgyQKRbrapZTenkQdpOjUu-p5FbGw64mShv4Dfg Police Protect Paedophile Within their Ranks The Crown Prosecutor told the court that the officer asked one boy, who was under the age of ten, if he would like to see the police station. He took the boy to a room within the station that had a bed, then raped him. On another occasion, a girl attended the police station for help after losing her mother at a nearby festival. The officer said he would look after her, then took her into the back of a police van and forced her to perform oral sex on him. Others victims included his three stepchildren, his children's friends and neighbours. The officer used his uniform to gain the trust of the children he molested. One woman whose son was abused reported the incident to police. Officers visited her at home the next day and assured her that the offender would not be in the police force anymore; but that did not occur. It was only later that the organisation forced the officer to resign, but he was never arrested or charged over the offences. He gained employment in the private sector, going on to sexually assault children for at least another four years. He is now 66 years old. The former officer, whose name has been suppressed to protect the identity of his victims, has pleaded guilty to 18 offences against nine children, including his own stepchildren, which were committed between 1967 and 1979. His step daughter, now 45, testified that when she was 15, her grandfather helped her go to police and report the abuse, but was told the man "would probably get off because he was an ex-cop". Police began formally investigating the former policeman decades later, in 2011, and he was arrested in 2012.
https://holliegreigjustice.wordpress.com/2019/01/09/160-cops-involved-in-rotherham-cover-up/?fbclid=IwAR1FjPJ6qP1umzbvT32Dz6I05a-FJLh1rg21jDHaM2i0CQDZwzBAv4CZpfk Investigators are ramping up their probe a year on from the publication of the explosive Jay Report, which uncovered the shocking scale of child rape, trafficking and grooming going on in the South Yorkshire town.The report was scathing about the conduct of police and council officials, who routinely ignored the industrial scale of abuse, instead treating the victims as troublesome teenagers. The IPCC has received 47 referrals from South Yorkshire Police since the publication of the report, involving more than 100 allegations of misconduct. A spokeswoman said: "Analysis of all the referrals has so far identified more than 60 officers.
https://www.telegraph.co.uk/news/2017/02/28/police-chief-calls-low-risk-paedophiles-spared-jail-officers/?fbclid=IwAR0mJI2LtjaA4FZW39V8JEBkLCoW9mSP7rUa_S2XhwgiAqYLj6t4qv5rd3s A leading police officer has said that paedophiles who view indecent images should not be charged and taken to court unless they pose a physical threat to children. Simon Bailey, the National Police Chiefs' Council lead for child protection, said low level offenders should simply be placed on the sex offenders register and given counselling and rehabilitation instead.
https://www.dailymail.co.uk/news/article-6035249/Police-officer-48-filmed-raping-baby-girl-jailed-16-years.html?fbclid=IwAR2QReTOtDeNGjAW75jVYUCkTe4zxlWI125LyK0Fzc1zlLKTasixNwbYXss PC Dean Roberts, 48, filmed himself abusing the 'helpless' infant – and sent the footage to other paedophiles on a messaging app. The former officer with South Wales Police was caught after another paedophile was arrested – and detectives traced child abuse footage back to their own colleague Roberts.
https://www.fox26houston.com/news/fmr-harris-county-constable-captain-accused-of-sexually-abusing-child-for-eight-years HARRIS COUNTY – Former Harris County Constable Captain Jack Hagee, 74, is facing felony charges for allegedly sexually abusing a child for eight years. The victim was 5-years-old when the alleged abuse began. (Note: I suspect he was the child's father.) According to court documents, Hagee started forcing the 5-year-old girl to have oral sex with him in 1989 at their Harris County home. She told investigators that Hagee began having sexual intercourse with her about three times a week by the time she started kindergarten. The victim says Hagee stopped having sex with her at the age of 13, because that's when she began menstruating. The victim described the abuse as a "full-on sexual relationship" that occurred in multiple places including their home, documents say. Investigators say the first person the victim reported her abuse was her aunt who told her husband, who happened to be Hagee's brother.
https://thewashingtonpundit.com/2019/06/03/victims-name-louisville-police-officers-in-pedophile-ring/?fbclid=IwAR0YpXIXyn3zcyRz52HZpc_cK9LjYOBFJ2WqQyq9KS_-fzruvuKyAHSGcU8 Victims name Louisville Police Officers in Pedophile ring. The city commissioned former U.S. Attorney Kerry Harvey to investigate the LMPD Explorers program for children. In a disturbing description to FOX News this week, one of the victims went into graphic detail on how he was abused and raped by people he looked up to. Two former LMPD officers have already been convicted of serious crimes, as The Free Thought Project reported, and the city, with good reason, wanted to know more about how police handled the complaints from parents and reports children were being groomed, propositioned, and even raped.
https://www.youtube.com/watch?v=rjSztuKnGeU&feature=share&fbclid=IwAR3JcrDB1yww2oa_i7FxwWCrW51ZQQcvcZwMyiXgHUjhhhcvlgvawef9ip8 UK Paedophile Rings & Cover Up go Right 'To The Top' [15:58] [Note: At 5:20 − 6:00 it is described how a judge blatantly ordered the destruction of photographic evidence against clearly identifiable pedophiles which depict them sodomising children]
https://www.telegraph.co.uk/news/uknews/law-and-order/10686128/Judge-aplogises-over-paedophile-campaign-links.html?fbclid=IwAR2Ihr6qqfXBEa_EWAyDp9PQx8r1c4tlST1FzH82IN58phCMptl4QFOa0sA Lord Justice Fulford was a founder member of a campaign group set up to defend the Paedophile Information Exchange (PIE) while it openly called for the age of consent to be lowered to just four, the Mail on Sunday (MoS) alleged. The Appeal Court judge said he had "no memory" of founding the Conspiracy Against Public Morals campaign. But he admitted he had been "briefly involved" in the 1970s with the National Council of Civil Liberties (NCCL), to which PIE was affiliated. Lord Justice Fulford, named last year as an adviser to the Queen, insisted that he has "always been deeply opposed to paedophilia" and felt "extremely uncomfortable" when PIE founder Tom O'Carroll attended meetings of the NCCL's gay rights committee. The MoS said its investigation found that Lord Justice Fulford set up a group to support the "executive committee" of PIE in the summer of 1979, after they were charged with the rare offence of conspiracy to corrupt public morals.In a statement, Lord Justice Fulford said his involvement in civil liberty campaigns in the late 1970s was concerned with "the way in which minorities were treated in the judicial process".
http://www.fox2detroit.com/news/local-news/wayne-county-family-court-judge-accused-of-helping-cover-up-child-abuse-of-own-grandson?fbclid=IwAR0iCffH6VLxTOMo4EBv2tKzYTMJRyE43WtBTaFbGQRX8Rgpxex–HzKUis DETROIT (FOX 2) – A Wayne County family court judge is being accused of helping her son cover up abuse of her grandson – but she says none of it's true. Tracy Green is a judge at the Wayne County Family Court. Her job is to determine whether children are being abused and to protect them. Her grandson says, she not only ignored how her son – who is his father – beat his kids, he says, she covered it up. "My dad would tell her about a bruise I had or something, and she'd put make-up on it 'cause we had to go to school and stuff and she didn't want people to see," her grandson said. "I didn't put makeup on any bruises, conceal any abuse, that is utterly preposterous," Green said. "It just didn't happen." The following is a portion of the 911 call made last summer: "He was beating his kids like, I'm talking about, he's been beating them for like 45 minutes. And this is like beyond a whooping. He was over there screaming and telling them, like, how he blacked their mama's eyes, he would kill everybody," the caller said. A second caller said the ruckus interrupted her slumber: "Woke me up out my sleep he was beating these kids so bad." When Detroit Police and Child Protective Services workers arrived, they found a house in chaos. Green's son, Gary Davis-Headd, admitted that he hit his then 8 and 10-year-old sons with a belt. The beating was so severe, CPS removed the boys and three other children from Davis-Headd's home. Over the next few months, the boys and their siblings told child welfare workers and testified in court that their dad (Judge Green's son) turned their cramped home into a house of horrors.
https://www.dailymail.co.uk/news/article-5571413/Dozens-paedophilesallowed-work-CHILDREN-winning-appeals-Victoria.html?fbclid=IwAR1eLpU9bYuBDje72E7zqPIgtRcHGICsQ6huv_LplmaWzKuol2C1duMiM3E PUBLISHED: 00:43 BST, 3 April 2018 Australia: Dozens of paedophiles, rapists and violent sex offenders will be allowed to work with CHILDREN after winning appeals •Victorian Civil and Administrative Tribunal overturned over 12 bans in five years •Successful appeals have been made by paedophiles, rapists and sex offenders •The court decisions have been slammed by victims and child protection groups
https://www.wsoctv.com/news/local/former-catawba-county-superior-court-judge-charged-with-sex-crimes-against-a-child/936107665?fbclid=IwAR3n1fmpKYPRfRCsAWfVwhALGcxOZ1cCdWtht-qvkpqad71qddrBqUkD010 ASHEVILLE, N.C. – A former Catawba County SUPERIOR COURT JUDGE, Dan Green,  is charged with sex crimes against a child after officers arrested him at a hotel near the Biltmore House. According to police reports, officers were called to a hotel near the Biltmore House over the weekend for a sexual assault of a child. Judge Dan Green was arrested and charged with sex crimes against a child, disseminating obscene material, and contributing to the delinquency of a minor along with providing alcohol to someone under 21. During that time, he also served as a judge, President of the Western Symphony, and Chairman of the Democratic Party of Catawba County and named "Citizen lawyer of 2018" by the North Carolina Bar.
https://www.henrymakow.com/loridouglassacndal_is_a_disgrace.html?fbclid=IwAR3PHmW4Gg0bMWY16QMYpBpG7JQg1899tEjBfhfm4iCTJu3KKmTmGqdQTm8 On May 19, 2005, Douglas was appointed a Judge of the Court of Queen's Bench (Family Division).  Lori Douglas is not just any judge. Since May 14, 2009 she is the Associate Chief Family Court Judge of Manitoba. Justice Douglas lies on a bed, eyes closed, her hands shackled to the bed frame. A topless Justice Douglas has a dog collar and chain around her neck. Her Honor is urinating on the grass."Waiting for Black C**k." Family Court Justice Douglas performs fellatio on a man. She claims to be an innocent victim, that her husband, Jack King, betrayed her by putting these pics on the Internet, but she is still married to King. "What do you think? Are you interested?" King asked  Chapman in a May 8, 2003 email. "I am making progress. She seems more interested at the moment in another woman + bondage, with her being the one tied up," King wrote. "She suggested this evening… that you should be invited out here," King wrote three weeks later.
Justice Douglas maintains that the facts "were well known in the legal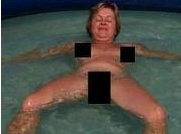 community" and even by the judicial committee which appointed her — right down to details about the nude photo which Douglas describes as graphic, explicit pictures including bondage. "Even the Chief Justice of the Manitoba Court of Queen's Bench was aware of the issue and supported her bid to become a judge, the documents state."
"Senior members of the bench and bar made it clear to Ms. Douglas that her husband's conduct did not reflect negatively on her. She was urged by them to apply for judicial appointment," her lawyers say.
https://www.dailymail.co.uk/news/article-7763841/Female-judge-Kentucky-accused-using-court-frat-house-threesomes-drinking.html?ito=facebook_share_fbia-middle&fbclid=IwAR3_0dgg455g24tAGsA4jbb42jQPTmDIpiOW2wpxLXB0ZKagDzp5rxBHKb8 Kinky Kentucky Family Court judge, 38, is accused of turning her chambers into a glorified frat house where she 'pressured attorneys into group sex and had a threesome with her secretary and former church pastor' Dawn Gentry is accused of having threesomes in her office with her secretary and a guitar player she hired to work in the court as her case specialist. She allegedly asked a female attorney to sleep with her husband while they were getting divorced so she could accuse him of infidelity. Gentry, it is alleged, also asked the woman to have group sex with her and the guitar player. Others claim they were replaced if they did not donate to her re-election campaign. The claims are part of an investigation by the Kentucky Judicial Conduct Commission. Family Court Judge Dawn Gentry allegedly gave attorneys preferential treatment if they appeased her sexual demands.  The 38-year-old has now been hit with nine misconduct charges.  
https://www.cbsnews.com/news/arkansas-judge-accused-of-trading-in-sexual-favors/?fbclid=IwAR0GNepSYQrNBuC_icjwAvNw_CS4NNUJFWnDX_O-R1SzZUq3D-79H9chlbc  An Arkansas district judge used his position to forge sexual relationships with litigants before his court, according to papers filed Tuesday with the Arkansas Judicial Discipline and Disability Committee.The filing details how Judge Joseph Boeckmann allegedly offered reduced sentences or dismissals of fines or other costs in exchange for sexual favours and relationships. It also claims he awarded "substitutionary sentences" to male litigants that involved "work" picking up cans, sometimes at his home, where he would photograph their buttocks. The alleged sexual relationships sometimes lasted years, including one from 2010 to 2015. Another man who was arrested on methamphetamine charges in 2001 allegedly kept personal belongings at the judge's home and stayed there from 2006 to 2011, well into his time as Cross County District Court Judge.
https://www.thetimes.co.uk/article/judge-pleads-guilty-to-child-porn-charges-m32bvf86lbr?fbclid=IwAR2uDKQx46Wdknw-H3GY-Nxq5AfwWgg_qIExFwHBWT92NVZ4LDR0PlGSosU David Selwood, 69, from Winchester, who stepped down as resident judge of Portsmouth Crown Court earlier this month, pleaded guilty to 12 counts of making indecent photos of a child in March and April this year.
https://www.dailymail.co.uk/news/article-151784/50-police-officers-arrested-child-porn-raids.html?fbclid=IwAR37HOUfA-JfvI3WBnI-A-lMJblOyHC41-qzg5fY4-kH-39_qp8DdEdjMGA Fifty police officers across the UK have been arrested as part of a crackdown on suspected paedophiles who pay to access child pornography websites, detectives revealed today. The officers were among 1,300 people arrested on suspicion of accessing or downloading indecent images of children – some as young as five – from US-based Internet sites.
https://www.dailymail.co.uk/news/article-7500769/Detective-child-protection-unit-accused-using-internet-groom-minor-sex.html?fbclid=IwAR1UA5TwLT3Qc-ohLMOWOb_4PrURTk53NBIbr4va0QJVspV-WtUk2HFq1l0 • Child protection unit detective accused of grooming a child online for sex. Charged with child grooming and using the internet to procure a child under 16. Detective Senior Constable Matthew Paul Hockley suspended from police force. He allegedly come in contact with victim while conducting an investigation
https://newspunch.com/pedophiles-children-spared-prison/ A Colorado Springs judge has caused outrage after refusing to sentence to prison two pedophiles who violently gang raped a 13-year-old, leaving her unable to have children. Instead of serving prison time, Tommy Williams, 20, and Clarence Williams, 19, were sentenced on Tuesday to supervised probation, KKTV reported, sparking outrage in the court room and the wider community. The pedophiles are two of six suspects accused of sexually assaulting the young teen. 13, in December 2016 inside of the Stonebrook Terrace apartment complex in Colorado Springs. The victim's grandfather was shocked at the sentencing, telling the news station: "There was six of them and they gang-raped my granddaughter."
https://www.pennlive.com/daily-buzz/2019/04/pa-man-accused-of-tying-down-raping-girl-over-2-year-period-gets-favorable-plea-deal.html?utm_medium=social&utm_source=facebook&utm_campaign=pennlive_sf&fbclid=IwAR2VHWbrO5B1rowWlMl2DxcAKGkqt0LLoVbdiopmMwU3CcE5aP2JYQkGqRQ&fbclid=IwAR2AVt7V23fJhg-C7sFUSQrUWm0UT7F1vreqoM6PENCcfDvZV7JuvOy6-mw The accusation is chilling, but the plea deal copped by the accused child rapist appears to be disproportionately favourable. As the Times Leader reports, Jermie Wolfe, 29, of Plymouth, Pa., was accused of tying down and raping or sexually assaulting a child repeatedly over a two-year period. The attacks began when the girl was 8. Police say the girl told them Wolfe would tie her down with electrical cords and stuff a sock in her mouth, raping her when her mother left the apartment to go to work or shopping. Yet, the plea he copped in Luzerne County Court last week saw charges of rape by forcible compulsion, involuntary deviate sexual intercourse with a child and statutory sexual assault all dropped by prosecutors under the deal. Instead, Wolfe pleaded guilty Thursday to one felony count of corruption of minors and a misdemeanor count of indecent assault by forcible compulsion. Luzerne County Judge Michael T. Vough accepted the plea.
https://www.rt.com/news/171868-australia-judge-incest-homosexuality/?fbclid=IwAR1Bz-MMjYLOpZD4cOSniFjr8HMhxU_-AFfoEGBBUb0Bt7C4Yue49WUW_5g An Australian judge has incurred the wrath of child protection and gay rights advocates after stating that incest and pedophilia may no longer be considered taboo – just as gay relationships are now more accepted than they were in the 1950s and 60s. District Court Judge Garry Neilson was recorded as saying that sexual contact between adults and children or siblings may no longer be regarded by society as "unnatural" or "taboo."
Just as same-sex relationships were once considered socially unacceptable, "a jury might find nothing untoward in the advance of a brother towards his sister once she had sexually matured, had sexual relationships with other men and was now 'available,' not having [a] sexual partner," he said, as quoted by Australia's Fairfax Media.
Neilson said that the primary reason for incest still being a crime is the high risk of genetic abnormalities in any children born as a result of the relationships.
"But even that falls away to an extent [because] there is such ease of contraception and ready access to abortion," he said.
He made the comments in April, in the case of a 58-year-old man charged with repeatedly raping his younger sister in 1981 in west Sydney.
https://stv.tv/news/west-central/1435005-mum-justice-system-failed-our-child-after-sexual-abuse/?fbclid=IwAR2b6ghFTvWfbY_R9R9scJd563lopE3XsaCdyTqI6-xoY-u2eFWOU2p7Z-k The dark crime of sexual assault against a child was something the mother saw in the news, a horror that happens to other people's families – not her own eight-year-old daughter. And when the perpetrator was revealed as the teenage son of a trusted family friend – a high-flyer destined for dental school – her shock was followed by anger, confusion and disbelief. The revelation led to an ordeal that left the family with more questions than answers, with the teenager found guilty by a sheriff but given an absolute discharge – meaning no criminal record.
https://www.perthnow.com.au/news/court-justice/mandurah-police-officer-charged-with-seven-counts-of-rape-ng-b881036515z A police officer has been charged with seven counts of rape in relation to an incident that took place in September. Sex Assault Squad detectives charged a 44-year old Sergeant attached to the Mandurah Police District with seven counts of aggravated sexual penetration without consent. Police allege the incidents took place at a private residence while the officer was off-duty on September 24. The officer has been stood down from operational duties and will appear in the Rockingham Magistrates today.
https://www.abc15.com/news/local-news/investigations/nanny-cam-catches-federal-agent-smells-girls-panties?fbclid=IwAR0txwU815Kd6G7uKJTSsfd8fsJhrWS4Qhg5KH5MJlP_jrIf5SZf2lPv8jU Deputy U.S. Marshal David Timothy Moon, 50, was touring a Phoenix home for sale last May. While his real estate agent was in another room, Moon went inside a 3-year-old girl's bedroom, according to a police report. He focused on the laundry hamper in the corner. He dug through the dirty laundry and pulled out what appeared to be the girl's underwear. Video shows, Moon appeared to hold the underwear close to his face and appeared to smell them. Minutes later, he returned to the bedroom for a second round with the preschooler's clothing. When he leaves the room for the second time, he appeared to notice the nanny cam. He quickly covered his mouth and said "goddamn it." ABC15 reviewed the video with forensic psychologist John Delatorre, and he described what he saw as "a compulsion." Dr. Delatorre said he has evaluated hundreds of sex offenders and was not personally involved in Moon's case. "This isn't someone who's unsure and needs to look around and tries to figure out — is this thing what arouses me?" Dr. Delatorre said. "He knows immediately."
https://thefreethoughtproject.com/chief-prison-sexual-assault-children/?fbclid=IwAR1hOhTXLPPrrCVCGYRZicA0XGQjuYLq7_6DnMcQVX_3giktTyREe3wxK3o  On Thursday, Asst. Porum Police Chief David Ray Kash, 49, was arrested and charged for crimes associated with the sexual assault of two small children: a nine-year-old and a seven-year-old. In this case, one of the victims actually called 911 to report the abuse in progress. According to the Muskogee County Sheriff's office, deputies responded to a 911 call on December 19. The caller — who was reportedly one of the victims — told dispatch that Kash was sexually assaulting them, according to an affidavit filed with the case.
https://www.t-online.de/nachrichten/panorama/kriminalitaet/id_87289722/bayern-landshut-polizistin-wegen-kinderpornobesitz-angeklagt.html?fbclid=IwAR0cUsYEaxK5DgMKU7CIDkzUUPD007T7-st-u-IHiLhEQcjeRzSaOxod36o Translated via Google: Germany, Europe: A female police chief is charged with possession of child and youth pornographic images. In addition, the Bavarian official is accused of several burglaries and violations of official secrecy by the public prosecutor. The prosecution in Landshut said that she was suspended from work. The defendant's [female police officer's] girlfriend at the time had already been sentenced to two years imprisonment by the Munich District Court at the end of 2018. "The case against the police officer, however, took longer because the investigation revealed more and more allegations," said the prosecutor.
https://www.koaa.com/news/news5-investigates/child-molester-who-was-given-probation-is-now-accused-of-molesting-more-young-girls?fbclid=IwAR3ICkEDaHy7vFZyavAkY2BzqpVQEW6GrezYJOm35ptGZx61pBW2luVYVkQ EL PASO COUNTY — Last year, News 5 Investigates questioned a controversial plea deal the 4th Judicial District Attorney's Office made with a child molester. Hector Gonzalez was able to admit that he assaulted a young girl in exchange for probation. Since our original story aired, we've learned that as many as 9 more victims have filed case reports with police, alleging they too were molested by the same man. "People go to jail for far less than what this man did," Valerie Montoya, one victim's grandmother said. "Why should he (Gonzalez) get to ride off into the sunset like he did nothing?"
https://neonnettle.com/news/7186-lawyer-who-defended-pedophiles-jailed-for-sexually-abusing-6-children     A lawyer who made a career from defending pedophiles and others charged with sexual offenses has been jailed for sexually abusing six children.68-year-old Michael Pulsford sexually assaulted three girls and three boys from a church youth group, forcing them to kiss him and touch him inappropriately, Southampton Crown Court heard.Pulsford even told one of his victims, 12, that he was attacking him because he was "pretty," prosecutors told the UK court.The offenses took place while Pulsford was a Christian youth group leader between 1974 and 1989.
https://www.watoday.com.au/national/western-australia/another-45-charges-for-former-perth-cop-accused-of-sexually-abusing-boys-20181108-p50evf.html?fbclid=IwAR2KcmHwBw7mYkG6GyU11tOXhDGq-KO0r5maYAbpKSVwpZ2n2aG4YWI4PaE
Initially former Perth cop Garry Edward Burton, 61, was charged in September with sexually abusing two boys between 2008 and 2011. There were 16 charges relating to these boys. On Thursday, he had 45 more charges read to him in the Perth Magistrates Court in relation to another two boys who were aged between 14 and 16 years old when they were allegedly sexually assaulted by Mr Burton between 1998 and 2004.
Mr Burton, who would have been aged 41 to 47 at the time of the alleged assaults, is accused of sexually penetrating the boys, indecently assaulting them, and forming an ongoing sexual relationship with them.
The Perth father was not required to enter a plea and spoke only to confirm he understood the new charges against him.
http://www.ky3.com/content/news/Ex-Webster-County-deputy-faces-new-charges-in-child-sex-abuse-case-475697913.html
Webster County DEPUTY faces new charges in child sex crime case
Brent Grey now faces three felony molestation charges and three felony statutory sodomy charges for sexual deviant acts involving a girl under the age of 14. Court documents indicate the abuse started sometime in 2012 and lasted about three years.
https://www.dailymail.co.uk/news/article-6112529/Woman-raped-serial-sex-abuser-policeman-slams-legal-technicality-kept-identity-secret.html?ito=social-facebook&fbclid=IwAR3-glBDdxntnt0wcZ_u2forEjVBk9AeK8MgBVIX5VqTU0wAM2JzGDmof1A Woman who fell pregnant at the age of 11 after being raped by a policeman, who sexually assaulted nine children, slams legal technicality that keeps his identity secret
https://eu.usatoday.com/story/news/nation/2014/05/21/child-porn-nyc-internet/9367471/  Jan. 13. A five-week investigation has resulted in child porn charges against at least 70 men and one woman in the New York City area. Tania Savayan, The Journal News, via AP. NEW YORK — Two police officers, a rabbi, a registered nurse, a nanny and a Boy Scout den leader are among 70 men and one woman arrested on charges of trading child pornography in what federal officials say is one of the largest-ever roundups in the New York City area. The arrests included a woman charged with producing and distributing child pornography involving her own child and a man who used hidden cameras to secretly film his naked stepdaughter. Still another defendant was already on bail following his arrest last year on charges that he used the Internet to direct women to record sex acts with young children. Court papers allege he "indicated the last video he had downloaded and viewed depicted a mother sexually abusing her 3- or 4-year-old child." One had been convicted and sentenced for raping someone younger than 11 years old.
https://www.thetimes.co.uk/edition/news/grooming-scandal-police-chief-is-new-slavery-tsar-wttg67mr9?fbclid=IwAR2owKJYP6aW03hOSHSXdaSbcKJ3RWDDZ-aM7E9Mbq4cJ96pNBJwBBKpKf8
A police chief who had to apologise for her role in one of the worst child sex slavery scandals in British history is set to be appointed the government's new anti-slavery head. Sara Thornton, head of the National Police Chiefs' Council (NPCC), will become Theresa May's independent anti-slavery commissioner later this year. She will be charged with leading the fight against slavery and sex trafficking across the UK. Thornton, 56, was chief constable of Thames Valley police in 2007 to 2015. The force failed to help up to 373 children, mostly girls, who were groomed, plied with drugs and alcohol and sexually abused in Oxford.
https://www.canberratimes.com.au/story/6116888/afp-officer-and-his-twin-brother-charged-with-child-exploitation-offences/?cs=14329&fbclid=IwAR0zAP7IOq35881x2y5-WlEcEFzpzVXJCTrwi33YEa9g0ugsH4vf1c5gNqM A federal police officer and his twin brother have been arrested and charged after police discovered hundreds of videos of child exploitation material in their Canberra home. Joshua Rod Tiffen and Kenan Lee Tiffen, both 41, appeared in the ACT Magistrates Court on Friday charged with one count each of possessing child exploitation material.
https://au.news.yahoo.com/a/34379580/nsw-police-senior-constable-charged-with-child-sex-offences/
The SERVING SENIOR CONSTABLE, a 48-year-old man, was arrested at Newcastle Police Station on Thursday February 9.
The arrest followed investigations by the Professional Standards Command, according to NSW Police.
It surrounded alleged historical offences from 2009, involving the alleged sexual and indecent assault of a nine-year-old girl in the Central Coast region, NSW Police said in a statement.
The officer was charged with sexual intercourse with a person under the age of ten and two counts of aggravated indecent assault.
http://www.dailymail.co.uk/news/article-5427615/NYPD-cop-denies-sex-minor-prostitute-15-despite-video.html#ixzz58918srUC
NYPD COP, Raul Olmeda, 40, is accused of having sex with the girl, 15, several times in 2017
Prosecutors say he taped their encounters which took place between January and April including one involving the teen's 24-year-old sister
He was arrested when NYPD colleagues looked into prostitution in The Bronx
A search warrant discovered the furniture in his home matching in the videos of the trysts- although he denied recognising it initially
The girl's father had to identify her in the lurid images during the Internal Affairs hearing on Thursday- Olmeda will face criminal charges in the Bronx in May.
He faces 67 charges including use of a child in sexual performance, rape and patronising a minor for prostitution.
The man is also accused in a separate tax fraud case. Prosecutors say he swindled $200,000 by not following the law.
http://www.dailymail.co.uk/news/article-3091071/PICTURED-State-trooper-let-Josh-Duggar-wake-alleged-child-molestation-charges-later-went-prison-child-pornography-charges.html
STATE TROOPER, Joseph T. Hutchens, who let Josh Duggar go in wake of alleged child molestation charges, later went to prison himself on child pornography charges.
He reportedly let Josh Duggar walk away after he was brought in by his father Jim Bob on alleged child molestation charges.
The officer, Hutchens, failed to follow up on these claims, it has been reported, and soon after he was in prison himself on child pornography charges.
https://www.youtube.com/watch?v=Dfa9SN_K6Ns Attorney Steve Levine discusses Cover-Up of Serial Child Molester and sheriff Kevin Duffy with LA Radio (4:26) For months KMIR news has been following allegations of an alleged cover-up in a child molestation case within the Riverside County Sheriff's Department.Whistleblowers believe the orders of the alleged cover-up came from the top; in an attempt to silence staff and prevent the arrest of one of their own officers. However, Sheriff Stan Sniff says these accusations are a political ploy just before a re-election run and are unfounded.
https://www.9news.com.au/2019/02/19/12/13/news-qld-sex-offender-robert-fardon-staying-metres-child-care-centre 9News can reveal child rapist and serial sex offender Robert Fardon has been staying in a Government Housing Commission property less than 100 metres from a child care centre. The house, which is privately owned but routinely used by housing commission tenants, is also on the same street as Salisbury State School. Local residents voiced their anger to 9News about Fardon being allowed to live so close to the school.
https://www.dailymail.co.uk/news/article-6715057/Chief-constable-calls-one-officers-locked-child-porn-images.html?ito=social-facebook&fbclid=IwAR3hHkaBkn7sjpNLlDzsvkGI8LtYLR3zVQfBZv_Ed6edEam02VvSOLw9jeM                       Lee Bartram, 44, an inspector based at Birmingham city centre at the time, was arrested last August after uploading illegal pictures to the photo-sharing website Tumblr. He was released on bail but re-arrested when an examination of his iPhone and iPad uncovered further images in a folder called 'Lads'.  Bartram, from West Bromwich, West Midlands, pleaded guilty to the offences which took place between October 23, 2011 and August 6 last year. Judge James Burbidge QC told Bartram his crimes had shown a 'a spectacular fall from grace to disgrace.' But he decided to suspend the sentence after describing him as a man of 'exemplary character' and said work colleagues had 'praised him in every manner possible.' The Police inspector who had led a campaign on the dangers of drug Black Mamba, was sacked from the force in September after being found guilty of gross misconduct.
https://www.bristolpost.co.uk/news/bristol-news/police-officer-who-encouraged-woman-2551922?fbclid=IwAR2ufufGaLQGRzSmwsRwkec1un59awaEyiMPWgaAVGsdHHcfYIzPcHjbCWw
Adam Leighton-Price, of Priory Road in Portbury, admitted arranging or facilitating a child sex offence between November 14 and 17, 2017. He encouraged an adult to engage in sexual activity with a child under 13. The Avon and Somerset Constabulary officer also admitted three counts of possession of extreme pornographic images, on November 18, 2017. Prosecutor, Giles Nelson said the grooming offence took place online: "He is asking a woman to get her own infant to sexually touch her. "It did not take place, because she rang the police." The exchanges took place on 'Kik Messenger Platform'. The court heard Leighton-Price adopted a pseudonym on a dating site where he met the mother of two children. "He lied about where he lived, and what his personal circumstances were," Mr Nelson said.
https://metro.co.uk/2019/04/18/lawyer-defended-paedophiles-jailed-sexually-assaulting-six-children-9257134/?ito=social&fbclid=IwAR0TF6j39PbxHt2yksguQQvlTGZpn-5dh6rzb_jGcz5i6iEyoqVIaWqqtEM
A solicitor who spent decades defending a series of paedophiles in court has been jailed for sexually assaulting six children. Mike Pulsford, 67, sexually assaulted three boys and three girls from a church youth group, forcing them to kiss him and touch him inappropriately. He even told one victim, 12, that the attack took place because he was 'pretty', Southampton Crown Court heard.Pulsford was one of the first in the country to receive rights of power to be heard in a crown court, despite not actually being a barrister. He then embarked on a career defending a number of convicted sex offenders and, at the time, Britain's youngest drink driver. But as one of his victims bravely faced him in court, they said that describing him as a man or even an animal would be a 'travesty'. The court heard that Pulsford started abusing the children, who were part of church group the Crusaders, now known as Urban Saints, as a 23-year-old. The court heard that he had pretended to live by Christian values, while taking advantage of his position as a volunteer.
https://www.independent.co.uk/news/uk/home-news/christopher-daniel-dental-student-sex-assault-young-girl-glasgow-punishment-scottish-labour-a8780831.html?amp&fbclid=IwAR3hv1d1frOdOEwbcrgDmV-202IEp7AtOb-Id14ow1HRyE8kHYIvpbDYDbI
Christopher Daniel, an 18-year-old dental student from Glasgow, was found guilty of repeated sexual assaults on the young girl over two years but was granted an absolute discharge by sheriff Gerard Sinclair. The teenager, who was aged between 15 and 17 at the time, will not be placed on the sex offenders register or have any criminal record.  Mr Sinclair noted the victim of Mr Daniel's sexual assaults "appeared to have suffered no injury or long-lasting effects".
https://www.independent.co.uk/news/uk/home-news/christopher-daniel-dental-student-sex-assault-young-girl-glasgow-punishment-scottish-labour-a8780831.html?amp&fbclid=IwAR2QoG275nOeyFPno3kKkzPEQParYcpID0WKvigwBL6z2cLP0-UtQj92uMk
Labour has called for new guidelines for sexual assault sentences after a teenager found guilty of attacking a six-year-old girl for more than two years walked free from court and faced no punishment. Christopher Daniel, an 18-year-old dental student from Glasgow, was found guilty of repeated sexual assaults on the young girl over two years but was granted an absolute discharge by sheriff Gerard Sinclair. The teenager, who was aged between 15 and 17 at the time, will not be placed on the sex offenders register or have any criminal record.
https://www.thesun.co.uk/news/uknews/8691581/mum-of-11-year-old-son-murdered-by-paedo-reveals-she-never-saw-her-little-boys-body-because-it-had-been-eaten-by-animals/
It would take the police 21 days to register Wesley, despite his tender age, as being abducted – three weeks that Liz recalls was torture for her family, who were out looking for Wesley day and night. 'His body had been eaten by animals' Weeks after his disappearance, Wesley's body was found in a remote area of woodland only miles away from his home – he had been struck over the head with a wrench, strangled and raped. Meanwhile, the investigation had turned on 18-year-old McKilligan after his social worker spoke out about his terrifying history of sexually motivated attacks on many children. A cheque was found in the teenager's apartment which was addressed to Wesley, linking the two boys – and when McKilligan was put under pressure by the police, he confessed to the heinous crimes. "McKilligan had even told a care worker that he wanted to murder my son," Liz painfully recalls. "It was in his diaries – if someone had seen those diaries it would not have cost me my son's life." "I met Dominic McKilligan at the side of the footie pitch once when I'd come looking for Wesley when he was late for dinner," she adds. "I didn't know his age, but he was young looking, so I thought he was someone's older brother. "But I didn't think anything of it with him being there – when he recognised me as Wesley's mum he ran off to collect him for me so I didn't have to climb the fence. He seemed like a normal young lad. "But he was a paedophile with more than 40 previous victims – I had no idea. I didn't have any idea until we sat down in the courtroom to charge him with Wesley's murder when the magistrate read out his previous convictions. We were completely in the dark."
https://voiceofeurope.com/2018/05/sex-between-a-23-year-old-migrant-and-a-10-year-old-girl-is-not-rape-says-court-in-finland/?fbclid=IwAR3-8bTNwobpw11VSHuWA5mVDOSjT4t63m_7jgvHTYPIrgKtSFtY-7Mdvxc#.XJAIhRxENrc.facebook
Finland's Supreme Court upheld the ruling, rejecting a request from the prosecution to appeal a three-year jail term for a 23-year-old asylum seeker who had sex with a 10-year-old saying it didn't constitute rape. The man is named as Juusuf Muhamed Abbudin and he was convicted of aggravated sexual abuse, which the prosecution had sought the harsher sentence of aggravated rape. The incident took place in autumn of 2016 in the southern Pirkanmaa region near the city of Tampere. He had sexual intercourse with a girl, 10-years-old at the time, after having exchanged sexually charged messages with her. The Prikanmaa District Court and the Appeal Court, in Turku charged the man with aggravated sexual abuse and a three-year prison sentence in 2017 saying the girl wasn't forced into the act or overcome by fear. The asylum seeker was also ordered to pay the girl 3,000 euros. It has sparked fierce debates across the country with Finland's Justice Minister Antti Hakkanen calling for tougher laws for sexual offences committed against minors.
https://www.pennlive.com/news/2019/03/pa-police-chief-charged-with-raping-child-who-was-assaulted-hundreds-of-times-attorney-general.html?utm_source=facebook&utm_campaign=pennlive_sf&utm_medium=social&fbclid=IwAR1YiVGKHeQX0pMy3sVQLOIjMm41th8Vzc2RAd9tjYDJDZNHXFwPtQtxOu4
Two men, one of whom is a police chief, are accused by the Pennsylvania attorney general of sexually assaulting a girl hundreds of times over the course of seven years. Brent Getz, 27, and Gregory Wagner, 28, both of Lehighton, were charged on Tuesday with rape of child, involuntary deviate sexual intercourse with a child, aggravated indecent assault of child, and several related charges. Getz is the chief of police for Weissport Borough Police Department in Carbon County, according to a news release from Attorney General Josh Shapiro.
https://www.nytimes.com/2019/07/16/us/los-angeles-police-rape-allegation.html  A Los Angeles County sex crimes investigator accused of raping a teenager after having been assigned to investigate her previous sexual assault allegations has pleaded guilty to lesser charges, and is expected to be sentenced to three years in prison. It was at least the third time the detective, Neil David Kimball of the Los Angeles County Sheriff's Department, had been accused of misconduct while on duty, though he was not charged as a result of the first two allegations. District Attorney Gregory D. Totten of Ventura County, whose office prosecuted the case, said in a statement that Detective Kimball, 46, met the then-15-year-old victim in 2017 when she reported a sexual assault. He befriended her and then sexually assaulted her, according to the statement.
https://www.dailyecho.co.uk/news/16310779.former-sports-coach-antonio-lawrie-who-sexually-abused-seven-year-old-walks-free-from-court/
Antonio Lawrie, an ex-apprentice at Hedge End-based sports firm My Coaching, faced more than three years behind bars after he was found guilty of assaulting the youngster numerous times. However, due to his "complex" learning difficulties, a judge at SouthamptonCrown Court ruled it would be unjust to send him to prison because he "would be taken advantage of both physically and mentally". The 22-year-old abused the seven-year-old child at least 16 times during a six-month reign of abuse.
https://thefreethoughtproject.com/top-swat-cop-arrested-child-ring/?fbclid=IwAR2vVbmdQclCl7WSK0u3rwDeshFSUmqhLAIP-2dYD_l-QeyP6wYk8c-jZrw
Livingston, LA — A high level Livingston Parish Sheriff's Office deputy — who commanded the SWAT team — has been arrested this week for unspeakable crimes against children. Dennis Perkins, 44, and and his wife Cynthia Perkins, 34, are accused of multiple counts of child rape and the production of child pornography, among other disturbing charges. On Wednesday, the couple was arrested after a months-long criminal probe headed up by the Louisiana Attorney General's Office. According to a source close to the case, the couple was seen in videos and photos committing unspeakable acts with naked children. Horrifying indeed. When police attempted to arrest Dennis (Denny) Perkins, he reportedly knew they were coming so he tossed his cellphone in a nearby river and fled. This move also led to the top cop being charged with obstruction of justice on top of the child rape counts.
WAFB 9 reports, that Denny Perkins was a lieutenant with the Livingston Parish Sheriff's Office Special Operations Unit (SWAT) before being terminated the week of Oct. 21. He was hired in 2002 from the Walker Police Department. This alleged child rapist commanded an entire SWAT division and was considered a "hero" by the community. After her arrest, his wife, Cynthia Perkins resigned from her teaching position at Westside Junior High School in Walker. It is currently unknown if the victims in the images were students of Cynthia's. The investigation found so much disturbing evidence against the Perkins that this top cop and his wife are facing more than 120 combined charges. Louisiana Attorney General Jeff Landry says Denny Perkins is charged with 60 counts of production of pornography involving a juvenile under the age of 13, two counts of first degree rape, three counts of possession of pornography involving a juvenile under the age of 13, two counts of video voyeurism, and two counts of obscenity, according to WAFB.
https://www.abc4.com/news/ag-ends-child-porn-investigation-against-former-prosecutor-who-committed-suicide/?fbclid=IwAR3TmOegkmL34AkMF9ma1tcab4gabstiV8Mb9yxxDKo0Af-vcz_RKxyojtQ
Child sex media investigation ends against former Prosecutor who committed suicide.
https://edition.cnn.com/2019/11/05/europe/madrid-protests-men-acquitted-of-rape-intl/index.html?fbclid=IwAR1nbl-3n0eotljKU8QRME2uToL7cM5E4SBAKR40K0EffRBUbSZYOuBUl2U
Hundreds of protesters gathered in Spain's capital Madrid on Monday night after a Barcelona court cleared five men of sexual assault charges, ruling the crime did not fit the legal definition of rape because the unconscious teenage victim didn't fight back. Under Spanish law, a sexual attack can only be classified as an assault or rape if the perpetrator uses violence or intimidation. Because the 14-year-old victim was unconscious, the five were convicted of a lesser charge of sexual abuse last week and sentenced to 10 to 12 years in prison, despite the prosecution arguing they should be charged with assault.
https://www.manchestereveningnews.co.uk/news/greater-manchester-news/iopc-operation-augusta-conduct-matters-17564099?fbclid=IwAR3U98MGe3y0l_8hwMRG5vJhBLyZfDIFq5dkHL9Oqr3RPrJBW_4YKDrnwOs
Greater Manchester Police confirmed it has referred itself to the IOPC, which will now assess if any matters should be independently investigated. Force bosses have apologised and confirmed 'vulnerable children were let down'. Assistant Chief Constable Mabs Hussain said as the report was published today: " I am sorry they were let down and I am sorry they were not protected from harm." It reveals in harrowing detail  how a grooming gang was allowed to operate 'in plain sight' across south Manchester, targeting vulnerable children largely in care homes. Operation Augusta was launched by GMP in 2004 after the death of 15-year-old Victoria Agoglia, who had told of her sex abuse at the hands of Asian men. But despite telling police, social workers and other professionals what was happening, they weren't stopped. "Perpetrators appeared to be operating in 'plain sight', hanging around in cars outside care homes and foster homes and returning young people to their care addresses." Greater Manchester Police however dropped the investigation due to resource issues. She died after she was injected by heroin by a man then aged 50.  Up to 97 suspected offenders were identified by GMP and at least 57 children believed to be potential victims. Eight of the men identified went on to rape or assault girls, for which they were convicted.
https://www.thesun.co.uk/news/10608517/inside-paedo-paradise-the-gambia-where-brit-sex-beasts-are-buying-african-children-and-toddlers-to-rape/
SICK SALES Inside 'paedo paradise' The Gambia where sex beasts are buying African children and toddlers to rape. TRAGIC Gambian children are being sold to British paedophiles for as little as £2-a-time by their desperate parents, Sun Online can reveal. Huge numbers of predators are taking advantage of lax laws in the poverty stricken African country to embark on sick child abuse holidays where they openly target little boys and girls. Sun Online saw first hand how poor Gambian children can be vulnerable to British paedos when we visited the beach resorts that dot Kololi on the country's picturesque Atlantic coastline. Our reporter was constantly shocked by the number of unaccompanied African minors he saw being cared for by middle-aged, Western men who did not appear to be their biological fathers. Father-of-four Abdullah Labamba, 48, runs a fruit stand next to one of the many hotels that line Kololi's palm-tree fringed beach and says he has witnessed paedophiles targeting vulnerable child workers selling peanuts for less than £1 a bag. He said: "I've seen white men approach the little boys and girls right here on the beach. I do my best to stop them. "I tell the children, 'Get out of here, this is not a safe place for you.' Tragically, child abuse is now endemic in The Gambia, where 60 per cent of the 1.9m population live below the poverty line. Previous research has shown that paedophiles often pose as charity workers and Good Samaritans so they can befriend poor families — and UNICEF has warned that The Gambia is one of Africa's top destinations for child sex tourism. The Gambian government meanwhile has tried to crack down and in 2013 introduced new laws allowing them to seize hotel properties if children are knowingly abused on the premises.
They also pledged to give out "hefty fines" and "stiff sentences" to paedophiles that are caught. But incredibly there has been only one successful prosecution since laws were tightened and that man ended up being pardoned by the president. Norwegian teacher Svein Agesandakar, 57, was found guilty of abusing six children, the youngest aged three, in 2006. The court heard how he had tricked his way into a hard-up Gambian family by posing as a do-gooder, giving the parents sacks of rice and new shoes in exchange for time alone with their large brood of six kids in a hotel room. The paedophile had separate convictions for child abuse in Norway but was sentenced to just three years in jail. Then again, in 2018 President Adama Barrow decided to pardon him for reasons that have never been explained.
https://edition.cnn.com/2019/11/04/health/child-sex-abuse-emergency-department-study/index.html?fbclid=IwAR0fsuQg1bAzuA94IBuuLQAcWn_N6s6vTV6bR6FhBX6neTkM85OgaD77czU
Child sex abuse cases treated in ERs rose more than 70% in seven years, study says The number of US adolescents admitted to emergency rooms for injuries related to sexual abuse more than doubled between 2010 and 2016, according to a new study. For kids ages 12 to 17, the number increased from 2,280 in 2010 to 5,058 in 2016. The study, published Monday in JAMA Pediatrics, found that the number of emergency department admissions for child sexual abuse jumped from 5,138 in 2010 to 8,818 in 2016, an increase of more than 70%. The authors don't know why the cases have gone up. "Rates of child sexual abuse have fallen overall since the mid-'90s," said author Jesse Helton, an assistant professor of social work at the College for Public Health and Social Justice at Saint Louis University. "We know that sexual abuse cases are hard to measure, but overall with the rates going down, it should be seen as alarming that the rates are going up in the ERs."
https://wgxa.tv/news/nation-world/mother-accused-of-performing-oral-sex-on-her-1-year-old-son-in-disturbing-video-06-14-2019-232958365?fbclid=IwAR2BaepTmyhr3KFc6sZ62j5CWANXNC53ixNTJXLrvH3iVofqTwqzVz8RX7Q
Mother accused of performing oral sex on her 1-year-old son in disturbing video Iyesha Todd was arrested and charged with first degree rape and incest. Police chief Kevin Ambeau said Todd accused police deputy Shadrick Jones of recording the video of her performing the sex act on her son and "coerced" her to do it, saying it was the police deputy's fantasy. Jones was charged with possession of child pornography and principle to first degree rape. "We believe that he was in possession of that video," said Ambeau.
http://www.kiiitv.com/story/28066907/falfurrias-officer-arrested-for-sexual-assault-of-a-minor
FALFURRIAS (Kiii News) –
A POLICE OFFICER with the Falfurrias Police Department has been arrested by the Texas Rangers for sexual assault of a minor. We are told the victim in this case is 16-years-old. The officer arrested, Jonathan Diaz, had been on suspension since last week when the Texas Rangers began investigating this case. 3news has learned that another Falfurrias Police Officer is being investigated for his role in this case.
http://www.local10.com/news/veteran-miami-dade-officer-accused-of-possessing-child-porn
MIAMI-DADE COUNTY, Fla. – A veteran Miami-Dade POLICE SERGEANT is back in jail facing charges on 12 counts of possessing child pornography.
James Edwards was arrested Thursday and taken to the Turner Guilford Knight Correctional Centre.
The 27-year veteran officer was already on house arrest from an open case from August.
According to documents, Edwards was first arrested after he brought two teen brothers to his home to do some landscaping.
He allegedly admitted to giving the teens marijuana, the drug "Molly" and then began touching himself and masturbating in front of the minors.
http://www.wftv.com/news/news/local/former-orange-county-deputy-convicted-sexually-abu/nkBJ8/
ORANGE COUNTY, Fla. — A former Orange County DEPUTY will spend the rest of his life in prison after he was convicted of sexually abusing a teenage boy.
Mercado was convicted Thursday night of having sex with a young boy.
In 2008, a man came forward saying that Mercado had sexually abused him while the then-young boy visited him at his home in 1992.
Mercado was a school resource officer when he met the child.
The man claimed he had been abused up until he was a teenager.
"This guy is right where he needs to be after his conviction. As law enforcement officers or former law enforcement officers we are not above the law," said Demings.
http://www.gjsentinel.com/news/articles/plea-rejected-for-retired-cop-in-sex-assault/
73-year-old Rodney Eddy on sex assault charges. Judge Robison's action Friday sets the stage for a likely third jury trial for Eddy, a former CHURCH DEACON, POLICE OFFICER, TEACHER and SCHOOL BOARD member.
"I cannot ignore the statements of (the victim) and the jurors who made findings," Robison said before sinking the plea agreement.
The latter half of the judge's statement was a reference to Eddy's second trial in 2010, when he was convicted of eight child sex-assault related felonies. Those convictions were wiped out last year when Robison ordered a new trial because of juror misconduct.
http://www.vancouversun.com/news/metro+vancouver+serial+child+rapist+disputes+computer+evidence+sentencing+hearing/11397826/story.html
Hexamer's LAWYER, Gary Botting, said police should not have been allowed to access his client's computer, which allegedly contained thousands of images of child porn. The sex assaults started in 1995 and ended in 2009, after Hexamer attacked a six-year-old girl in Surrey. He threatened to stab the little girl with a knife before forcing her 12-year-old brother and his 15-year-old friend to lay on the ground in the woods and look away while he sexually assaulted her.
http://www.alternet.org/news-amp-politics/judge-reduces-sentence-child-rapist-says-he-didnt-intend-harm-3-year-old-he
Rojano, who was convicted of lascivious acts with a child and of raping his toddler relative in early December, was accused of assaulting the young girl when she wandered into his garage while he was playing video games last June. He became sexually aroused upon seeing the three-year-old child, pulled down her pants and sodomised her. The girl's mother found the garage door locked when she went to look for her daughter, and the district attorney's office claims Rojano covered the child's mouth to prevent her from screaming during the assault. He eventually let her out of the garage, but the girl's mother did not know of the assault until her child complained of pain.
But here's what JUDGE KELLY had to say about Rojano's actions:
[In] looking at the facts of Mr. Rojano's case, the manner in which this offence was committed is not typical of a predatory, violent brutal sodomy of a child case. Mr. Rojano did not seek out or stalk [the victim]. He was playing video games and she wandered into the garage. He became sexually aroused but did not appear to consciously intend to harm [the victim] when he sexually assaulted her.
http://www.cleveland.com/rape-kits/index.ssf/2013/08/serial_rapists_terrorized_clev.html
Serial rapists terrorised Cleveland's women and children in 1990s, while POLICE SET CASES ASIDE.
Spurred by media reports of thousands of untested rape kits across the state, Ohio Attorney General Mike DeWine issued an open call in 2011 for law enforcement agencies to send the decades-old evidence to state labs for testing. Results began rolling in late last year.
Among the most stunning revelations from the testing is that at least 12 serial rapists, responsible for as many as 50 attacks were on the prowl in Cleveland in the early 1990s. But because some cases were ignored or quickly abandoned, more women and children were raped.
http://patch.com/michigan/novi/retired-cop-alleged-serial-rapist-child-adult-victims-0
POLICE: Retired Cop Serial Rapist Had Up to 50 Child, Adult Victims.
"Hundreds" of photos, some believed to be of victims as young as 13, were seized in four raids at former Michigan police sergeant's homes.
Lawrence B. Woods,66, a retired police sergeant raped upwards of 50 women and children while on duty from 1996-2000, authorities in the southeast Michigan city of Flint alleged at a news conference Friday after recovering "hundreds" of photos of victims snapped on police property and other locations.
Six of the charges were for the alleged rape of children under the age of 13, and some of them were 30-year-old, WJR and WEYI-TV report. Police believe Woods took the photos, which were date stamped, at his homes, in police vehicles, at the police station, and at a hotel.
http://www.thedailybeast.com/articles/2015/05/20/argentine-judges-dismiss-rape-of-6-year-old-because-child-is-gay.html
Argentine JUDGES dismiss rape of 6-year-old saying child has be sexually abused before and is 'gay' because he is showing homosexual tendencies.
This has also revealed a pair of judges with a long record of reducing sentences for sexual and gender-based crimes, including justifying a pastor's rape of two teenage girls because they belonged to a lower economic class.
http://www.ndtv.com/delhi-news/inapproriate-cops-response-to-allegations-by-5-year-olds-father-519620
NEW DELHI:  There was outrage in India today over the rape of a five-year-old girl in Delhi, who is now in critical condition in hospital.
The Delhi POLICE has suspended two OFFICERS for allegedly misbehaving with her father, who says he was offered Rs.2000 by cops to buy his silence.
http://scroll.in/article/744529/a-serial-rapist-and-errant-policemen-what-a-poor-family-went-through-when-a-child-went-missing
Why had the criminal JUSTICE SYSTEM JUDGE set free a man accused of raping a child? Who is responsible for the crimes that followed his release?
On July 14, a six-year-old girl went missing in Begumpur.
Two days later, the Begumpur police arrested 24-year-old Ravinder Kumar for the child's rape and murder. During the course of the interrogation, the police claims Kumar confessed to sexually assaulting and killing at least 15 other children in the past six years.
The confession made headlines. When questions were raised over why the police had taken so long to nab Kumar, a disturbing fact emerged: This was not the first time Kumar had been arrested.
In June 2014, a six-year-old boy had been sexually assaulted and left to die in Begumpur. He survived. His case led the police to Kumar. But 11 months later, on May 20, 2015, Kumar was released on bail.
http://www.dailymail.co.uk/news/article-2525722/Lostprophets-paedophile-Ian-Watkins-described-child-sex-abuse-crimes-mega-lolz.html
Three POLICE FORCES repeatedly ignored warnings that Ian Watkins was a dangerous pedophile.
Serious allegations dating back to 2008 were not investigated.
By the time he was charged six police forces had been flooded with tip-offs from appalled fans, former girlfriends and even Crimestoppers informants.
One former lover told four different forces about Watkins eight times over four years. She passed on the names, ages and addresses of the toddlers he would go on to subject to horrific torture.
But instead of probing the claims, officers warned her she could be charged with harassment.
Another lover, Joanne Mjadzelics, said the police failings led to the singer becoming increasingly brazen and believing he was invincible.
The 36-year-old was caught by chance – officers arrested him for drug offences last December and found a video of him attacking a baby. Even then he was twice granted bail before being charged.
http://www.cbs46.com/story/20440560/former-fulton-county-police-officer-found-guilty-of-child-molestation
FULTON COUNTY, GA (CBS46) –
A former Fulton County POLICE OFFICER, Michael Wilson, 32, was sentenced to serve 25 years in prison.
Wilson was arrested in November 2010, accused of molesting a 12-year-old girl.
According to Wilson's arrest report, he assaulted the child more than once, and held her against her will.
http://kfor.com/2018/02/05/thousands-sign-petition-calling-for-judge-in-shocking-oklahoma-child-rape-case-to-be-removed/
In the summer of 2016, a 13-year-old girl said she was raped by 36-year-old Benjamin Lawrence Petty while she was at a church camp at Falls Creek. Petty was reportedly a cook at the church camp.
According to court documents, the victim said that Petty told her he was going to show her how to perform tricks on a device he brought to the camp when he suddenly pulled her into his cabin.
"Petty closed the door to his bedroom, tied [victim's] hands behind her back, pulled down her jeans, pushed her face down on his bed, and violently raped and sodomised her," the document states.
He was later arrested and charged with forcible sodomy, first-degree rape, and rape by instrumentation. He faced a maximum sentence of life in prison.
In January, Petty accepted a plea deal and was sentenced to just 15 years of probation in exchange for pleading guilty.
Under the terms of the plea deal, Petty will also be required to wear an ankle monitor for the next two years and register as an aggravated sex offender.
http://www.local10.com/news/florida/miami-dade-county/former-miami-police-officer-convicted-of-child-molestation-sentenced
MIAMI – A former Miami POLICE OFFICER convicted of child molestation and downloading child pornography was sentenced to 25 years in prison Thursday.
Juan Roman, 57, was arrested last August after police raided his Biscayne Bay home, where they found numerous stashes of child pornography, including a video of him fondling a 6-year-old girl in his home.
Police said Roman also has a Batman fetish and often dressed up as the caped crusader and even had a tattoo of the superhero. They said he called the hard drive that contained more than 500 X-rated videos of young boys and girls the "batcave."
http://www.centralmaine.com/2014/11/04/ex-maine-state-police-chief-expected-to-plead-guilty-to-sex-assault/
Andrew Demers Jr., a 26-year veteran twice named TROOPER OF THE YEAR, pleads guilty to sexual contact
One of the mostly highly decorated police officers in Maine's history was sentenced Tuesday to four years in prison for sexually assaulting a 4-year-old child.
http://countercurrentnews.com/2015/09/convicted-prosecutor-tom-plea/#
Protesters have taken to the streets outside of the court house in San Angelo, Texas after a local PROSECUTOR's plea deal let a convicted child rapist (Thomas Boden) home without serving any jail time, or even requiring him to register as a sex offender.
Brittany Lynn Rosser explained that her boyfriend, Thomas Boden, 29, was drunk and apparently suicidal and homicidal after raping her daughter. She got home, her 2 year old daughter came out screaming, "My butt, my butt!" So Rosser, "laid her down and opened her diaper to find an enormous amount of blood and a clear vaginal tear." Then, she recalls, she "asked Annabelle what happened and she said, 'Tom hurt me with his hand.' I ran outside screaming and crying, pushed past several cops and asked Thomas if he touched my daughter. He didn't say a word, but had a slight grin on his face." ASSISTANT DISTRICT ATTORNEY Jason Ferguson issued a statement in response to protests that erupted from members of the community, saying that prosecutors did what was in "the best interest of the child".
http://https://www.youtube.com/watch?v=AcU10tWk5Cw
JUDGE gives Insanely light (1 year jail & 5 years probation) sentence for confessed 100 count rapist of a 6 year old child. A dangerously ill pedophile who justifies his behaviour saying the child was curious about sex. (00:4:06)
http://lakeexpo.com/news/lake_news/confessed-child-rapist-walks-free-after-case-dismissed/article_d3c24cca-7a82-11e5-a4f6-ff918b1fa9f3.html
On Friday, Oct. 23, the case against Fisher—who was charged with two felonies for forcible sodomy of a child—was dismissed by Cole County CIRCUIT JUDGE Patricia Joyce. She agreed with Fisher's defence attorney that the confessed rapist's Constitutional right to a speedy trial had been violated, and after six years of legal proceedings, he walked free.
"I have never in all my life seen such a horrible decision by a judge," said Ben Winfrey, Prosecuting Attorney for Miller County.
Fisher had pleaded guilty to committing two counts of forcible sodomy against his own 5-month-old infant daughter on Oct. 27, 2009, while the child was left in his care at their Brumley-area home. The child was transferred for emergency treatment to the University of Missouri-Columbia Hospital due to internal injuries resulting from the sexual assault, and an apparent skull fracture and broken bones.
http://www.huffingtonpost.com/2014/02/19/judge-g-todd-baugh-blaming-rape-victim_n_4814627.html
JUDGE G. Todd Baugh admits Fault After Blaming Victim In Child Rape, saying she looks older than her age of 14 years. But he defends lenient sentencing of one month prison, for school teacher rapist. Saying some will find the sentence lenient and some others will see it as harsh. The 14 year old rape victim committed suicide.
http://www.telegraph.co.uk/news/uknews/crime/11391314/Rotherham-child-sex-abuse-scandal-council-not-fit-for-purpose.html
Rotherham's LABOUR LED COUNCIL combined with a staggering culture of denial allowed more than 1,400 vulnerable girls to be routinely abused by gangs of Asian men, a withering report has concluded.
Children as young as nine were groomed, trafficked and raped by members of the town's Pakistani community, Councillors turned a blind eye to the appalling abuse for 16 years.
A damning report, written by former Victims' Commissioner, Louise Casey, has laid bare the true extent of the council's failings and accused those in charge of deliberately trying to cover up scandal and silence whistle-blowers.
The report also criticised the role of the police in the scandal, stating that there were "numerous occasions when girls were not believed".The report went on: "They were threatened with wasting police time, they were told they had consented to sex and, on occasion, they were arrested at the scene of a crime, rather than the perpetrators."
Her report, published in August revealed how the victims were routinely let down by those who were charged with safeguarding their welfare.
http://www.independent.co.uk/news/uk/crime/hundreds-of-potential-suspects-in-rotherham-child-sexual-abuse-scandal-10341929.html
Hundreds of possible suspects, including two serving or former Rotherham COUNCILLORS, have been identified so far by an investigation into child sexual abuse in the town, the National Crime Agency has said.
http://www.mirror.co.uk/news/real-life-stories/kidnapped-daughters-killer—only-3728024
For three long decades Andre Bamberski waged a tireless campaign to win justice for the daughter he was sure had been murdered. Pretty, sports-mad Kalinka, 14, was found dead in suspicious circumstances in 1982.
But a bungled investigation, disputed post mortem and conflicting medical evidence left Andre convinced she had been drugged, raped and murdered by the stepfather, suave CARDIOLOGIST Dr Dieter Krombach.
Krombach told investigators that the evening before he had injected his stepdaughter with iron and cobalt to treat anaemia and given her a sleeping tablet.
But a post mortem later found evidence that the teenager had been raped and had choked on her own vomit while she was unconscious.
Despite this, Krombach, a former DIPLOMAT with friends in high places, was never formally interviewed. German ­PROSECUTORS decided Kalinka's death was an accident and closed the case.
Krombach was convicted of drugging and raping a 16-year-old female patient. Five other patients came forward to make complaints of rape against him, but their testimonies were rejected owing to a lack of forensic evidence.
They included two sisters whose mother had been befriended by Krombach. He took them on holiday to London and the south of France where, they alleged, he gave them injections of iron and cobalt and raped them. One was just 14.
For raping the 16-year-old girl Krombach was given a two-year suspended sentence struck-off. But in 2006 he was found to be practising without a medical licence. He was prosecuted and served 18 months in jail.
French authorities eventually issued a European arrest warrant for Krombach but the GERMAN AUTHORITIES continued to block it. Kalinka's grey-haired paternal dad hired two men to kidnap Krombach from Germany and take him across the border into France.
They dumped him – bound, gagged and bleeding – outside a prosecutor's office in the town of Mulhouse, where police found him. In 2011, Krombach, 75, was convicted and jailed for 15 years for administering the injection which killed his stepdaughter.
http://www.telegraph.co.uk/news/worldnews/europe/germany/1423457/Woman-judge-ran-sex-ring-that-killed-boy-aged-five.html
A woman former lay JUDGE in a youth court in Germany is thought to have headed a child abuse ring that murdered a five-year-old boy.
Police have arrested 12 men and women thought to have abused the dead boy, his friend, now aged seven, and an even younger girl and possibly other children.
The boy, named only as Pascal, was killed in September 2001, according to statements made to police by several of the arrested adults. His body has not been found and a search has been taking place in a quarry just over the border in France.
The abuse took place in the back room of a pub run by the former judge, named only as Christa W.
She had legal custody of Pascal's friend when he was six, granted by a former colleague at the YOUTH MINISTRY who is now also under investigation.
He was removed from her care after complaining that she, her partner and his own mother and her boyfriend sexually abused him.
http://www.neonnettle.com/news/3383-pedophile-cop-caught-filming-child-porn-on-duty-using-police-equipment
Florida POLICE SERGEANT, Kyle A. Kirby, was convicted of raping minors, and producing and possessing child pornography using government equipment.37-year-old Kirby was found to be committing these horrific crimes while on duty using a camera and laptop that was paid for with tax-payer money.Instead of serving and protecting citizens, he was raping children and uploading videos of the attacks to a pedophile ring from his squad car computer.The former Live Oak Police Department sergeant was arrested on Oct. 22, 2015, when investigators searched his home and found indecent videos and images of children that had been cataloged using his victim's names, according to the U.S. Attorney's Office.
http://www.bangkokpost.com/news/general/767868/serial-child-rapist-killer-gets-third-life-sentence
On Tuesday, Nui – released from jail by a JUDGE on Aug 23, 2012 – was sentenced again for sodomising a seven-year-old boy on Phu Pha Sing mountain in Nong Ya Plong sub-district of Wang Saphung district, in the northeastern province of Loei, on Nov 10, 2013.
He lured the boy away from a fair at Wat Sri Udomwong to the mountain, where he abused and murdered him. His confession after his later arrest led officials to the body.
In March last year, the same man was sentenced to life imprisonment for the rape and murder of a 6-year-old girl known as Nong Cartoon. He lured her from her parents' pickup truck, where she had been left…
His first victim was a seven-year-old girl who went to a temple fair alone in Puai Noi on Jan 18, 2008.  He tried unsuccessfully to rape her, then to strangle her. The girl, however, survived, and identified him following his arrest. He served three years and eight months in prison in Phon district of Khon Kaen and was released by a JUDGE on Aug 23, 2012.
He told police he had attacked about 10 children, and killed four of them.
http://www.theage.com.au/articles/2002/10/28/1035683360144.html
Andrew Timothy Davies was found guilty by jury verdict in June of the rape and abduction of two girls in a Nagambie primary school last year.
It was the FOUTH time that Davies, 34, formerly of Ardeer, had been convicted of sex offences in schools and kindergartens.
http://www.essexchronicle.co.uk/Girl-filmed-paedophile-s-car-help-police-probe/story-26811743-detail/story.html
Darren Reynolds, 45, of Wagtail Drive, Heybridge, had asked the schoolgirl: "Do you like it darling?" while sitting on bench in Grange Hill, Coggeshall, with his penis exposed.
Yet police traced him after the "courageous" girl filmed his car registration plate, before singling him out in a police identity parade.
At his Chelmsford Crown Court sentencing hearing on Thursday, Patricia Lynch QC told Reynolds has 20 PREVIOUS CONVICTIONS for 61 OFFENCES.
https://www.theguardian.com/law/2018/mar/18/barrister-blows-whistle-on-broken-law-brought-to-its-knees-by-cuts?CMP=share_btn_fb
Courts that are like an A&E unit on a Saturday night, violent abusers walking free because evidence has gone missing, and lawyers doing hours of unpaid work to keep the system from collapse, are all part of a damning picture painted in a new book on the legal system by a barrister.
According to the anonymous author of The Secret Barrister: Stories Of The Law And How It's Broken, the courts in England and Wales have been brought to their knees by government cuts and left so plagued by daily errors they are no longer fit for purpose.
The identity of the writer of this fly-on-the-wall account of what goes on in courtrooms across the country is a well-guarded secret – and the subject of online curiosity among a Twitter following of 87,000.
http://www.dailymail.co.uk/news/article-2268395/Adil-Rashid-Paedophile-claimed-Muslim-upbringing-meant-didnt-know-illegal-sex-girl-13.html
Adil Rashid an 18-year-old muslim who raped a 13-year-old girl he groomed on Facebook has been spared a prison sentence after a judge heard he went to an Islamic faith school where he  was taught that women are worthless.
Adil Rashid claimed he was not aware that it was illegal for him to rape the girl because his education left him ignorant of British law.
Yesterday Judge Michael Stokes handed Rashid a suspended sentence, saying: 'Although chronologically 18, it is quite clear from the reports that you are very naive and immature when it comes to sexual matters.'
Earlier Nottingham Crown Court heard that such crimes usually result in a four to seven-year prison sentence.
But the judge said that because Rashid was 'passive' and 'lacking assertiveness', sending him to jail might cause him 'more damage than good'.
https://broadly.vice.com/en_us/article/59qm9z/eric-schneiderman-what-to-do-when-your-abuser-is-in-law-enforcement
New York ATTORNEY GENERAL Eric Schneiderman was accused of violent abuse by four women—and reportedly told one, "I am the law." This isn't an isolated attitude: According to research, at least 40 percent of police officer families experience domestic violence.
https://thefreethoughtproject.com/cop-rape-child-hospital/
Montville, OH – Former Montville Township, Ohio, police officer and former Wayne County probation officer, Carl Kannenberg, was charged with raping a 7-year-old girl while she was a patient at University Hospital in February.
According to the indictment cited by Cleveland 19, the law enforcement officer "is charged with committing anal penetration and with inappropriate sexual contact" for sexual assaults which Cleveland.com says occurred multiple times. Inexplicably, Kannenberg, 34, who was arrested on July 12, has since been released pending arraignment on August 17. Police sexual misconduct is so common that more than 1,000 officers have had their licenses revoked in just the last six years for it — nearly half of them involve underage victims.
http://news.bbc.co.uk/2/hi/europe/5187010.stm
Dutch JUDGE will allow pedophile group
A Dutch court has turned down a request to ban a political party with a pedophile agenda.
Judge HFM Hofhuis ruled that the Brotherly Love, Freedom and Diversity Party (PNVD) had the same right to exist as any other political party.
The PNVD was formed by three pedophiles in May, prompting outrage in Dutch society.
It seeks to lower the age of sexual consent from 16 to 12 and legalise child pornography and sex with animals.
"Freedom of expression…including the freedom to set up a political party can be seen as the basis for a democratic society," Judge Hofhuis said in the ruling, according to the Associated Press news agency.
"It is the right of the voter to judge the appeal of political parties," he said.
http://www.rgj.com/story/news/2018/02/03/ethics-complaint-filed-against-reno-judge-over-alleged-comments-womens-place/302958002/
Washoe County JUDGE Charles "Chuck" Weller allegedly made inappropriate remarks about women at a meeting on domestic violence in February last year, according to an ethical complaint recently filed against him.
Judge Weller, who issues and oversees applications for temporary protective orders, among other duties, is the second family court judge accused of ethical misconduct in the past month by the Nevada Commission on Judicial Discipline.
Weller was meeting with the Washoe County Domestic Violence Task Force when he said women should be worried about proposed cuts to the Violence Against Women Act. According to the complaint, Weller said the cuts "will put women back in their place."
Margie Chavez, an employee at the Domestic Violence Resource Centre, was among five women at the meeting. According to the complaint, she asked Weller, "Are you saying that we need to be in a place?"
The compliant said Judge Weller responded by saying: "Yes, the kitchen and the bedroom."
When reached by phone, Weller said he will be filing a response to the complaint through his attorney and declined further comment.
Pedophile, child killer Harold Smeltzer admits to being 'attracted' to underage girl while on day parole
Five-year-old Kimmie was on her way to kindergarten on Jan. 24, 1980.
Smeltzer kidnapped her. He went on to drown in her in a bathtub and dump her tiny body in a garbage. Her body was found the next day. He was convicted of first-degree murder.
But despite the recent incident, the board has extended Smeltzer's freedoms.
He's once again been granted day parole for the next six months and his overnight privileges have also been extended. The board has noted the seriousness of Smeltzer's crimes: he's admitted to as many as 40 sexual assaults against young girls. But it's not enough to revoke his day parole.
"The PAROLE BOARD is satisfied that your risk would not be undue on a further period of day parole and that your ongoing release will continue to facilitate your successful reintegration into the community."
http://www.masslive.com/news/index.ssf/2015/07/court_gave_child_rapist_facing.html
The level three SEX OFFENDER accused of sexually assaulting a teenage girl last week at his home in Westfield was GRANTED SOLE CUSTODY of his young daughter in 2010, despite a previous conviction for raping a child, according to court records reviewed by MassLive.
In 1998, Jesse James Caisse was sentenced to seven to 10 years in prison for forcible rape of a child. Yet in 2010, after his release and the completion of two years of probation, he was awarded sole custody of his biological daughter, then a toddler, by a Hampshire County Probate and Family Court judge. On Saturday, he was arrested on charges of indecent assault and battery after allegedly sexually assaulting a teenage girl who he had invited to his home to visit with his daughter.
http://www.dailymail.co.uk/news/article-2593119/Revealed-Multimillionaire-du-Pont-family-heir-spared-jail-raping-three-year-old-daughter-judge-decided-not-fair-bars.html
Shocking details have emerged of how a multimillionaire heir to the du Pont chemical business was convicted of raping his three-year-old daughter but escaped serving prison time after a Delaware Superior Court JUDGE ruled he would 'not fare well' in jail.
Robert H. Richards IV was charged with fourth-degree rape in 2009 after he admitted that he had raped his daughter almost a decade ago.
News of the shocking leniency shown to Richards, 46, only emerged on Tuesday in the details of a lawsuit filed against him by his ex-wife Tracy.
According to the lawsuit filed by Richards' ex-wife, he also admitted to sexually assaulting his infant son in addition to his daughter between 2005 and 2007.
Richards was initially indicted on two counts of second-degree child rape, felonies that translate to a 10-year mandatory jail sentence per count. He was released on $60,000 bail while awaiting his charges. Richards hired one of the state's top law firms and was offered a plea deal of one count of fourth-degree rape charges – which carried no mandatory minimum prison sentencing. Currently on probation, Richards has never been charged with crimes against his son.
Mandurah: man accused of paedophilic acts allowed to remain living with newborn twin daughters

A man accused of pedophiliac acts will be allowed to remain living with his newborn twin daughters it was decided in Mandurah Magistrates COURT JUDGE today.
The man, who cannot be named to protect the child victim, was accused of indecently dealing with his child. The child lives with the man's ex-partner.
Less than three months ago the man became a father again.
His bail prevented him from having access to children.
Counsel for the accused applied to have his bail amended so he could remain living with his infant daughters.
Magistrate Anne Longden granted the amendment with no objection given by the police PROSECUTOR.
http://fox8.com/2018/01/09/fbi-mahoning-county-judge-charged-for-stealing-cash-from-former-clients-home/
MAHONING COUNTY, Ohio – A Mahoning County judge is accused of stealing between $96,200 and $328,000 from a former client.
Judge Diane Vettori Caraballo, 49, of Youngstown, is charged with fraud, among other crimes.
Prosecutors say the judge was helping to draft a will when she was told about shoe boxes of cash left in the client's home.
The government claims she took the money, deposited it into five banks and didn't report it to the IRS.
http://www.telegraph.co.uk/news/worldnews/australiaandthepacific/australia/10958728/Australian-judge-says-incest-may-no-longer-be-a-taboo.html
"If this was the 1950s and you had a jury of 12 men there, which is what you'd invariably have, they would say it's unnatural for a man to be interested in another man or a man being interested in a boy. THOSE THINGS HAVE GONE," says a JUDGE Neilson.
Judge Neilson made the comments during the trial of a brother charged with raping his younger sister. The man has pleaded guilty to sexually assaulting his sister when she was 10 or 11 years old in 1973 or 1974 but has pleaded not guilty to charges relating to sex they had in 1981, when she was 18 and he was 26.
http://www.theaustralian.com.au/news/pedophile-granted-access-to-daughters/news-story/cbcf5370fc38f550b413e157672ff0ff
Pedophile (JUDICIALLY) granted access to daughters

COURT-ORDERED PARENTAL CHILD SEXUAL ABUSE NEWS REPORT (15:28)
http://www.philly.com/philly/news/20161221_Two_philly_judges_removed_from_bench_for_ethics_violations.html
The Pennsylvania Court of Judicial Discipline ruled on Friday that Municipal Court Judge Dawn Segal and Common Pleas Court Judge Angeles Roca be removed from office for their involvement in separate CASE-FIXING SCHEMES. In October, the disciplinary court found that Roca had unethically intervened in a tax case involving her son by calling then-Municipal Court Judge Joseph Waters Jr., who reached out to Segal, who then reversed herself and issued a ruling favourable to Roca's son.
Waters was sentenced in January 2015 to two years in prison for fixing cases on behalf of campaign donors and political allies. He was released about a month ago.
http://www.nydailynews.com/news/crime/deputy-ag-son-g-gordon-liddy-arrested-child-porn-article-1.3361570
A deputy ATTORNEY GENERAL in California, Raymond Liddy, who is the son of a notorious Watergate figure has been charged with possession of child pornography.
Raymond Liddy pleaded not guilty after being charged in San Diego federal court and was placed on administrative leave by the attorney general's office, according to the Union-Tribune.
Liddy was arrested Tuesday and released in lieu of $100,000 bond, the Union-Tribune reported. He has been fitted with GPS monitoring while under house arrest.
The son of former FBI agent and lawyer G. Gordon Liddy, according to CBS 8, Raymond Liddy is a Marine reservist who was educated at Fordham University in New York City.
http://kfor.com/2018/02/12/fire-department-re-elects-convicted-sex-offender-as-chief/
Back in 2001, Roger Gilbert was convicted of "involuntary deviate sexual intercourse" with a 4-year-old girl and served a five- to 10-year prison sentence. Roger Gilbert then listed as volunteer fire chief in the small Pennsylvania town of Spartansburg. In fact, the 43-year-old just got re-elected. The problem, though, is you'll also find his name listed in the state's Megan's Law database for sex offenders, reports the Corry Journal. Spartansburg is about 40 miles southeast of Erie, notes PhillyVoice, which points out Gilbert was elected twice to his post as chief by his fellow firefighters, not the public.
https://www.rt.com/uk/378882-pedophile-jail-police-bailey/
Pedophiles who view indecent images but do not molest children should not be jailed, Chief Constable Simon Bailey of the National Police Chief's Council and leading child protection police officer has said.
https://www.walesonline.co.uk/news/wales-news/married-police-inspector-admits-being-1807560
A POLICE inspector was part of a South Wales pedophile ring which regularly met online to discuss how they could abuse children under 13, a court has heard.
In the first case of its kind in South Wales, Geraint Lloyd Evans, 47, of Purdey Close, Barry, who was formerly stationed at Bridgend Police Station, admitted conspiring to incite engagement in unlawful sexual activity with a child under 13.
http://www.slate.com/blogs/xx_factor/2015/07/23/free_legal_representation_for_domestic_violence_victims_level_ground_for.html
Accused Batterers Get Free Attorneys. BUT VICTIMS OF Domestic Violence Don't.
https://www.dailytelegraph.com.au/news/nsw/dubbo-child-sex-predator-still-attends-same-church-where-he-abused-young-girls/news-story/a6bf0850058a2fdd351b39a501e70000
A CHILD sex predator spared jail because a JUDGE granted leniency for a series of bizarre reasons — such as his high cholesterol and sleeping problems — is still a member of the church where he abused young girls.
The 55-year-old Dubbo man — who can only be ­referred to as "TM" — was given a suspended sentence in June despite pleading guilty to eight child sex offences that occurred on two girls. They were aged just 8 and 10 when the abuse began. Judge John North granted "a discount" for a variety of "reasons" including that TM, who was aged from 19 to 26 (7 years) when the abuse took place, was "sexually inexperienced"
One of his relatives yesterday revealed he is still ­involved with the religion and regularly attends conferences where there are hundreds of kids.
The church cannot be named because of a non-publication order on TM's name and any information that could identify him.
One of the victims, whose name also has a non-publication order on it despite her wanting to speak out, said she had recently spoken to the church leader about her concerns but was ignored.
Chief Justice Tom Bathurst behind judicial paedophile and bribery cover-up evidence shows

CHIEF JUSTICE TOM BATHURST BEHIND JUDICIAL PEDOPHILE AND BRIBERY COVER-UP EVIDENCE SHOWS
Court evidence filed by NSW Police has the witness statement of NSW Supreme Court registrar Chris D'Aeth which shows Chief Justice Tom Bathurst has conspired with others since September 2016 trying to jail journalist Shane Dowling for making judicial pedophile and bribery allegations against 16 judges , including Bathurst, in an article he published in September 2016. The article is titled "Pedophile priest gets 3 months jail for raping 3 boys by NSW Supreme Court's Justice Hoeben" and also part of the police's brief of evidence. (Click here to read more) The allegations have gone unchallenged by any of the judges named by Mr Dowling in the article but Registrar Rebel Kenna did ultimately make a retaliatory complaint which led to the police charge.
What is very disturbing is that while Chief Justice Tom Bathurst were secretly trying to have Shane Dowling jailed he was jailed for 4 months by Chief Justice Tom Bathurst's Supreme Court in an unrelated freedom of speech matter.
Pedophile judges
There is no doubt there is a bribery racket in the NSW courts and a pedophile ring/protection racket. In the last few weeks alone Sydney magistrate Graeme Curran has been charged with historic child sex offences (Click here to read more) and District Court Judge John North gave a pedophile a suspended sentence and protected him by suppressing his name. (Click here to read more) Justice North needs to be sacked then fully investigated.
Kerry Stokes' involvement
Seven West Media's lawyers have been working to get access to the police evidence. One has to assume that Seven's owner Kerry Stokes is worried there is evidence in the police file that he is involved in the judicial bribery and/or pedophile ring as I have written numerous articles accusing him of judicial bribery which he has never denied.
https://today.rtl.lu/your-luxembourg/opinion/a/1437008.html
In his reply to a parliamentary question by Nancy Arendt in 2017, former Minister of Justice Felix Braz attached statistics on "offenses of a sexual nature or of a sexual connotation committed against a minor." There were 25 new cases revolving around potential pedophilia and child sex abuse in 2013, 48 in 2014, 41 in 2015, and 49 in 2016.
Luxembourg's courts condemned 10 people in 2013, 15 in 2014, 18 in 2015, and 20 in 2016. In other words, more than half of the court cases were dropped without sentencing. The factors that played a role in this context were not communicated.
https://www.cbsnews.com/news/nyc-rape-case-highlights-loophole-that-allows-police-to-dodge-sex-assault-charges/
ALBANY, N.Y. – The 18-year-old woman was driving with two friends near Coney Island in September when the two plainclothes detectives pulled her over and found marijuana. The police officers released the two male passengers, handcuffed the woman and told her she was under arrest, prosecutors say.
Then, investigators say, detectives Eddie Martins and Richard Hall repeatedly sexually assaulted her before releasing her on Sept 5. The woman went to the hospital, where prosecutors say DNA was obtained that matched both men.
According to the victim, named Anna, the officers brutally took turns raping her inside an undercover NYPD van, CBS New York reports.
But the officers have pleaded not guilty to rape and other charges, and the case has highlighted an apparent loophole in the laws of New York and many other states that may allow police to escape sexual assault charges by claiming sex acts were consensual. While New York law already bars sexual contact between corrections workers and inmates, it doesn't apply explicitly to police.
"I was shocked," Democratic state Sen. Diane Savino said of when she learned of the oversight. "It should be clear across the state for officers from every department, that when someone is in custody they do not have the ability to consent to sexual activity."
http://www.nydailynews.com/news/crime/ex-ala-charged-rape-6-months-jail-article-1.2552957
In McHenry's case, the trooper drove a woman away from the scene of a car accident the night of Dec. 6 and threatened to take her to jail if she didn't have sex with him, according to a warrant.
The former trooper made the demands after he found pill bottles and an empty nasal spray bottle in her car at the accident scene, investigators have said.
McHenry drove the woman to a closed store after having sex with her, then let her out and drove off, investigators have said. Alabama Law Enforcement Agency spokesman Sgt. Steve Jarrett said McHenry began working as a trooper in 2009.
GREENVILLE, Ala. — An ex-Alabama state trooper who was accused of raping a woman while he was on duty was sentenced to six months in jail after he pleaded guilty Thursday to a misdemeanour sexual misconduct charge.
Felony charges of rape and sodomy against Samuel McHenry II were dismissed as part of a plea agreement he filed in Butler County District Court in Greenville.
http://www.couriermail.com.au/news/tv-host-in-pakistan-brings-her-daughter-on-air-to-protest-murder-of-zainab-ansari/news-story/05c3c28542a4a20a2efcfbdbd4ae9622
Kiran Naz appeared on her show on Samaa TV with her daughter as she told her audience that the day marked the "funeral of humanity".
Zainab Ansari's body was found last week in a garbage bin. She had been abducted, raped and murdered.
Zainab, seven, disappeared while going to a nearby home for Quranic studies. Latest reports suggest she may have been strangled.
"Today I'm not your host Kiran Naz. I'm a mother and that is why I'm sitting here with my daughter," an upset Naz said.
"It is said that the smaller the corpse, the heavier it feels. Today, a tiny corpse is lying on the streets of Kasur and the entire Pakistan is crushed under its weight."
Her comments were widely supported, with many viewers taking to Twitter to praise her.
Protests have broken out across Pakistan after the rape and murder of a seven-year-old girl in a district south of Lahore, due to public anger at what is seen as the authorities' failure to investigate such cases.
http://www.neonnettle.com/news/3311-pedophile-dad-raped-baby-daughter-to-death-after-watching-child-porn
Pedophile Dad Raped Baby Daughter to Death After Watching Child Porn Coroner reveals 13-month-old Poppi Worthington died from sexual abuse
But the former supermarket worker, Paul, escaped prosecution because of a bungled police investigation. Key evidence, including Poppi's last nappies, the pyjama bottoms she was wearing and a computer Mr. Paul Worthington used to watch pornography, were lost.  Former police officer Lindsey Bolton told the hearing that the laptop Mr. Worthington used to watch 'adult X-rated' porn and child pornography in bed on the night Poppi died was never recovered by police and there were no 'proactive' attempts by officers to trace it. [Author's note: I suspect that the computer was eventually recovered from the person Mr Worthington sold it to the very next day. Mr. Worthington was found innocent in a family court after which every other court had found him innocent. The state had given him a new identity and protection. No person had ever been charged for Poppi's suffocation and sex assaults.]
UK: Police dropped cases against 20 Muslim rape gang members in Telford, they were "too much trouble"

UK: Police dropped cases against 20 Muslim [youth prostitution] rape gang members in Telford, they were "too much trouble"
West Mercia's Assistant Chief Constable Martin Evans claimed that the cases were dropped for many reasons: "These included the fact that there would have been a requirement for victims to give evidence in court, furthering their ordeal."
But one of the victims said: "I was never told about these orders or asked if I would give evidence in court against my abusers. If I had been asked, I would have done."
http://www.independent.ie/irish-news/gardai-revisit-house-of-horrors-paedophile-case-29226565.html
GARDAI (Police) are re-examining the Dalkey "house of horrors" case and claims that a pedophile ring allegedly led by a garda (POLICE OFFICER) was involved in the rape and abuse of children.
The investigation is alongside another case review in regard to the pedophile Irish language figure, Domhnall O Lubhlai, who evaded imprisonment during almost 50 years of sex abusing boys.
Both renewed investigations will examine claims that pedophile rapists were able to use judicial influence to hinder scrutiny of their activities.
Cynthia Owen, the mother at age only 11 of a murdered baby, named 12 men who called to the Murphy family house regularly and paid Peter Murphy and his wife Josie, both of whom are now dead, to rape and abuse her and the other children. Six of the men named by Cynthia are also dead. Two of those still alive were members of the Garda.
All the men and the other children were questioned and all denied the allegations. But Cynthia's brother, Martin, committed suicide in 1995 and another brother, Michael, disappeared in 2002. His body was found in undergrowth near Killiney DART Station in 2005.
Theresa Murphy, who was Cynthia's niece but brought up as her sister, also committed suicide in 2005 after hearing of the discovery of her brother's body. She left behind a 34-page suicide note detailing the rape and abuse she had suffered as a child at the hands of Peter Murphy and other men.
An inquiry into the garda 1973 murder investigation was carried out by senior counsel Patrick Gageby following the inquest, which found that "most of the surrounding documents and exhibits, some time after that date, were lost or mislaid." The missing evidence included blood samples, the bin bag and blood-stained sanitary towels and newspaper found with the baby's body. The infant had been stabbed to death with a knitting needle, which was never recovered.
A retired Garda inspector, who was the station sergeant in Dun Laoghaire at the time, subsequently told the 2005 inquest that he had not made a statement purporting to have been made and signed by him and which was among the remaining evidence. The retired garda, Eddie Russell, has since died and no explanation was ever brought forward as to how the statement came to be in evidence.
Despite the fact there was common local suspicion, gardai never interviewed the Murphys in 1973.
Since then, Cynthia Owen has repeatedly called for a public examination of the garda investigation into her [baby] daughter's murder.
http://crimeblog.dallasnews.com/2014/02/criminal-defense-attorney-accused-of-child-sexual-assault-arrested-at-dallas-courthouse.html/
CRIMINAL DEFENCE ATTORNEY Michael Edward Harssema has been charged with sexual assault of a child. He has been practicing law in Texas since 1999, according to the State Bar of Texas website. According to a police report obtained by Channel 11, the girl met the attorney who was representing her mother, in the summer of 2013. The lawyer then asked the mother if he could speak to the girl about the case. As they made their way back to the girl's home in McKinney, Harssema stopped by a 7-Eleven and bought a beer for himself and a Four Loko drink — a flavoured malt alcoholic beverage for her. According to police, the man stopped the car in a neighbourhood in Allen and ignored repeated calls from the girl's mother. He then raped the girl in the back seat, according to police documents. He took her home in the morning and told his client that his car broke down and his phone was dead.
http://www.huffingtonpost.com/2012/11/20/lisa-biron-anti-gay-christian-lawyer-child-porn-charges_n_2166055.html
Lisa Biron, a Manchester, N.H., LAWYER associated with the CHRISTIAN LITIGATION GROUP, Alliance Defending Freedom, was arrested by FBI agents on Friday morning on charges of transportation with intent to engage in criminal sexual activity, possession of child pornography and five counts of sexual exploitation of children, according to the Concord Monitor.
http://www.theblackvault.com/documentarchive/operation-flicker-child-pornography-found-at-high-levels-of-government/#
Federal investigators have identified members of the U.S. military and defence contractors who allegedly bought and downloaded child pornography, at times on government computers.  Some of the individuals have high-level security clearances.
The Pentagon released 94 pages of documents related to investigations that date back to 2002. Many names and details are blacked out, but the facts that remain are disturbing.
https://www.thetimes.co.uk/article/care-scandal-court-brings-forward-case-of-pimped-out-autistic-woman-smvtngsmf
Care scandal: Court brings forward case of 'pimped out' autistic woman
The case of a young autistic woman who was allowed to have sex with numerous men as part of a "learning experience" will go before a senior High Court judge next week.
Proceedings have been brought forward after The Times revealed that a court JUDGE allowed her serial sexual exploitation over two months this summer. Men she barely knew arrived at her home to have sex with her. The woman, 23, has severe learning disabilities and an IQ of 52. Her carers allegedly believed that the high-risk sexual encounters might help her to "learn from her mistakes".
Details of the Manchester case were disclosed on Thursday after another court judge ordered the release of key documents to this newspaper.
https://upnorthlive.com/news/local/federal-and-state-court-cases-look-to-challenge-michigans-sex-offender-registry?fbclid=IwAR2ll5W9pik7E9_of8k_EMbuBc3xIF05j1AmC6Q7dVdxLsPOhkFUMafyZGU
A simple computer search, that's all it takes to find the thousands of names on Michigan's Sex Offender Registry. However, the registry was recently deemed unconstitutional by the US Court of Appeals. Now the American Civil Liberties Union of Michigan is hoping state lawmakers take action and change the statute.
https://www.cleveland.com/metro/2019/03/ex-cleveland-cop-paid-teen-for-sex-had-nude-photos-of-other-teen-prosecutors-say.html?fbclid=IwAR36QPqaNEXr42gA4JLUD9h3q6aYZViVSkPhJwMI4blpITFQLJ8jdS6EbOo
CLEVELAND, Ohio — A former Cleveland police officer is now accused of paying a 15-year-old girl for sex and possessing nude photos of a second teen girl, according to prosecutors. The new charges against now-retired Cleveland police officer Mario Lozada were detailed in a 21-count indictment handed up Wednesday by a Cuyahoga County grand jury. The charges include unlawful sexual conduct with a minor, compelling prostitution, unauthorized use of a law enforcement database and child pornography charges.
https://thefreethoughtproject.com/abuse-survivor-speaks-out-cops-stood-guard-raped-politicians-child/?fbclid=IwAR224-2_71VTqDdkp1RQHsDDqdxRIrzKTfL4KcPnNuBatjsURVx7Pk41hsE
Staffordshire, Eng — An abuse survivor has bravely broken her silence to tell her horrific childhood story. In an interview with Sky News, Esther Baker, 32, explained how she and other children were raped by politicians as uniformed police officers stood guard.  "I don't quite know how to explain. I was brought up in a religious household and one thing that kept me so sure that what they were doing was right was that there were references to people, Lords and a judge," she said. "I picked up on those names because I thought one of them must have been God because one of them was 'Our Lord.'"  Jessa Dillow-Crisp recently testified at the Colorado State Capitol, during Human Trafficking Awareness and Advocacy Day, about the horrible experiences that she had in her past. She was unable to report the abuse or go to the police because there were a number of police officers who were involved in her kidnapping and abuse.
https://www.burnhamandhighbridgeweeklynews.co.uk/news/17416999.adam-leighton-price-dismissed-by-avon-and-somerset-police/?ref=mr&lp=1&fbclid=IwAR0njcRxeH9Ys1qqoQEDv3epAM5Gt9QxMeFfYl4Or7-rc7_IYzPFJGYGxrM
AN Avon and Somerset Police officer has been sacked following a special case hearing held at the force's HQ. Leighton-Price admitted one count of arranging or facilitating a child sex offence and three counts of possessing extreme pornographic images. These images depicted sexual acts involving animals.
Some politicians' and government involvement, outlook on child abuse and protection:
https://www.upi.com/Top_News/US/2018/09/18/Former-Oklahoma-senator-gets-15-years-for-child-sex-trafficking/4591537264951/
Sept. 18 (UPI) — A former senator and Oklahoma lawmaker was sentenced to 15 years in federal prison Monday for child sex trafficking.
Former state Sen. Ralph Shortey, who pleaded guilty last year to paying a teenage boy for sex, apologised in court Mondayfor "leading a double life of sin."
http://www.foxnews.com/politics/2018/06/01/pedophile-can-run-for-congress-thanks-to-mcauliffe-decision-restoring-felons-rights.html
Nathan Larson, 37, of Catlett is running as an independent candidate in Virginia's 10th Congressional District. He has expressed pro-pedophilia and incest views, and, in an interview with HuffPo this week, called it "normal" for men to be attracted to underage women.

As 2015 begins, high-profile cases involving accusations of pedophilia in the HIGHEST RANKS of POLITICAL powers are making headlines on both side of the Atlantic.
http://www.tomflocco.com/Docs/Wt/WashTimes1989-1.htm
Washington Times – Thursday 29 June 1989 – Homosexual prostitution enquiry ensnares VIP's with REAGAN, BUSH. "Call boys" took midnight tour of White House.

UK Gov Pedo Ring Exposed 60 Minutes Australia [53:17]
https://newspunch.com/justin-trudeau-friend-pedophile-ring/
Christopher Charles Ingvaldson, 42, a long-term close friend of Canadian prime minister Justin Trudeau, has been found guilty of child pornography charges after being caught directing an international pedophile ring.
Ingvaldson entered guilty pleas in B.C. Provincial Court in Vancouver to accessing child pornography and possession of child porn. He was also initially charged with two counts of importing or distributing child pornography.At the time he was charged, Royal Canadian Mounted Police said that 11 members of the pedophile ring in three countries – Canada, Australia and the U.K. – had also been arrested in their respective countries.
Justin Trudeau and Ingvaldson have been closely linked since their days as room-mates at college, and after completing their teaching degrees they were both accepted to teach at West Point Grey Academy, an elite Vancouver private boarding school.
https://www.telegraph.co.uk/news/politics/labour/10666875/Patricia-Hewitt-called-for-age-of-consent-to-be-lowered-to-ten.html?fbclid=IwAR3QafwL7lc3SARlMvvXQRG5XLVCAb0bV3yEO3JE3-9NLaX83quxLBfOKlA
Former Labour cabinet minister Patricia Hewitt was forced to apologise after it was revealed that she had called for the age of sexual consent to be lowered to ten. The document published in the former Labour cabinet minister's name also called for incest to be legalised.
A National Council for Civil Liberties (NCCL) press release quoted in The Sun issued in Miss Hewitt's sole name in Mach 1976 read: "NCCL proposes that the age of consent should be lowered to 14, with special provision for situations where the partners are close in age or where the consent of a child over ten can be proved." The document, which relates to an NCCL report on sexual law reformed continues: "The report argues that the crime of incest should be abolished.
https://www.nytimes.com/2019/09/18/us/senator-folmer-resigns-child-pornography.html?fbclid=IwAR0Ykjb7DNvj_odXaWlGZDC8Q1QrgRpgjXMVQs4nDyKHlL5oieSC3rcSU4o
Pennsylvania State Senator Resigns After Arrest on Child Pornography Charges.  The authorities said they found pornographic images on Senator Michael Folmer's phone.https://www.wearecentralpa.com/news/regional-news/pennsylvania-state-senator-mike-folmer-arrested-for-child-pornography/?fbclid=IwAR2CP799z5_1aC5TIsyu3TQCDVIx51iMCxR9Aa227uj78kCm5PdHrI_IX2U Pennsylvania state senator Mike Folmer arrested for child pornography.
https://www.lifesitenews.com/news/uk-politician-who-lobbied-for-gender-neutral-toilets-charged-with-child-sex-abuse?fbclid=IwAR3O2qDVvlCD7G2flfVIcH9HWz7-XLuyXf-yIR91achnxZKS-WiGVXeprWw
MIDDLESBROUGH, North Yorkshire, England (LifeSiteNews) ― An English town councillor who hopes to make government-owned facilities gender-neutral has been charged with nine counts of sexually touching a child. David Smith, 30, represents Coulby Newham, a suburb of Middlesbrough, in the Yorkshire town's local government, or council. Since his arrest, he has resigned from membership in the Conservative Party, but not from his position. According to the BBC, Smith is due in court on August 7. He denies the charges.
https://www.abc.net.au/news/2019-12-13/noosa-councillor-frank-pardon-jailed-over-sex-abuse/11796170?fbclid=IwAR2ZjAqRBnlUzGZHduI5Q-QLAXcZJXghR21L4IXw2wDDLXRyXTKQR_4OhZc
Noosa councillor and former deputy mayor Frank Pardon will serve at least 18 months in jail after being found guilty of indecently assaulting a teenage girl in the 1990s. On Wednesday Pardon, 70, was found guilty by a Sunshine Coast jury of five counts of indecent treatment of a child, four counts while under care and one count of maintaining a sexual relationship with a minor. During the trial, the court heard Pardon assaulted the young teenage girl over several months at a Sunshine Coast business, in his vehicle and home. In one instance he drove the victim and her friend to a business and supplied them with alcohol before kissing and touching the victim in front of her friend.
https://eu.courier-journal.com/story/news/politics/2019/12/19/matt-bevin-defends-child-rape-pardon-radio-interview/2704244001/
Former Gov. Matt Bevin on Thursday defended his controversial last-minute pardon of a man convicted of raping a 9-year-old, saying there was no physical evidence of her abuse. Bevin, a father of nine children, was asked how he could defend Schoettle. The former governor replied the victim had been examined and there were no physical signs of rape. "There was zero evidence," Bevin said. The sister has denied the assaults took place, Bevin said. "Both their hymens were intact. This is perhaps more specific than people would want, but trust me. If you have been repeatedly sexually violated as a small child by an adult, there are going to be repercussions of that physically and medically," Bevin said. Bevin's claim is flatly incorrect, Dr. George Nichols, who was Kentucky's chief medical examiner for 20 years and later started the child abuse evaluation system at Kosair Children's Hospital, told The Courier Journal.  "Rape is not proved by hymen penetration," Nichols said. "Rape is proved by phallic penetration … where the vaginal lips meet the outer surface of the vagina. "He not only doesn't know the law, in my humble opinion, he clearly doesn't know medicine and anatomy." Nichols added that he worked for six consecutive governors as chief medical examiner, "and fortunately I didn't have to report to that a–hole." According to Forensic Science International, a peer-reviewed journal, a survey of pediatric child abuse rape cases indicated that only 2.1% of subjects examined had visible lesions on the hymen. Kenton County Commonwealth's Attorney Rob Sanders, who prosecuted the 2018 case against Schoettle and has called for an investigation into Bevin's pardon, criticized the former governor's comments by saying he "is ignorant of the medicine and science in child rape cases."
https://veja.abril.com.br/brasil/ex-assessor-de-gleisi-e-condenado-por-estupro-de-menor/?utm_source=whatsapp&fbclid=IwAR1HXWsqxifiH5eKALHdFPBNC8CKdmmGrKKN6DoKpsTixL48PI1-1juhTbc
Former aide to the Presidential Civil House Eduardo Gaievski has been sentenced to 18 years and a month in prison for the crimes of rape of vulnerable, presumed rape and qualified rape. The sentence was given at the Royalty Forum in Paraná.Gaievski worked directly with then-minister Gleisi Hoffmann. This was the first sentence of 17 cases against Gaievski for sexual crimes against minors. Gaievski was responsible for health, child and adolescent policies such as drug prevention. Gaievski also helped create the Mais Médicos program, which brought doctors from Cuba to work in Brazil.
https://www.youtube.com/watch?v=XPugTAuQqB0
Dr Phil Exposes Pedogate On Mainstream Media (5:59)
https://www.theguardian.com/world/2019/jul/09/nepal-jails-canadian-former-un-official-for-sexually-abusing-boys
Peter John Dalglish, 62, a high-profile humanitarian worker from Canada, was sentenced on Monday to two separate terms of nine years and seven years after being convicted last month. Thakur Trital, a district court official, told Agence France-Presse that Dalglish had been sentenced to nine years for abusing a 12-year-old boy and seven years for molesting a 14-year-old. The aid worker, who was awarded the Order of Canada in 2016, made his name advocating for street children, child labourers and those affected by war. In the 1980s, he co-founded Street Kids International, which merged with Save the Children. In the past decade, Dalglish held key positions in UN agencies, including head of UN-Habitat in Afghanistan in 2015. In Nepal, Dalglish was an adviser to the International Labour Organization in the early 2000s. Weak law enforcement has made Nepal notorious for sexual abusers, with several arrests and convictions in recent years. In 2015 a Canadian orphanage volunteer, Ernest MacIntosh, 71, was sentenced to seven years in prison for sexually abusing a disabled 15-year-old boy, and in 2010 a French charity worker, Jean-Jacques Haye, was convicted of raping 10 children at a Kathmandu orphanage.
https://www.independent.co.uk/voices/united-nations-soldiers-paedophilia-un-child-rape-ngo-staff-a7648791.html?fbclid=IwAR0mpgrPtI1aBh7snIRRUHjvGkiGgaAfM4ZXjTJJmYtkB_GNSk_5zkE2lTk
The United Nations is raping children. The facilitation of these child rapes is in part funded by the UK taxpayer.
https://en.wikipedia.org/wiki/Child_sexual_abuse_by_UN_peacekeepers
Most recently, UN troops in Haiti and Sudan have been accused of sexual abuse of children.[16] In 2015, a UN report interviewed over 200 Haitian women—a third of whom were minors—who told they were forced to have sex with UN soldiers in exchange of material aid.[17] In Central African Republic at least 98 girls said they had been sexually abused by international peacekeepers.[18] UN identified 41 troops from Burundi and Gabon accused of sexual abuse and exploitation in Central African Republic in 2014 and 2015. The identified troops have now left the country.[19] Reporters witnessed a rapid increase in prostitution in Cambodia, Mozambique, Bosnia, and Kosovo after UN and, in the case of the latter two, NATO peacekeeping forces moved in. Instances of abuse in Cambodia caused widespread outrage after many of the abused women and girls also ended up contracting HIV/AIDS and other diseases that were not prevalent among the local population.[4] A Kosovo victims support group reported that of the local prostitutes, a third were under 14, and 80% were under 18. Amnesty said the victims were routinely raped "as a means of control and coercion" and kept in terrible conditions as slaves by their "owners"; sometimes kept in darkened rooms unable to go out.[2][5][6] In Haiti, the Sri Lankan peacekeepers wanted girls and boys as young as 12 for sex. "I did not even have breasts," said Victim No. 1, a girl. She reported to UN investigators that from ages 12 to 15 she had sex with over 40 peacekeepers, including someone called "Commandant" who paid her 75 cents. She stated that she slept in UN trucks on the UN base. In Haiti, 134 peacekeepers from Sri Lanka operated the child sex ring, luring children with candy and cash, according to the AP. After a U.N. report incriminated the peacekeepers, most were sent back to Sri Lanka, but none served any jail time.[1][7]
https://www.thesun.co.uk/news/politics/5562215/un-aid-workers-raped-60000-people-as-its-claimed-organisation-employs-3300-paedophiles/
The dossier claims United Nations aid workers have raped 60,000 people and estimate that the organisation employs 3,300 paedophiles. The claim is in a bombshell dossier that former senior United Nations official Andrew Macleod handed over to DFID Secretary Priti Patel last year.Thousands more "predatory" sex abusers specifically target aid charity jobs to get close to vulnerable women and children.Ms Patel said senior DFID staff tried to talk her out of making a critical speech about aid workers' sex abuse, arguing that it was only by UN soldiers and to claim otherwise was "over-stepping the mark".Prof MacLeod insisted that meant the "difficult truth" that "child rape crimes are being inadvertently funded in part by United Kingdom tax-payer". He added: "I know there were a lot of discussions at senior levels of the United Nations about 'something must be done' but nothing effective came of it, and if you look at the record of whistleblowers, they were fired. "We are looking at a problem on the scale of the Catholic Church — if not bigger."
http://humansarefree.com/2018/12/police-chief-confirms-fmr-uk-prime.html?fbclid=IwAR0KAzGQe6SluzLss3Bw2Qb_IERtxN7tG8uitbAegp3BtyfEFuvufZCz4yI
In what will likely turn into the largest pedophile bombshell in recent history, Sir Edward Heath, the former Prime Minister of the United Kingdom has reportedly been accused by the police chief as being a pedophile. His vile crimes against children were allegedly 'covered up by the establishment.' More than 30 people have now come forward with claims of sexual abuse by the former leader of the Conservative Party and PM. Police investigators told the Daily Mail that the victims all gave 'strikingly similar' accounts of the sexual abuse and none of the individuals were known to each other.
On Sunday, the Daily Mail revealed that the police chief investigating the Heath case said theallegations against him are '120 per cent' genuine. The original investigation began last year as Heath's alleged victims began coming forward. Disgraced DJ Jimmy Savile's nephew alleges his friend was sexually abused by former Prime Minister at parties in the 1970s. Guy Marsden, whose uncle abused more than 500 victims aged between five and 75, alleges his friend was abused by Heath at age 14. Now, it appears more and more victims are coming forward — with strikingly similar stories.
Wiltshire Chief Constable Mike Veale regards the allegations as 'totally convincing,' and plans to publish a report in June, according to the Daily Mail. According to the source at the Daily Mail, "'Mr. Veale believes in them 120 per cent and thinks they are totally convincing." "There are very close similarities in the accounts given by those who have come forward. The same names used for him, the same places and same type of incidents keep coming up." "What stands out is that the people giving these accounts are not connected but the stories and the details dovetail." "It contains disturbing stuff. Investigators have been shocked by what they have learned."
"The police were initially skeptical about the allegations, but now believe them. And they have come round to the view that they were covered up in the past because of who Heath was," said another source speaking of how the alleged crimes were covered up. According to investigators, Heath's estate claims that he could never have committed these crimes because he did not have the ability to drive a car. However, multiple photographs, witnesses, and video show that he did drive and he did have a car. After losing his chauffeur-driven car of which he was entitled to as the PM, he purchased his own vehicle.
https://jamiefreeman.news/anonymous-exposing-uk-pedophilia-ring-mps-mi5-at-elm-guest-house/?fbclid=IwAR2iOAmOjjA35IQFq5x7z8WA8r47JFnYAsKlXYc-IBkuDUQUPeCwgFAHD9U
The Elm Guest House child sex abuse scandal involves the sexual abuse of children at parties held at the former Guest House during the 1970s and 1980s. Prominent British men are alleged to have attended the Guest House including former and current government ministers, senior MPs, top police officers, judges, pop stars, royalty, and people with links to the royal household. Elm Guest House was a place where terrible, terrible things are said to have happened. Everything from child grooming, child sex abuse to murder. It reportedly played host to sex parties that were advertised to a large number of rich and powerful VIPs. These VIPs would attend these alleged sex parties and abuse young boys who were trafficked from local Care Homes to be abused and raped during these perverted parties.
Elm Guest House was on the police radar during 'Operation Fairbank' this operation came about after serious allegations of child sex abuse were made by Christopher Fay. Christopher was the colleague of a lady called Mary Moss, both worked for National Association for Young People in Care (NAYPIC). Mary Moss was friends with the late Carole Kasir former manager of The Elm Guest House who is said to have managed the place during the time the abuse was going on. Mary Moss gathered information and documents about the guest house at the time because she said she was helping Carole Kasir with a court case relating to her children. Carole passed away in 1990 at the age of 47 at her inquest Mary and Christopher gave evidence and made serious allegations relating to The Elm Guest House, its visitors and child sex abuse that took place there. Christopher Fay claimed at the inquest to have seen photographs of prominent people, including former Conservative cabinet minister Leon Brittan, in compromising positions with boys.
The police decided to carry out a raid on Mary's flat near King's Cross station in North London. Dozens of her documents  and dossiers relating to Elm Guest House were seized, luckily before the police could seize it, Mary managed to photograph and upload what has now been called The Elm Guest House List, which mentions several prominent British figures who were said to have frequented the guest house for sex parties with young boys. Here are some of the people mentioned in The Elm Guest House VIP List [Picture of physical list can be seen on website] :
| | |
| --- | --- |
| NAME | KNOWN FOR |
| Anthony Blunt | Royal Connections, MI5, Russian Spy |
| Harvey Proctor | Monday Club & Convicted Paedophile |
| Sir Peter Bottomley | Worthing MP and Monday Club |
| Charles Irving | Conservative MP for Cheltenham |
| Leon Brittan | Conservative MP & Cabinet Minister |
| Peter Brooke | Conservative MP & Life Peer |
| John Rowe | Conservative MP & MI5 |
| Cyril Smith | Liberal MP |
| Ron Brown | Labour MP |
| Colin Jordan | Politician and Author |
| George Tremlett | Former GLC Leader |
| Peter Campbell | Monday Club Tory MP |
| Gary Walker | Sinn Fein Member |
| Cliff Richard aka 'Kitty' at Elm Guest House | Popstar |
| Jess Conrad | Popstar |
| Ron Wells aka 'Gladys' at Elm Guest House | Popstar |
| Richard Miles | Monday Club |
| Chris Denning | BBC DJ & Convicted Pedophile |
| R Langley | Buckingham Palace Equerry |
| Terry Dwyer | Unknown? |
| Patrick Puddles | Unknown? |
| Louis Minster | Head of Richmond Social Services |
| Colin Peters | QC & Convicted Pedophile |
| Steve Everett | Senior Westminster Social Worker |
| Ray Wire | So Called Expert on Paedophile Therapy |
| Peter Glencross | Monday Club Editor |
| Guy Hamilton Blackwell | Son of Westland Helicopters Chairman |
The following Police Officers and an alleged informant also appear on Mary Moss's list for some reason:
Colin Peters QC, Police informant and convicted paedophile.
D. Naismith, Chief Constable Wandsworth
DC Chris Carter, CID Richmond
DC David Lines, CID Barnes
DC Ron Thornton, CID Richmond
PC Roderick Smeaton
WPC Sheila McInnes
PC Chris Wicks
WPC Elizabeth Meredith
PC Alan Jones
https://www.dailymail.co.uk/news/article-2862860/Inside-house-horrors-Revealed-chilling-boy-taken-infamous-gay-brothel-gave-senior-politician-said-abused-police-left-MP-s-report.html
https://www.telegraph.co.uk/news/worldnews/europe/germany/10237937/Inquiry-finds-German-Greens-campaigned-to-legalise-sex-with-children-in-the-1980s.html?fbclid=IwAR33wRKli6-uCmXJJUW6R6OvA2pzmOLwaCgjnlkgs8UZqPFOooyFggTG9P4
Inquiry finds German Greens campaigned to legalise sex with children in the 1980s. An inquiry has found that the German Green party – currently third in the polls ahead of elections next month – favoured the legalisation of sexual relations between adults and children in their founding manifesto. The first report of the inquiry, published today, concluded that the Greens "set barely any boundaries on sexual relations between teachers, carers and their charges – or between adults and children".
https://amp.azcentral.com/amp/3369462002?__twitter_impression=true&fbclid=IwAR112mAhUmxpJSy08_PVbQM1HAYLjWYo4ZXvimAo1MtNgNwAIomxehVWJS0
Former Arizona Rep. David Stringer's views on child sex trafficking were captured in a video released as part of the House of Representatives' investigation into his past. In the recording, Stringer states that he doesn't "like to demonize" child sex trafficking and jokes that there are "a lot of 15-year-old prostitutes." Stringer resigned March 27 over accusations that he raped children in the 1980s. The video was obtained by investigators who reviewed ethics complaints about his sex-crime charges.
https://www.social-consciousness.com/2017/03/first-official-tied-elite-pedophile-ring-pleads-guilty-child-rape.html?fbclid=IwAR0MyRXdinfGyktCc93cK_KBn66i7nzxFikH9Ty__GMnnc2Zk12AaqDyeRU
A former Ohio Mayor, with ties to the Elite Washington D.C. pedophile ring, has pleaded guilty in court to multiple counts of child sex crimes, including raping a child as young 4 years old, Democrat, Richard Keenan, confessed to dozens of sexual crimes including charges of rape, attempted rape, and gross sexual imposition and agreed to a sentence of life in prison. According to court records, when Keenan was arrested, he claimed that the 4-year-old girl "initiated it", telling police, "she came on to me". According to Fox59, court documents revealed that the victim told Keenan's wife about the sexual abuse that began when she was 4-years-old and lasted for three years.
https://www.news.com.au/national/queensland/courts-law/mps-son-pleads-guilty-to-35-child-sex-offences-avoids-jail-time-over-dwarfism/news-story/707ed0d0ae6a1e870d399036b55436e3?fbclid=IwAR29KVNYqtAQvlZtOJv9V-HMK8h3B9mRyztVuQB-8DrE1LW7JYXUtBJF2d4#.3cs6b
Daniel Knuth, son of Queensland MP Shane Knuth, pleaded guilty to 35 child sex offence charges in Townsville District Court last year, including possession of child exploitation material. The 22-year-old was born with dwarfism, and has undergone 17 surgeries for his condition. His severe back curvature limits his flexibility and, in conjunction with his shorter limbs and longer torso, his mobility is compromised so much he is unable to wipe his own backside. Judge Lynham described the case as "sad" and "pathetic" when sentencing Knuth to four years jail, immediately wholly suspended for a period of five years. [ https://www.mirror.co.uk/news/uk-news/britains-smallest-prisoner-flexes-muscles-11545141 A burglar believed to be Britain's smallest prisoner filmed himself in his cell flexing his muscles and boasting he was the "best midget around". Aiden Henry, who is around three feet tall, posted footage of himself dancing on Instagram .]
https://www.youtube.com/watch?v=2kDHdBw4ML4&fbclid=IwAR1et-G00bLHT4U1wou0HrSrCQ81O27vipThM_3CtIFnJsWz_HW21l1OQvk Prince Andrew And London Police Cover-ups Part 2: Ex-Cop Jon Wedger | True Crime Podcast 72 [1:54:11]
https://www.theguardian.com/commentisfree/2015/mar/18/cyril-smith-36-year-cover-up-child-abuse-conspired-fail-victims?CMP=share_btn_fb&fbclid=IwAR04iVkpffSLfD0ndCF45pVlr2rrY8Ld2HoQ4mJ3_k4Ebhw2czTgqsNb7FY
Finally the hunt is on to nail those responsible for aborting police inquiries into the child sex abuse allegations against the late Liberal MP Cyril Smith and other – as yet unnamed – establishment figures from the 1970s and 1980s. But his abuses have been covered up and ignored for over 35 years. Why should the victims feel that anything much has changed in recent days?
I write as co-editor of the Rochdale Alternative Paper, which in May 1979published a 2,000 word article, quoting in graphic detail from the testimonies of boys Smith had sexually abused a decade and a half earlier.
We also wrote to the then leader of the Liberal party, David Steel, for his comments. We quoted the response of the Liberal party press office, dated 22 April 1979, in our newspaper: "It is not a very friendly gesture, publishing that, all he seems to have done is spanked a few bare bottoms." So, Steel chose to look the other way, and within a decade was recommending Smith for a knighthood. Fleet Street looked away at the time too.
Files on Smith's child abuse were passed around police forces and the security services in the 1970s and 1980s – with no prosecutions. More covering up and inaction, instead of an end to his abuse.
The political honours scrutiny committee drew Margaret Thatcher's attention to the Smith files in 1988, prior to her agreeing to a knighthood for him. She could have intervened, but chose to honour him – a further insult to his victims. Rochdale council made Smith a freeman of the borough, named a room in the town hall after him and, in a ceremony attended by the current MP Simon Danczuk, put up a blue plaque in his honour – now taken down, apparently to prevent vandalism. More rubbing the noses of many victims in their misery, on their home patch.
http://www.cuttingthroughthematrix.com/articles/Partial_List_of_Convicted_British_Paedo_Politicians.html
Partial List of Convicted BRITISH Pedophile POLITICIANS.
June 2008 – Timothy Edmeades, 33, Labour Party super activist and events organiser to Labour Lord Mayor abused his position of trust when he sexually assaulted the two children on swimming trips
October 2011 – A councillor has narrowly avoided jail after he admitted to a doctor that he had been looking at child abuse images.John Butcher had 400 images of child abuse on the computers – 48 of these were at level four, one level below the very worst kind of images.
May 2005 – Liam Temple – Labour Councillor and former Mayor (Halton/Cheshire), convicted of `Inciting a child under 16 to commit an act of gross indecency. He was jailed for six months at Chester Crown Court for offering a 12-year-old girl money to grope her
September 2008 – Members of the Establishment refused to accept pedophiles depravity. Roger Took was sentenced this February to a minimum of four-and-a-half years in prison as part of an indeterminate sentence for 17 other crimes relating to child abuse. They included molesting two of his step-granddaughters and the possession of 260 photographs, including 102 'Level 5s', which mean they contain images of children being tortured or raped.
November 2008 – TWO men jailed for sexual activity with 14-year-old girls had been thrown out of the British National Party when their offences came to light, it has been revealed.
Ian Richard Hindle, 32, of Church Walk, Blackburn, and Andrew Paul Wells, 49, were jailed on Thursday for a total of five years and three months.
February 2004 – FORMER Bentham councillor, John Pilkington, has been jailed for 21 months after amassing a huge quantity of sickening child pornography over a seven year period. "Yours is one of the worst collections of child pornography it has been my misfortune to have to look at," said Judge Scott Wolstenholme.
August 2008 – A tory ex-deputy mayor who sexually assaulted a teenage girl and kept child porn while a member of police authority was spared jail. Ben Redsell, 29, admitted assaulting the 19-year-old at her home after a night out in Colchester, Essex, last August and also 10 child offences. Police had found indecent images of children, which dated from 2000, at his home in Melton, Suffolk.
January 2006 – THE arrest of the man at the head of a massive pedophile network led police to a pervert in Coventry, it has emerged. Roderick Rowley, who stood as a candidate for the BNP in Coventry's Woodlands Ward in the local elections in 2004, was jailed for 15 months in December after sending obscene images involving children.
November 2008 – A former city councillor was given a five-year jail sentence for molesting an 11-year-old boy and threatening the youngster's mother in a bid to cover his tracks. Ex-Paston councillor Gilbert Benn (48) was locked up at Peterborough Crown Court yesterday having earlier been found guilty of twice attempting to rape the young boy in the city.
Terry Power was a Labour Party Councillor in Dagenham, London. Terry Power would roam the streets looking to prey on youngsters who found themselves in a 'hard up' lifestyle from single parent families. He molested and took indecent photos of 3 young boys. Power known as the Beast of Dagenham was found guilty but only given a 30 month jail sentence. The photos of the children the labour party councillor took were shown to the jury who were sickened by what Terry Power had done
2003 – Labour Councillor (Newham/London), Greg Vincent, who was the Election Agent to Labour MP Tony Banks at the 2001 General Election – was convicted and given a 2-year community rehabilitation order in 2003, for possession of hardcore child abuse films and photos, featuring children as young as 8.
August 2006 – THE former chairman of Long Sutton Parish Council has been jailed for three months after admitting downloading and distributing child pornography. Christopher Duckworth, 64, of Bingham Court, Long Sutton, admitted five charges of distributing indecent images of children
August 2003 – A senior clerk at the House of Commons who used his work computer to download hardcore child pornography has been jailed for one year. Phillip Lyon was also found guilty on Tuesday of using his home computer to collect more than 1,000 images of children – some of whom were toddlers subjected to "disgusting" sexual acts.
April 2012 – An ex-councillor caught downloading indecent images of children walked free from court after a judge said he had 'contributed' to society. Andrew Lamont, 53, copied 207 images of girls as young as eight to his computer, 27 of which were level four, the second most serious level.
Dec 2009 – A Labour councillor who was arrested in a Belfast hotel room in 2007 with his 17-year-old boyfriend has failed in a bid to bring a legal challenge against police. Hull City councillor Steven Bayes, 47, was found with his boyfriend Dale Martin, who was 17 when he was arrested. At the time, the legal age of consent for gay sex in Northern Ireland was 18. This has now been lowered to 16, in line with the rest of the UK.
June 2007 – A Hampshire councillor who set up a spy camera to secretly film a woman and two teenage girls using his bathroom has been jailed for four months. Neil Redrup, a Ministry of Defence database manager at the time, put the camera in an airing cupboard with the lens spying through a hole at his home. Redrup, 45, regularly invited teenagers to parties at his home
2008 – A former Tory politician has been jailed for six and a half years for five sex offences involving three girls under 14 yrs. old, including one charge of rape. Stephen Mullins, 52, formerly of Links Avenue, Hellesdon, was sentenced at Norwich Crown Court
May 2007 – A man responsible for distributing indecent images of children to an online pedophile network was yesterday sentenced to three years' imprisonment. Lib Dem council candidate 26-year-old Karl Lindon, a civil servant from Camberwell, London SE5 was arrested when his details were found on a computer seized in a separate arrest.
Dec 2008 – A former deputy mayor and councillor of Harrogate has been sentenced to eight months in prison for attempting to groom a 13-year-old girl for sex. Morris Lightfoot, of Dryden Close, Bilton, Harrogate, was caught in a sting operation by an administrator on a social networking site.
April 2009 – A councillor was jailed for six years yesterday after police found an illegal gun and 2000 indecent images of kids at his home. Officers were called to Wigan Town Hall after being told that Joseph Shaw had been caught with indecent images of children on his home computer.
June 2009 – A FORMER Conservative councillor who became "infatuated" with a 13-year-old girl and sexually assaulted her has been jailed for eight years. David Kirton, (55), of Longbanks, Harlow, admitted committing three sexual offences on the girl during an eight month period.
November 2011 – The agent of Labour MP Chris Bryant has been imprisoned after he was caught with a huge stash of 'the most serious child pornography police have ever seen'. Stephen Carnell, who was a chairman on a primary school board of governors in Mr Bryant's south Wales constituency, was sentenced to three years in jail.
September 2002 – FORMER Tory Councillor Louise Burrows failed to convince Doncaster Magistrates that she was acting in self-defence when she was found guilty of attacking three children with a whip after a window in her house had been smashed. A 13-yr-old boy was left with bruising to his left leg after being hit three times; a nine-year-old boy was hit twice and a 12-yr-old girl was slapped as she attempted to ride off on her bicycle. The magistrate gave Burrows a 6-mth community rehabilitation order and ordered her to pay compensation of £75 each to both boys, plus costs of £300.
2004 – Tory Councillor (Felixstowe/Suffolk), David Smith – Accepted a police caution for downloading child porn in 2004. Placed on the sex offenders register for 5 years.
Sir Ian Horobin was Convicted and jailed for 4 years for indecency in 1952, after paying young boys for sex. Sir Ian Macdonald Horobin (16 November 1899 – 5 June 1976) was a British Conservative Party politician.
July 2004 – An ex-Tory party official who went on the run after raping a six-year-old girl has been jailed for 10 years. Stephen Mertens, 53, was arrested in May 1990 while secretary of the Hackney and South Shoreditch Conservative Association.
2001 – Former Tory Party councillor (Bradford/Yorkshire), Jim Merrick – Received a 9-month jail sentence (suspended) and placed on the sex offenders register for 10 years in 2001 after being convicted of multiple sex attacks on little girls between the ages of 9 and 12.
2001 – Former Lord Mayor of Portsmouth & Tory Party Council Leader jailed. Freddie Emery-Wallis found guilty of indecently assaulting two boys and jailed for nine months in 2001. Emery-Wallis attacked the two teenage paperboys above the shop he owned in Leith Avenue, Paulsgrove, in the 1960s and 1970s.
1987 – Tory Party MP (Billericay/Essex) Harvey Proctor – Convicted and fined a total of £1,450 in 1987, for sex offences of a sado-masochistic nature against teenage boys, and was forced to resign.
Feb 1997 – CONSERVATIVE councillor Michael Howden, jailed for five-and-a-half years for the rape of a teenage girl. Howden's high profile Liverpool Crown Court case came to a dramatic end, when he was jailed for the rape and sexually molesting another 17-year-old girl.
July 1999 – A teacher and former Tory parliamentary candidate was jailed for child Net porn offences yesterday. Michael Powell, 51, was sentenced to three years by Cardiff Crown Court for downloading 16,600 pictures of children from the Web. Powell, who was conservative Mayor of Bridgend, South Wales, in 1984
March 2009 – A WOULD-BE Exeter city councillor who was jailed for four years after offering to pay £500 for sex with young girls is no longer a member of the Labour Party. Richard Harris, 28, of Union Street, Exeter, who was jailed for four years after admitting seven charges of inciting sexual activity, had unsuccessfully contested seats across the city at elections in 2006, 2007 and last year for Labour.
July 2005 – DISGRACED ex-councillor Dean Jenkins was jailed yesterday for possessing, making and distributing thousands of pornographic images of children. Newport crown court heard the images of young boys ranged from level one to the most severe, level five.
July 2004 – A former councillor who indecently assaulted an eight-year-old girl has been jailed for two-and-a-half years. David Mills, 55, preyed on the child, now aged 16, as she played in her bedroom when he babysat.
July 2001 – A FORMER North-East aide of Prime Minister Tony Blair has been jailed for 15 years for an "appalling" string of sex offences against teenage boys. Martyn Locklin, 41, of Ladybower, Newton Aycliffe, County Durham, was found guilty by the jury of eight men and four women at Teesside Crown Court
July 2007 – A FORMER councillor jailed for indecently touching an 11-year-old girl failed yesterday in a bid to overturn his conviction. Fifty-six-year-old Harry Devine was branded a danger to young girls following his trial, at Durham Crown Court. Devine was also found to have home videos of girls in swimming costumes, in which the camera zoomed in on their private parts.
August 2011 – FORMER Derby City Council leader Maurice Burgess has been jailed for five years for child sex offences. Ex-Liberal Democrat leader Burgess has admitted indecently assaulting four boys, aged seven to 11 years old, between 1989 and 1994.
Feb 2011 – THE owner of a taxi firm has been banned from driving schoolchildren after he sexually touched a teenage girl. Sadiq Choudhry, a councillor who runs 24 7 Private Hire, in Swadlincote, was convicted by a jury of four offences of sexual activity with a child.
November 2008 – A former teacher and Erewash councillor at a Leicestershire school has been convicted of making and possessing indecent child images. Robert Dockerill, 32, from Crook, County Durham, denied the charges but was found guilty
August 2010 – A SERIAL pervert, who admitted he was sexually attracted to girls aged 8 to 12 after police found 810 indecent images in his Derby home, has been jailed. Derby Crown Court heard that former music teacher and Green Party candidate Gary Anderson had been convicted in 2000 and 2003 for similar offences.
January 2012 – A FORMER Chelmsford ex-Conservative councillor mayor has failed in a High Court bid to clear his name over possessing child pornography. David Lee, 48, of Rushleydale, Springfield, was given a caution by Essex Police in August 2008 after indecent images of children were found on computer equipment at his home.
March 2009 – A FORMER Wirral Tory councillor led a secret life looking at indecent images of children. While his wife and two daughters slept upstairs, Ian McKellar spent hours poring over child porn downloaded from the internet onto his computer. The court heard that the 1913 images mainly involved girls aged between 12 – 14, sometimes naked
November 2003 – A HIGH school teacher & Ex-Vale Royal Borough and Kingsley councillor has been jailed for two-and-a-half years after indecently assaulting two vulnerable pupils who had turned to him for help.David Reaper has been banned from working with young children and ordered to register as a sex offender for life.
October 2011 – A BNP councillor who downloaded and distributed child pornography on the internet has been jailed for 16 months. Gavin Leist (20), of Ratcliffe Road, Loughborough, admitted three counts of possessing indecent images and three of distributing them, between 2008 and 2010.
October 2003 – A DISGRACED former school governor and town and district councillor, convicted of collecting child porn on his personal computer, has been offered honorary membership of a community association. Grandfather, Keith Rogers from Birch Coppice, Droitwich, was fined £5,000 by Worcester Magistrates a fortnight ago after police found nearly 2,000 indecent images of children on his computer equipment.
February 2008 – A FORMER Malvern Hills councillor was branded a "dirty old man" by a judge but escaped jail for possessing indecent photographs of children. Michael Angell was given a six-month prison sentence suspended for two years at Hereford Crown Court
April 2012 – A disgraced former Cumbrian council chairman has been jailed for four years after admitting abusing a school boy.Tony Brunskill, 66, is already serving a 10 year sentence for offences against three school boys. Carlisle Crown Court was told this morning that the latest crimes, carried out between 1979 and 1981, happened when the boy was aged between 11 and 13.
January 2004 – A councillor found guilty of downloading and storing indecent images of children on his council computer has been disqualified from standing for office for five years. Tory Chris Pilkington, who lives in Shipston, was re-elected for the Vale of the Red Horse ward, which includes Tysoe, Edgehill, Whatcote and Pillerton Priors, with a 384 majority in May 2002
March 2009 – A FORMER Worcester UKIP candidate –- who has since converted to Islam – has been sentenced for possessing indecent photographs of children. Jason Phillips, who stood in the city's 2007 elections for the Arboretum ward, had previously admitted downloading two indecent images of a child.
April 2012 – The former leader of Worcestershire County Council who sexually abused a Sunday school pupil while he was a church minister has been jailed for four years. George Lord, who represented Alvechurch, also sexually assaulted a "vulnerable" teenager in the council chamber when he ran the local authority. Lord, 79, who had previously admitted three charges of indecent assault and was found guilty of sexual assault
August 2002 – A DISGRACED councillor who sexually assaulted a 16-year-old boy has quit. Neil Derbyshire had refused to give up his Stockport council seat despite being ordered to sign the Sex Offenders' Register after he admitted indecent assault and attempting to procure an act of gross indecency.
April 2009 – David Charles, a councillor in the St Andrew's ward in Hornchurch, was sentenced to a six month suspended prison sentence after pleading guilty to 16 counts of possessing pornographic images of youngsters. He was also ordered to pay court costs of £500 and remain on the sex offenders list for 7 years
May 2003 – A former school governor and ex-local councillor is starting a two year jail sentence for downloading more than 42,000 pedophiliac images, including 2,500 movies.Alec Dyer-Atkins and 45 other people were arrested last July for their membership of a major, Internet-based pedophile network, known as the Shadows Brotherhood
June 2011 – A former Labour councillor who downloaded child pornography from the internet was shopped to police by his partner. Adrian Cirket, 54, was arrested after the mother of three of his five children, spotted the illegal cache on his laptop computer. Forensic experts discovered more than 500 sexual images of children – some as young as five years old – on the ex-councillor's computer which he had downloaded over 3 years
October 2001 – A former assistant director of social services, magistrate and Labour councillor has been jailed for abusing boys in a children's home scandal which may have had as many as 70 victims over 30 years, it emerged yesterday. Alan Prescott, 62, who was described at the Old Bailey as a "pillar of his local community", was sentenced to two years in prison after admitting indecently assaulting four boys in his care between 1970 and 1980 while he was superintendent of a Tower Hamlets children's home.
April 2006 – FORMER Cowes town councillor David Christopher Hill has been jailed for two years and banned from working with children indefinitely after admitting child sex offences. Hill, 59, of High Street, Cowes, pleaded guilty to two charges of inciting indecency with a child and four counts of indecent assault
July 2011 – A PREDATORY pedophile has been sentenced to 14 years in prison for abusing eight children. William Barber was a respected councillor, school governor and "pillar of the community" in Brockworth, but he was secretly preying on vulnerable children as young as five. Guilty of 18 charges of indecently assaulting or committing gross indecency with his eight victims over a 13 year period
June 2003 – A pedophile babysitter who gained the trust of a mother by showing a picture of himself with Tony and Cherie Blair, was jailed today for 15 years. Prominent Labour Party activist Mark Tann, from Whitstable in Kent, pleaded guilty to 24 charges at Canterbury Crown Court including two counts of rape against a four-year-old girl
July 2008 – TORY chiefs are demanding that a newly-elected councillor quit after he was exposed as a violent pedophile with a 41-year history of crimes. Pervert Robert Richdale got the backing of the local party faithful in leader Michael Howard's own constituency despite having 30 convictions involving 65 offences and FIVE jail sentences. In 1973, a six-month sentence for indecently assaulting underage girls. In 1997, received a caution for a sexual crime involving a girl of 14.
June 2008 – A FORMER Councillor has escaped jail for downloading thousands of child porn images. Peter O'Brian, 46, formally of Drakes Way, Hatfield, was given a 3 yr. com order and is attending rehabilitation for his sick addiction. The ex-councillor pleaded guilty to 11 counts of making indecent images of children and two counts of possessing indecent images of children.
July 2011 – A PEDOPHILE who described his collection of indecent images of children as 'art' has been jailed for 15 months after admitting a string of child sex offences. Ex councillor Martin Fisher, of Queens Road, Whitstable, was sentenced at Canterbury Crown Court today after earlier pleading guilty to five counts of sexual assault, three of which were against a girl under 13, and possessing and making indecent images of children. 3 additional offences of indecent assault on a child under 14 will remain on file
Jan 2001 – A Labour councillor has been jailed for seven years for raping a nine-year-old child. Iestyn Tudor Davies, 50, from Brackla in Bridgend, south Wales, carried out the sex attacks on the girl while his magistrate wife Pamela slept just yards away in the next bedroom.
June 2006 – GANG sex, blackmail, death threats, lighter gas sniffing and sex for rent this man used them all in decades of perversion against young girls and a single mother. Pedophile Eric Coates and his father, Former Labour Councillor Raymond Coates, preyed on those who came into contact with them in their Huby home and elsewhere, Leeds Crown Court heard. Eric, 51, formerly of Huby, is serving 14 years behind bars after pleading guilty to 15 sexual crimes against girls aged 11 to 14 and a single mother of three.
February 2005 – Labour Councillor (Coxhoe, Durham)Les Sheppard was convicted in 2004 on ten counts of indecent assault on young girls. Jailed for 2 years and placed on the Sex Offenders' Register for 10 years. Teeside Crown Court heard how 71 year-old Cllr Sheppard lured his victims into his gold Porsche before driving them to remote spots, where he would submit them to sickening sex attacks
August 2009 – A former mayor & Labour councillor escaped jail after being convicted of possessing and distributing child pornography. Stewart Brown, 60, admitted 21 offences of possessing indecent images of children and one of distributing pictures. Brown, of Nutclough, Hebden Bridge, admitted all the charges, some of which were said to relate to images of girls as young as three
May 2009 – A disgraced former Walsall councillor who left a computer memory stick containing child porn behind after a town hall meeting was fined £443. Jonathan Phillips was placed on the sex offenders register for two years
March 2010 – Keith Potts, 60, who is a former Labour Party councillor, and served on Chester-le- Street District Council, accepted a police caution for possessing 24 indecent images of children. He must sign on the sex offenders register for two years.
March 2012 – A former Leicester city councillor who caused a political storm by describing Gordon Brown as "the worst Prime Minister in history", pestered two schoolgirls for sex and indecently assaulted a young woman. Manish Sood kissed a 22-year-old on her bottom in the guise of "therapy" and offered to pay two girls, aged 14 and 15, to visit his home for "massages"
Nov 2011 – A Labour councillor with close links to Harriet Harman and Tessa Jowell has been jailed for attempting grooming an underage girl for sex. John Friary has been jailed for 15 months after he was caught attempting to sexually groom a child online.
January 2007 – A councillor been sent to jail for five years after molesting two 11-year-old girls while he was a school governor. Bob Hargreaves, 62, who was elected to Bradford Metropolitan District Council in 2004, was given five years in jail.
December 2006 – A former Labour Party organiser has been jailed for 15 months for grooming a 13-year-old boy on the internet. Peter Tuffley, 28, was working in the North West when he took the teenager back to his flat in Liverpool after they met through an internet chatroom. Tuffley was also sentenced to six months imprisonment, to run concurrently, for abducting the youngster
September 2006 – The former leader of Dartford Borough Council has been given a three-year community rehabilitation order for downloading child porn. Kenneth Leadbeater, 50, pleaded guilty before magistrates in June to 14 counts of making indecent images of children. Police found 320 images of indecent images of boys on his computer
September 2006 – A former Redruth councillor has been jailed for indecently assaulting a young girl. Andrew Trathen, 52, of Rose Row in Redruth, denied intentionally sexually touching the girl
April 2008 – A DEVIOUS pedophile convicted of possessing images of child pornography on his computer has been fined £100 for failing to comply with his community order and warned he could go to jail if he does so again. Disgraced former Haverhill town councillor Mabon Dane, 38, appeared at Ipswich Crown Court where he denied breaching the order imposed on him in 2006 when he was found guilty after a trial of 16 charges of making indecent images of children and one of possessing them
February 2005 – A man who served Leeds for 10 years as a Labour councillor has been given a suspended jail term for possessing pornographic images of young girls. Lee Benson, 46, of Yew Tree Lane, Colton, pleaded guilty at Leeds Crown Court to 12 counts of possessing indecent images of children
January 2005 – A city councillor has been jailed for two years after he used his car to lure schoolgirls for sex assaults. Leslie Sheppard, 71, of The Grove, Coxhoe, County Durham, was found guilty of nine indecent assaults and one attempt on three girls aged 9 to 13.
January 2005 – Tunstall councillor Lee Wanger was found guilty of encouraging the spread of internet child porn after logging on to a website under investigation. He was fined £250 and placed on the sex offenders' register for five years
March 2004 – A former teacher and Labour councillor walked free from court after admitting viewing child porn. Nelson Bland, 50, from Reading, was sentenced to 100 hours community service. Bland had earlier admitted 16 counts of making indecent images of children and one count of distributing child porn
June 2004 – A councillor who admitted taking indecent pictures of a 14-year-old girl has been placed on the sex offender's register. Graham White, 61, from Woodside, pleaded guilty to four counts of taking indecent photographs of a minor
March 2004 – A former Perth councillor who downloaded child pornography has been banned from owning a computer after escaping a jail sentence. Disgraced SNP politician Iain Hunter was found guilty of accessing child porn at home and in his party office
March 2003 – An ex-political leader in Lancashire has admitted accessing child pornography from the internet. William Chadwick pleaded guilty, at Liverpool Crown Court, to 18 offences of making indecent photographs of children. Chadwick, who was leader of the Lib-Dem group in Preston, was fined £1,000 and ordered to sign the sex offenders' register for life
August 2008 – A disgraced former Coventry city councillor has been given a six month suspended jail sentence for downloading hundreds of child porn images. Peter Stidworthy, 53, appeared at Coventry Crown Court. The images were found when he took his computer into a shop for repair
January 2002 – A former Bedfordshire Conservative council leader has been jailed for 18 months for indecently assaulting two girls. Albert Whinnett, 73, was chairman of South Bedfordshire District Council in 1984. Judge Ronald Moss told him had he been younger and in better health the sentence would have been four or five years
November 2009 – A young Tory has been jailed for six months after he admitted downloading sickening child porn. Alister Cooling, 27, who writes for the Conservative Home website and campaigned for London Mayor Boris Johnson, owned films featuring girls as young as five being abused. The pervert also downloaded a bestiality film
September 2007 – Three people who abused two children during a six-hour orgy arranged over the internet have been jailed. Liberal Democrat activist Archibald Wood, 60, from Tavistock, Devon, was jailed for seven years. After communicating with Wood over the internet, another man took the 13-year-old boy and 12-year-old girl to the private property in Fleet
December 2008 – He was the urbane gent who waited on the Royal Family for nine years – first serving the Queen at Buckingham Palace and then her mother. But throughout his service Paul Kidd was leading a double life as a serial child abuser who molested a number of boys over a 30-year period. Kidd, even stood for election as a UK Independent Party candidate in Dukinfield and Stalybridge
January 2003 – FORMER Weymouth councillor David Crosland has been found guilty of child pornography charges. Some of the photographs showed young girls performing sex acts with adult males
April 2004 – TOP Tory councillor Mike Oram has been urged to quit after appearing in court on child pornography related charges. Oram, who has represented Blandford East since 1999, admitted one charge of making an indecent photograph of a child and another of inciting the distribution of pseudo-photographs of children under the age of 16. Oram was given a two-year conditional discharge and ordered to pay £87 costs
May 2011 – A child protection charity has attacked an "appallingly lenient" decision not to jail a former Lambeth councillor who admitted possessing more than 94,000 images/videos of abused children. Toren Smith, of Lilford Road, Camberwell, was given a two year suspended sentence at Southwark Crown Court on Monday, after earlier pleading guilty to 24 counts of possessing and making indecent images of children
Feb 2012 – A former SDLP councillor from Londonderry has been given a probation order after admitting two charges of sexual assault against a child. The girl was 11 at the time of the attack. William McCorriston, 77, from Phillip Street, was also placed on the sex offenders register for five years. The young girl told her mother he had kissed her, and felt her body over her clothing. She also said that weeks earlier, he had kissed her on the cheeks and then the lips
Feb 2012 – A Darlington councillor has been jailed for sexually assaulting a girl and having pictures of child abuse. Married father-of-three Mark Burton, 43, of Middleham Road, Darlington, was chairman of a committee responsible for children's welfare. He was jailed for 22 months at Teesside CC. Burton took advantage of the schoolgirl following a drunken party
Dec 2011 – A FORMER councillor has described how he considered suicide after being arrested on child pornography charges. Nathan Bale, former Cornwall councillor for Bude and Stratton North, viewed indecent images of children online over an eight-year period. Bale, of Penfound Gardens, Bude, was ordered to attend a sex offenders' programme
Nov 2011 – THE agent of leading Labour MP Chris Bryant was jailed for three years yesterday for having an "appalling" hoard of vile child pornography. DisgracedStephen Carnell, who helped shadow Justice Minister Mr Bryant to victory in last year's election, was caught with over 12,500 sick images and videos of children. A court heard the 58-year-old former councillor and school governors' chairman had amassed some of the most serious child porn police had ever seen.
December 2011 – A FORMER councillor was jailed for three years for indecently assaulting a girl more than 14 years ago. David Woodfinden, 70, of Lon Ely, Llanfairtalhaiarn, was sentenced at Liverpool C/C. He had pleaded guilty on November 22 to four indecent assaults on the same girl aged under 16 in between 1993-97.
Tory Party Councillor(Wickbar/Bristol) Roger Talboys – Convicted and jailed for 6 years for multiple sex attacks on children.
Labour Councillor (North Lincolnshire) David Spooner – Convicted and jailed for 1 year for masturbating in front of 2 young boys.
Labour Mayor (Westhoughton/Lancashire) Nicholas Green – Convicted and jailed for 10 years for 3 rapes and 13 counts of indecent assault against little girls between the age of 6 and 10. He raped one woman on her wedding day.
Labour Parliamentary candidate(Cheadle/Cheshire), Paul Diggert – Subject of a 2002 police investigation into the alleged procurement of underage girls for sexual purposes via internet chatrooms. According to the `Sunday Mirror` (3/11/02), Diggert had admitted to having four underage girls that he was `grooming` for sex. In 2004 Diggert was convicted of making and distributing indecent pictures of children
1999 – Michael Cunningham, who is a member of the nationalist Social Democratic and Labour Party (SDLP) from Northern Ireland has pleaded guilty to 13 charges of child sex abuse. He admitted indecently assaulting two girls aged six and seven in a series of charges dating back to 1979
MP, Harriet Harman argued for incest to be decriminalised and argued that sexually explicit photographs of children should be legal unless it could be proven that the subject had suffered harm or that the an inference to that effect or to the effect that harm might have been caused could reasonably be drawn from the images themselves
1992 – A FORMER Labour councillor and her lover who 'terrified' a 15 yr-old girl in 3-in-a-bed sex sessions were jailed. Susan Smith, 33, the former member for St Martins ward in the London borough of Lambeth, was sentenced to a total of 18 months. Ronald Lineker, 53, who was said to have transvestite tendencies, was jailed for 3 years after being convicted of two charges of indecent assault and six of unlawful sexual intercourse
2005 – A FORMER Conservative councillor has been branded "a menace to young women" and sent to jail for two-and-a-half years for a string of sex attacks.Michael Robinson, 59, pleaded guilty to two indecent assaults and four sexual assaults on four women who worked at his new age and body piercing shop. One of his victims was just 15-years-old.
2007 – A FORMER councillor has been jailed for five years at Cardiff crown court for raping a 15 yr old girl. Alan Jolly, 68, of Lower Salisbury Street, Tredegar got into bed with her and raped her. When arrested, Jolly claimed she was an active participant, suggested going to bed and instigated the sex.
Jan 2012 – A preacher who stood as a Conservative candidate for Holyrood has been jailed for eight years for a 15-year campaign of child abuse. John Smart, 48, preyed on three youngsters he met at the Edinburgh City Mission. He began abusing one of his victims when the boy was just 3 years old
August 2007 – A LABOUR councillor who swapped child sex images with internet pedophiles beat a jail sentence yesterday — after a judge decided he was NOT a pervert.Gregory Vincent, who worked as former sports minister Tony Banks' agent at the last election, spent hours trawling for pictures of young girls being abused.
Mar 2000 – Former politician `not fit to stand trial' on child abuse charges
The DPP is not to proceed with the prosecution of a former senior politician on 70 charges of indecent assault of five children following expert medical advice that the man is unfit to stand trial due to his age and illness, the High Court was told.
http://www.dailymail.co.uk/news/article-2682958/Pro-paedophile-group-leader-routinely-stored-campaign-material-Home-Office.html
The former head of a pro-pedophile activist group routinely stored campaign material at the London Home Office, it has been claimed.
Steven Adrian Smith was working as an electrical contractor at the Westminster building between 1979 and 1982 – and allegedly used locked cabinets in his office to hide details of child abusers known to the Pedophile Information Exchange.
The information comes as extraordinary new claims pointing to an Establishment cover-up of child sex abuse by senior politicians emerged last night.
Smith, who was jailed indefinitely in 2011 for possessing indecent images of children, became head of the Pedophile Information Exchange in 1979 – arguing for the abolition of the legal age of consent.
While chairing the pro-pedophile group, security cleared him for employment monitoring alarm systems at the Home Office's then headquarters at Queen Anne's Gate in Westminster.
http://www.mirror.co.uk/news/uk-news/blair-government-briefed-police-paedophile-6123122
Scotland Yard's anti-corruption command are investigating claims that evidence the minister was part of a pedophile ring in Lambeth, South London, in the 1980s was covered up.
Retired detective Clive Driscoll says he was stopped and removed from investigating the Labour star in 1998 after he named the politician as a suspect.
[Part of the briefing Document that was written to the Blair administration:]
Liverpool police have been investigating conducting a major investigation into a number of allegations of pedophile activity in Merseyside Children's Homes. The investigations has produced strong evidence of abusive behaviour by staff in St Edmunds Children's Home Liverpool during the period 1971-1976. In particular 12 men have made statements that they were systematically abused as children, by Mr John Carroll. This has resulted in the arrest and charge of a Mr John Carroll with over 30 counts of indecency, 10 buggery and 10 attempted buggery. Mr Carroll has admitted to the indecency and is challenging other charges. Carroll was convicted of a Schedule 1 offence in 1966. From 1978-1991 he was employed in Lambeth as Officer-in-charge of two different Children's Homes ( Highland Road, Angel Road). He was dismissed for financial irregularity.
During his time in Lambeth Mr Carroll applied to foster 2 children, despite his application being rejected———?————agreed for children to stay with Mr Carroll and Lambeth (council) paid him an allowance…
http://abcnews.go.com/blogs/politics/2013/12/senators-chief-of-staff-investigated-for-child-pornography/
The CHIEF OF STAFF to Sen. Lamar Alexander, R-Tenn., was arrested on child pornography charges today by the U.S. Postal Inspection Service, a Justice Department spokesman said.
http://www.dailymail.co.uk/news/article-2572495/No-10-aide-arrested-child-porn-Police-quiz-man-advised-Cameron-web-filters.html#ixzz58tdytisH
One of David Cameron's closest aides has resigned after being arrested on child pornography allegations.
Patrick Rock has been closely involved in drawing up Government policy on internet porn filters.
He quit after the Prime Minister learned he was at the centre of a police probe over images of child abuse.
Detectives from the National Crime Agency searched No 10 and examined IT systems and offices used by Mr Rock, deputy director of the Downing Street policy unit.
Mr Rock was a protege of Margaret Thatcher and has held a series of senior posts in the Conservative Party. He has been close to Mr Cameron for many years.
Described as the Prime Minister's 'policy fixer', the unmarried 62-year-old had been tipped as a leading contender for a Conservative peerage only weeks ago.
His arrest and resignation from Downing Street, where he has worked since 2011…
https://www.usatoday.com/story/news/nation-now/2018/03/03/kentuckys-child-bride-bill-stalls-groups-fight-let-13-year-olds-wed/391697002/
Kentucky's 'child bride' bill stalls as groups fight to let 13-year-olds wed
FRANKFORT, Ky. — A bill to make 18 the legal age for marriage in Kentucky has stalled in a Senate committee amid concerns about the rights of parents to allow children to wed at a younger age, according to several lawmakers. Eileen Recktenwald, the executive director of the Kentucky Association of Sexual Assault Programs, was more outspoken.
"This is legalised rape of children," she said. "We cannot allow that to continue in Kentucky, and I cannot believe we are even debating this is the year 2018 in the United States."
Donna Pollard, a Louisville woman who said she was married at 16 to an older man who began sexually abusing her when she was 14, has advocated for the bill. She toldCourier Journal that opponents include the Kentucky Family Foundation, a Lexington-based conservative group that lobbies lawmakers on social issues.
Pollard said the man she now calls her "perpetrator" became violent and abusive after they married in 2000, a wedding she said was encouraged by her mother, who married at 13.
The provision involving a judge appears to have bothered some lawmakers, including Sen. John Schickel, a Boone County Republican.
"I had some problems with the bill," he said Thursday. "Decisions involving a minor child should be made by a parent, not the court."
MP shares tweet saying abuse victims should 'shut their mouths for good of diversity'

A Labour MP has been criticised for sharing a Twitter post telling UK Rotherham sex abuse victims to 'shut their mouths for the good of diversity'.  Naz Shah, who represents Bradford West, shared and liked a post tweeted out from a parody account of newspaper columnist Owen Jones.
It said: 'Those abused girls in Rotherham and elsewhere just need to shut their mouths. For the good of diversity.' The 43-year-old later deleted her retweet and unlike the post.
http://www.news.com.au/national/politics/labor-slammed-for-opposing-mandatory-jail-time-for-paedophiles/news-story/ba1ea8e681eac09b668efb1d41ac31c3
AUSTRALIA – Labor slammed for opposing mandatory jail time for pedophiles
LABOR is blocking compulsory jail time for child sex offenders in a move that will put more pedophiles on Australian streets, the government says.
http://nypost.com/2017/05/26/de-blasio-staffer-arrested-for-child-pornography/
A leading young Democrat and de Blasio administration employee has a secret taste for sickening child porn that involves baby girls as young as 6 months old, court papers revealed Friday.
Jacob Schwartz, 29, was busted for allegedly keeping more than 3,000 disgusting images
Schwartz's father, Arthur Schwartz, is a labor lawyer and a Democratic insider Arthur Schwartz.
Jacob Schwartz is the president of the Manhattan Young Democrats and the downstate region vice president of the New York State Young Democrats.
Schwartz is employed as a $66,360-a-year computer programmer analyst in the city Department of Design and Construction, where he works on the "Build It Back" Hurricane Sandy recovery and resiliency program.
A photo posted last year on Twitter shows him posing with Robby Mook, then the campaign manager for Hillary Clinton's presidential campaign.
http://edition.cnn.com/2017/09/25/politics/anthony-weiner-sentencing/index.html
Former Rep. Anthony Weiner was sentenced Monday to 21 months in federal prison for sexting with a minor.
In addition to the prison term, Weiner also was sentenced to three years of supervised release.
In May, Weiner, 53, pleaded guilty to one charge of transferring obscene material to a minor in federal court in Manhattan. The charges stem from communications that the former congressman had with a 15-year-old girl on social media sites between January and March 2016. Cote added that at the time Weiner was communicating with the girl, he was "in contact with 19 other women," a point the defence had used to argue Weiner did not have an abnormal interest in teenagers. Weiner resigned from Congress after a lewd picture appeared on his Twitter page in June 2011. Sexually charged, sometimes explicit, texts with women also emerged around this time.
In 2013, Weiner sought to revive his political career by running for mayor of New York. Two months after he announced his candidacy, screenshots surfaced of sexual conversations that Weiner had with a woman the previous year.
Weiner, is the recently estranged husband of Huma Abedin, Hillary Clinton's former adviser.
Investigative Journalist Found Dead in D.C. Hotel Room Weeks After Reporting Bill Clinton to FBI & DHS for Allegedly Raping Boy

Investigative Journalist Jen Moore Found Dead in D.C. Hotel Room Weeks After Reporting Bill Clinton to FBI & DHS for Allegedly Raping Boy.
Moore, an advocate who investigated abused and trafficked children, had been in the process of investigating allegations by a 26-year-old man that — as a young boy — he was sexually assaulted by Bill Clinton and pimped out at private sex parties attended by other D.C. elites. According to interviews, the victim in this case claimed he was sexually assaulted by Clinton on a yacht in New England and knows the identities of several other child victims who were subjected to identical abuses. The victim also confirmed he witnessed other children and people being sexually and physically abused and possibly worse on numerous "boat parties." These parties were attended by elite members of D.C. political class, according to Moore and the victim.
Both young boys and young girls, the victim said.
http://www.collective-evolution.com/2017/03/31/nbc-news-report-hillary-clinton-covered-up-pedophile-ring-at-state-department/
An NBC news report claims that Hillary Clinton, while acting as secretary of state, shut down an investigation into an elite pedophile ring in State Department ranks in order to avoid scandal and protect the careers of high ranking officials and an ambassador. Why would this need to happen?
The NBC investigation was broadcast prior to when NBC became heavily slanted in favour of Hillary's campaign in the recent election. They were handed internal State Department memos to back up claims of a massive Hillary Clinton elite pedophile ring cover-up. See Also: https://www.youtube.com/watch?v=GcJrdcABH2M

Hillary Clinton Issues a Non-Apology for Shielding a [Sex] Harasser: The Daily Show (5:18)
https://yournewswire.com/kindergarten-pedophile-ring-clintons/
Police have uncovered a pedophile ring operating at a Kindergarten in China run by the Clinton Foundation.
An investigation has revealed that children at the Clinton-run nursery school were routinely forced to strip naked and then raped and tortured by the sadistic people that ran the institution. Disobedient Media reports: The Clinton Foundation is facing renewed criticism after it was revealed that one of the foundation's former executives, Joel Getz, was also an independent Director at RYB Education. RYB Education is the parent company of a Beijing kindergarten at the center of a massive scandal in China that emerged in the wake of allegations toddlers were being injected with drugs and possibly sexually abused.
CNN wrote: "State-run Xinhua news agency reported that police have opened an investigation into RYB Xintiandi, a private kindergarten in Beijing, after numerous parents accused the school of drugging and molesting their children. Beijing's education authority confirmed the police investigation in a statement." The Beijing-located kindergarten was shut down in the wake of the allegations.
BBC reported on the uproar: "A Beijing nursery is accused of giving injections and feeding drugs to toddlers, in a case that has sparked outrage in China. Authorities are now investigating the nursery, which is a branch of the well-known RYB Education chain. At least eight children attending the RYB Education pre-school in the upscale Chaoyang district are said to have been injected with unknown substances…"
CNN reported that some parents are also alleging possible sexual abuse, saying their children were stripped naked.
The Daily Mail related that Chinese police had detained three daycare staff for suspected abuse. This latest debacle is not the first time RYB Education schools have been the center of abuse allegations. The Daily Mailwrote that "RYB already apologised in April and suspended the head of a Beijing kindergarten after admitting that teachers committed "severe mistakes". The Beijing News had obtained videos showing teachers throwing a child on a bed and kicking another in the back." There was an additional RYB-related scandal in northeast Jilin province in October 2016.
Joel Getz is shown in a document published by Reuters to have been an independent Director at RYB Education, in addition to his former role at the Clinton Foundation and his work for Yale as Senior Associate Dean for Development and Alumni Relations.
http://www.huffingtonpost.com.au/2017/10/25/george-h-w-bush-apologises-after-actress-says-he-sexually-assaulted-her_a_23256049/
"He didn't shake my hand," Lind wrote. "He touched me from behind from his wheelchair with his wife Barbara Bush by his side. He told me a dirty joke. And then, all the while being photographed, touched me again. Barbara rolled her eyes as if to say 'not again.' His security guard told me I shouldn't have stood next to him for the photo."
Lind said she has learned to use her own personal power against those who wield theirs inappropriately. "It seems to me a President's power is in his or her capacity to enact positive change, actually help people, and serve as a symbol of our democracy. He relinquished that power when he used it against me and, judging from the comments of those around him, countless other women before me. What comforts me is that I too can use my power, which isn't so different from a President really."
https://www.smh.com.au/politics/federal/bill-heffernan-paedophile-list-allegation-former-royal-commissioner-james-wood-hits-back-20151021-gkeawj.html
Liberal senator Bill Heffernan says the royal commission failed to properly investigate lawyers who allegedly attended a "boy brothel", as new details emerge of a "secret list" containing the names of high-profile alleged pedophiles.
The controversial Liberal senator used parliamentary privilege on Wednesday to claim that a former Australian prime minister was on the ["boy brothel"] list, which he claims forms part of a police document.
Many of the people on the list and otherwise named in the documents were "prominent" and were delivered to me by a police agency some time ago because no one seems to want to deal with them."
He also claimed every Commonwealth attorney-general since Philip Ruddock had seen the list.

Impunity for US government workers using child porn (6:19)
http://www.cbc.ca/beta/news/canada/new-brunswick/sex-offender-special-care-1.4574933
New Brunswick will make no policy changes to prevent criminals from living in special care homes among residents with physical, emotional and intellectual disabilities, according to the minister of seniors and long-term care.
Lisa Harris sent an email recently to the mother whose son, with cognitive and physical impairments, was sexually assaulted last year by a registered sex offender resident. (Social development had placed the man, who had two prior convictions, in the same special care home as the woman's son.) She said employees of special care homes are screened for criminal records and must also undergo Social Development record checks.
That would detect any contraventions under the Family Services Act such as endangering a child's security or development. However, residents of special care homes are not subjected to either.  "…the Department of Social Development does not require a criminal record check or a Social Development Record Check for special care home residents," explained Lisa Harris in her email to the mother.
https://fox17.com/news/nation-world/pediatrician-admits-to-assaulting-dozens-of-young-patients?fbclid=IwAR2VtlWsBw9QsuekSC4aeLXjlfs3GNF2iBHGGXzIlMee21WeJHRPu0Ls6fQ
WASHINGTON (AP) – Nearly two decades after Pennsylvania STATE REGULATORS  let him off the hook, a former pediatrician, Dr Johnny Barto, admitted in court Thursday that he sexually assaulted 31 children, most of them patients.
The abuse spanned decades and typically involved girls and boys between ages 8 and 12, prosecutors said. One of the victims was 2 weeks old. Barto molested children in the exam room at Laurel Pediatric Associates in Cambria County and at local hospitals, according to the Pennsylvania attorney general's office.
Barto, 71, was arrested in January and charged with groping a 12-year-old girl during an office visit several weeks earlier. Suspecting she might not be alone, the attorney general's office put out a call for other accusers to come forward — and they did, by the dozen, with claims going back to the late 1980s.
The Pennsylvania Board of Medicine had a chance to stop Barto nearly two decades ago, when he faced administrative charges that he sexually assaulted 4-year-old Lee Ann Berkebile and another young patient during office visits. But state regulators threw out the case and allowed him to keep practicing medicine, and Barto went on to molest more than a dozen more young patients, according to prosecutors.
Examples of psychiatrists and psychologists aiding and abetting child trauma, and practising child sex abuse:
http://www.leadershipcouncil.org/1/pas/RAG.html
Mentally ill Richard Gardner 's PAS theory in the context of his extreme views concerning women, pedophilia and child sexual abuse. Garner's views are: "It is because our society overreacts to it [pedophilia] that children suffer. There is good reason to believe that most, if not all, children have the capacity to reach orgasm at the time they are born. Sex abuse is not necessarily traumatic; the determinant as to whether sexual molestation will be traumatic to the child, is the social attitude toward these encounters. The sexual exploitation has to be put on the negative list, but positives as well must be appreciated. In such discussions the child has to be helped to appreciate that we have in our society an exaggeratedly punitive and moralistic attitude about adult-child sexual encounters. It may be that one of the reasons the daughter turned toward the father is the impairment of the child's relationship with the mother. If the mother has reacted to the abuse in a hysterical fashion, or used it as an excuse for a campaign of denigration of the father, then the therapist does well to try and "sober her up"…. Her hysterics … will contribute to the child's feeling that a heinous crime has been committed and will thereby lessen the likelihood of any kind of rapproachment with the father. One has to do everything possible to help her put the "crime" in proper perspective. She has to be helped to appreciate that in most societies in the history of the world, such behaviour was ubiquitous [i.e., everywhere], and this is still the case. The father must learn to control himself if he is to protect himself from the Draconian punishments meted out to those in our society who act out their pedophilic impulses."
https://www.bbc.co.uk/news/resources/idt-sh/norways_hidden_scandal
Experts' (psychiatrists) report, for taking a little girl from her mother, concluded that the little girl's "development would be limited" if she remained with her mother. The report said: "This is because the mother does not recognise her daughter's basic needs and does not perceive the mental harm she may have suffered" while in her mother's care.
April this year, and one of those two experts – the male psychiatrist – reappeared in the same courthouse.
This time, though, he wasn't in the witness stand.
He was sentenced to 22 months in jail – after admitting he had downloaded nearly 200,000 images, and more than 12,000 videos, showing the sexual abuse or sexualisation of children.
The court heard that some appeared to show infants being raped.
Norwegian police were initially tipped off that the man was downloading illegal child abuse images in 2015.
But it wasn't until early 2017 – a year and a half later – that they investigated and then arrested him.
https://www.cbc.ca/news/canada/manitoba/child-porn-images-arrest-doctor-1.4858633
A Winnipeg child psychologist who works with kids and trains medical students has been charged with possession of child pornography. Winnipeg police announced Thursday they had laid the charge against Gary Anthony Shady, 72.
http://www.abc.net.au/news/2018-03-27/psychiatrist-banned-after-sexual-misconduct-with-patients/9594336
A Sydney psychiatrist who told a child sex offender [pedophile] that his behaviour was "OK" and "should be allowed" has been banned from practising for two years.
Dr Ian Morris de Saxe had been suspended from practicing since September, after the NSW Civil and Administrative Tribunal found he had engaged in professional misconduct in relation to three patients.
The tribunal on Tuesday found that Dr de Saxe was not currently fit to practice "and that he may remain so for some time".
Dr de Saxe told one patient — a 36-year-old man who was alleged to have had sexual contact with children — that he did not agree with the law and that "it was alright to do this", saying "in other countries it is legal" and "back in Greek times it was OK," the tribunal found.
He was also found to have offered to lie for the patient, whom he was treating at Mosman Private Hospital in August and September 2010, by providing false or misleading information to be used in the patient's defence in court.
http://articles.latimes.com/2011/feb/04/local/la-me-hospital-director-20110204
A former California mental hospital director who prosecutors alleged had a history of sexually abusing young boys was convicted Thursday of molesting his adopted son.
A Long Beach jury found Dr. Claude Edward Foulk, 63, guilty on 31 counts of sexual molestation, including lewd acts on a child and sodomy by use of force. He was acquitted on four other counts.
Now 27, his son, a former foster child who was later adopted by Foulk, testified that he was abused from age 9 until he fled home at 21. He said he was "beyond happy" at the verdict.
"I'm very relieved," he said. "He will never see the light of day."
What about main stream media and the entertainment business?
http://yournewswire.com/mel-gibson-hollywood-pedophiles/
Mel Gibson says that the sexual abuse scandal in Hollywood is going to get worse, claiming that tinsel town pedophiles have "nowhere left to hide."
Newstalk.com reports: Gibson said that he hopes there will be a positive outcome for victims of sexual harassment or assault who are now coming forward.
He said: "I think a lot of light's being shined into a lot of dark places right now – and rightfully so.
https://vigilantcitizen.com/latestnews/kevin-spacey-posted-a-chilling-video-on-youtube-one-day-before-the-sudden-death-of-his-accuser/?fbclid=IwAR1X8x8Ih7kDmoz-sB9HUD-9pXYT0c69gOeqS67QTdbnMvEBoPaDZf_VxTk
•Actor Anthony Rapp claimed Kevin Spacey made a sexual advance towards him in 1986 when he was 14. Rapp said that Spacey laid on top of him at a party and alleged that he "was trying to seduce" him.
•U.S. filmmaker Tony Montana claimed he was "forcefully" groped by Spacey in a Los Angeles bar in 2003.
•An unnamed man claimed he woke up to find Spacey lying on him while staying at his New York home in the mid-1980s. The man was 17 at the time.
•An unnamed actor woke up to find Spacey performing a sex act on him in 2008. The actor was 23 at the time.
•The son of actor Richard Dreyfuss claimed Spacey groped him in 2008 in his father's presence.
•Barman Kris Nixon claimed Spacey groped him at a party held in the actor's London apartment in 2008.
•The King of Norway's former son-in-law accused Spacey of sexual harassment after a Nobel Peace Prize concert in 2007.
•In 2016, Kevin Spacey was charged with sexually assaulting a teenager at a bar in Massachusetts in 2016.
https://dailycaller.com/2019/11/07/nbc-abc-cbs-rape-rings-weinstein-epstein/?fbclid=IwAR3xvIT2wvsIrEb7zN9fupAZZWE_YVwO-enbH7rf-lhPBNsRAZWdBvYFwFc
NBC, ABC and CBS News have all now appeared to run cover for some of the world's most powerful rape rings, allegedly killing stories and firing employees who tried to expose the outlets. The allegations range from killing entire stories outing disgraced movie mogul Harvey Weinstein, shutting down an interview detailing accusations against alleged child sex-trafficker Jeffrey Epstein and firing an employee who might have tried to hold an outlet responsible.
NBC News: First, investigative reporter Ronan Farrow came out with a book on Oct. 15 titled "Catch and Kill: Lies, Spies and a Conspiracy to Protect Predators." The book accused NBC News of covering up Farrow's story about the sexual assault allegations surrounding now-disgraced movie mogul Harvey Weinstein.
ABC News: Just a few months later, ABC News was accused of killing a story about the late alleged child sex-trafficker Jeffrey Epstein after Project Veritas released a video of anchor Amy Robach complaining about the network. Robach was caught on camera saying ABC killed her interview with Epstein accuserVirginia Roberts Giuffre, according to the video. "I've had this story for three years," Robach said in the unearthed video. "I tried for three years to get it on to no avail,
CBS News is the latest to appear to have run cover for a huge rape ring when it allegedly fired a former ABC employee Wednesday who had access to Robach's tape. The outlet declined to comment to Page Six, it reported Thursday.
https://vimeo.com/281971061?fbclid=IwAR3qdfP2SWY3nD3yH80CqpDhIYeZUgmL2DEeLhaC9IHglH4dUAJ4GRTwqeU Isaac Kappy (Actor) Drops Pedophile Bombs on Hollywood! (58:18)
https://21stcenturywire.com/2012/10/11/blowing-the-lid-on-child-abuse-in-entertainment-the-ben-fellows-radio-show-with-guest-patrick-henningsen/
Blowing the Lid on Child Abuse in Entertainment – The Ben Fellows Radio Show with guest Patrick Henningsen https://www.youtube.com/watch?v=DtSsXy46RqY Ben Fellows Former Child Actor Exposes Entertainment Industry [43:58]
https://www.youtube.com/watch?v=2K0HwYj9tZE Special Report: Hollywood Child Abuse (11:18)
https://www.irishtimes.com/culture/film/michael-jackson-sexually-abused-me-for-seven-years-inside-a-disturbing-new-documentary-1.3772151?fbclid=IwAR36tkl7MuOb9LtJ_8TYf1cCFijG2z8jtLY17rNOia4R4DSdAN4PXa43zIU It only takes about two minutes into the four-hour documentary Leaving Neverland to realise that Michael Jackson's legacy is never going to be the same again. After a brief introduction, praising him for his indisputable talent, one of his accusers looks into the camera and lists the ways in which the singer helped him. He then states: "And he sexually abused me for seven years." The first accuser, whom we hear from at the outset, is Wade Robson, who at a young age developed an intense fandom for Jackson, his "walls plastered" with posters. Described as "a sensitive boy", he preferred dance over basketball and was soon emulating Jackson's moves at the age of five in a local contest. The prize was meeting the man himself and the pair developed a deep friendship, one that was encouraged by an over-eager, self-described stage mother, spellbound by his celebrity.
The second accuser, James Safechuck, encountered Jackson after nabbing a key role in a Pepsi ad. Similarly, the two developed a friendship at a young age and by 10 he was accompanying him on tour, followed by an equally starstruck mother, who saw Jackson as another son.
James recalls that he woke on one occasion to find Jackson saying that while he was asleep, he performed oral sex on him. He also told the boy that he was his first sexual experience and that this was just an "acceptable way of experiencing your love".
When Neverland Ranch was built, it became easier to ensure privacy. "It sounds sick but it's kind of like when you're first dating somebody," James explains, after listing the many, many spaces at the complex where they would allegedly indulge in sexual relations. At the same time, he claims that Jackson would tell him that his mother was mean and that women were evil, pushing him away from his family and further into his life.
Wade claims that his abuse started at an even younger age when he was just seven. The family stayed at Neverland and after Jackson convinced his mother, he was allowed to be alone with him for five days. "You and I were brought together by God," Jackson said to Wade as he would allegedly engage in a number of anal and oral activities with him. He, too, told him women weren't to be trusted and warned that if anyone were to find out, they would both face jail.
But the tenderness soon wore off as Wade, still just seven, was allegedly shown hardcore porn, while James was introduced to alcohol. The two were slowly fazed out of Jackson's life as younger boys were introduced. "You're no longer special," James describes. Macaulay Culkin replaced Wade in the Black and White video and both were dealing with feelings of jealousy and resentment. Before the documentary premiered, Culkin denied any impropriety. "For me, it's so normal and mundane," he said. "I know it's a big deal to everybody else, but it was a normal friendship."
The film also delves into the responsibility of the parents, with both mothers explaining their decision-making processes. Both were horrified when, as adults, their sons shared their stories and both sons have found forgiveness difficult. It also examines the complex reasoning for their decision to stay silent for all these years, including Wade's appearance at Jackson's 2004-5 trial when he was accused of abusing Gavin Arvizo, as part of Jackson's defence. "I want to speak the truth as loud as I spoke the lie," Wade says near the end of the film, determined to make up for the lost years spent grappling alone.
https://www.dailymail.co.uk/news/article-6673973/Michael-Jacksons-former-maid-says-pedophile-boys-underwear-Jacuzzi.html?fbclid=IwAR1d3kRGOBatKCxRVX5_Xu43tl8xdrKTKqpnmM5F3mrxqqSaQ0QsfAP8rDI • Adrian McManus worked as Michael Jackson's personal maid for four years at his Neverland ranch and said she has no doubt the singer was a pedophile •In an interview with DailyMailTV, McManus claims Jackson brought young boys into his bedroom and said she saw troubling things while cleaning up after him •The 56-year-old says she fished Jackson's and children's underwear from a Jacuzzi at the home, and witnessed kids walking around barely clothed •She says she found Vaseline and tampons next to Jackson's bed and around the house and recalls the singer having a strange obsession with photos of children •McManus said: 'I didn't question it, because he was my boss and you just do what you're supposed to do, but I would wonder' •But most disturbing was a large collection of VHS cassettes McManus believes contained 'intimate' footage the star filmed with children in the 1990s •She says that as details emerged that Jackson could face criminal charges when former child companion Jordan Chandler alleged abuse, the tapes were hidden •McManus said she was scared to come forward because she 'was told by Michael's bodyguards that they could hire a hit man to take me out'
https://www.foxnews.com/entertainment/kevin-sorbo-gianni-versace-sexually-harassed-me-in-the-90s#click=https://t.co/WZsfAvzf4F
Kevin Sorbo said he was invited to dinner parties with the fashion designer and one time when he showed up to dine, no one except for Gianni Versace was there.
"All of a sudden, his hand goes up my leg," Sorbo recalled. "[I told him], 'Dude, you know I'm straight?'"
"This is why I like you. You're not a girly man. You are a man's man," Sorbo said Versace told him.
"In life, you must f–k everything. You must do the dog, and the cat, and the boy, and the girl," Sorbo quoted Gianni Versace as saying.
The actor said after that, Versace still booked him for his fashion shows but he never gave the actor a full campaign like he had said.
"I knew the game, just like I know the game of Hollywood," Sorbo told The Hollywood Reporter. "Casting couches have always been around. I don't play that game, nor do I care to."
http://www.mirror.co.uk/news/uk-news/jimmy-savile-victim-bbc-knew-7223474
A woman molested on live TV by Jimmy Savile has slammed the inquiry in which BBC bosses said they were unaware of his sex crimes.
Victim Sylvia Edwards, now 58, blasted the corporation – claiming that, in her instance, his assault was caught on camera.
She told the Sun: "Of course the BBC knew. In my case it's even on video for God's sake."
The shocking Top of the Pops clip emerged showing a smirking Savile fondling Edwards.
The review by retired judge Dame Janet Smith condemns the corporation over its "deferential culture" and "untouchable stars", and criticises it for having managers who were "above the law".
The draft report suggests Savile, carried out four rapes and one attempted rape while at the BBC, among 61 incidents of sexual assault.
The inquiry was leaked online to website Exaro and also warns that it was possible another "predatory child abuser could be lurking undiscovered in the BBC even today".
http://www.abplive.in/world-news/bbc-indias-daughter-tried-to-cover-up-for-a-serial-child-rapist-employee-136723
London: The BRITISH BROADCASTING CORPORATION, whose "internal culture" was described as "rotten" by a prominent British politician, has a record of trying to cover up sexual attacks by its own employees, including cancelling a TV programme on a BBC star personality, Jimmy Savile, who was a serial child rapist.
BBC canceled the investigative report exposing its popular presenter Jimmy Savile's predatory sexual attacks on scores of children that was scheduled to have been broadcast in December 2011 in the Newsnight programme.
Just last week a report by a panel investigating Savile's sexual crimes at one of the hospitals where he volunteered reported that he had attacked 60 people there, about half of them under 16 years, some as young as eight.
A report by the Metropolitan Police and the Britain's National Society for the Prevention of Cruelty to Children said in 2013 that 214 criminal offences have been formally recorded in which Savile is a suspect and these took place from 1955 to 2009. Many of the abuses took place in 14 medical establishments.
http://www.independent.co.uk/news/uk/home-news/jimmy-savile-15-things-we-now-know-about-the-former-bbc-djs-shocking-abuse-10073038.html
Another batch of reports published today on the scale of Jimmy Savile's abuse at NHS hospitals over half a century add to the mass of evidence against the former BBC DJ. A separate report was also published on Thursday regarding allegations of sexual abuse made against Savile's older brother Johnny, who died in 1998.

Jimmy Savile and Gary Glitter: The BBC dressing Room Hell (00:2:34)
http://www.dailymail.co.uk/news/article-2836062/Bombshell-documentary-Hollywood-pedophile-ring-preying-child-actors-s-linked-X-Men-director-Bryan-Singer-premiers-New-York.html
An Open Secret, by Oscar-nominated documentarian Amy Berg, debuted at the DOC NYC festival Friday
Film claims X-Men star Brian Peck abused a well known child star and got away with it
Among the men named are TALENT MANAGERS Marty Weiss, Michael Harrah and Bob Villard, who represented Leonardo DiCaprio as a budding actor
It also includes interviews with Michael Egan III who accused X-Men DIRECTOR Bryan Singer of raping him before dropping his suit earlier this year
http://www.nydailynews.com/entertainment/gossip/corey-feldman-book-details-sexual-abuse-coreys-article-1.1490863
In his upcoming memoir, Coreyography, Corey Feldman details sexual abuse he and Corey Haim experienced in HOLLYWOOD.
http://www.stuff.co.nz/world/americas/75546867/Hundreds-of-images-seized-in-Glee-actor-Mark-Salling-child-exploitation-case
ACTOR Mark Salling, 33, who plays the "bad boy" in Glee, has been released on $US20,000 ($29,100) bail after being arrested for possessing child sex images.
Electronic devices allegedly containing thousands of images of sex scenes involving under-age children, some aged under 10 years, according to TMZ sources.
His ascent to fame was tarnished by a 2013 lawsuit by his then girlfriend, who accused him of shoving her and forcing unprotected sex when she had requested he use a condom.
http://gawker.com/child-rapist-roman-polanski-still-free-to-make-okay-mov-1739600109
Exciting news for fans of Capt. Alfred Dreyfus—Roman Polanski will get to continue filming a movie about him in Poland after the country rejected an extradition request from the United States.
Polanski, of course, was convicted in 1977 for plying a 13-year-old girl with champagne and drugs before having sex with her at Jack Nicholson's house. But after serving 45 days of a 90-day sentence, Polanski fled the country. He's been living in Europe ever since.
http://www.foxnews.com/entertainment/2011/12/05/recent-charges-sexual-abuse-children-in-hollywood-just-tip-iceberg-experts-say/
On Nov. 21, Fernando Rivas, 59, an AWARD-WINNING COMPOSER for "Sesame Street," was arraigned on charges of coercing a child "to engage in sexually explicit conduct" in South Carolina. The Juilliard-trained composer was also charged with production and distribution of child pornography.
Registered sex offender Jason James Murphy, 35, worked as a CASTING AGENT in Hollywood for years before his past kidnapping and sexual abuse of a boy was revealed by the Los Angeles Times on Nov. 17. Murphy's credits include placing young actors in kid-friendly fare like "Bad News Bears," "The School of Rock," "Cheaper by the Dozen 2" and the forthcoming "Three Stooges."
"This has been going on for a very long time," concurs former "Little House on the Prairie" star Alison Arngrim. "It was the gossip back in the '80s. People said, 'Oh yeah, the Coreys, everyone's had them.' People talked about it like it was not a big deal."
Arngrim, 49, was  referring to Feldman and his co-star in "The Lost Boys," Corey Haim, who died in March 2010 after years of drug abuse.
"I literally heard that they were 'passed around,'" Arngrim  said. "The word was that they were given drugs and being used for sex. It was awful – these were kids. There were all sorts of stories about everyone from their, quote, 'set guardians' on down that these two had been sexually abused and were totally being corrupted in every possible way." Arngrim, who revealed her own sexual abuse in her 2010 autobiography, "Confessions of a Prairie Bitch," explains: "I've heard from victims from all over the country. Everyone tells the same kind of story, everyone is told to keep it secret, everyone is threatened with something."
http://www.youtube.com/watch?v=k6d1k0y0RyU
Hollywood's dirty secret: Sex abuse? (00:6:20)
Robert De Niro Caught In International Underage Prostitution Ring

Robert De Niro Caught In International Underage Prostitution Ring
According to court records from 1998, Independent journalist John Lichfield discovered that the prostitution agency routinely ensnared girls as young as 15, forcing them to have sex with Hollywood's rich and powerful elite.
The French Vice Squad traced 89 young women who said they had been tricked or sometimes physically constrained by the agency into working for them. The girls were sometimes "sold on like cattle" to other call-girl agencies.
While it is not clear whether or not De Niro was supplied with underage girls, his involvement in the ring received little to no media coverage.
It also exposes attempts by the French government machine to block an investigation. Seems France did not want to embarrass senior politicians and damage French interests abroad.
http://www.abc.net.au/news/2018-01-13/allegations-craig-mclachlan-sexually-harassed-doctor-blake-crew/9325050
An actor and a crew member from the top-rating TV drama The Doctor Blake Mysteries have come forward with allegations Craig McLachlan sexually harassed staff and behaved inappropriately on the set.
The new allegations include that he held a banana to his crotch and thrust it into the faces of an actress and a director.
He is also accused of "dry humping" a female crew member during the production and telling a male crew member who offered to get him a drink "I'd prefer a hand job".
The crew member who worked on Dr Blake in late 2016 said he was shocked at McLachlan's behaviour on set, which seemed to be accepted.
"A lot of the time it was sexual innuendo, sexual joking, talking about sex and that filtered through," he said.
"But right from the start, in my first few days there I thought, 'surely not everyone is OK with this'. Privately, over time during the two-and-a-half months I was there, people said 'this is the worst set, for this kind of stuff, that I have ever been on'.
The male crew member told the ABC and Fairfax "there is no possibility that they didn't know he was up to inappropriate behaviour".
"I don't know how blind and deaf you have to be to miss this stuff," he said.
https://www.youtube.com/watch?v=9S75EkbSC6k&feature=share
Brooke Shields at Age 10 SHOCKING PHOTOS Pizzagate Hollywood (5:27)
https://www.youtube.com/watch?v=FnfJbyebSnk
Shirley Temple – pedogate hollywood (12:53)
https://theendofzion.com/2016/03/21/hollywood-jews-repeatedly-tried-to-rape-shirley-temple/
Hollywood Producers Repeatedly Tried to Rape Shirley Temple
When she was only 11 years old, her and her mother went to MGM Studios to discuss the possibility of having Shirley star as Dorothy in The Wizard of Oz. Left alone with the Jewish producer, Arthur Freed, he immediately whipped his schlong out:
"I have something made for just you," he continued, fumbling in his lap. "You'll be my new star!"
Shirley Temple, fortunately enough, did not star in Wizard of Oz, and thus got away from these rotten kikes. Judy Garland, on the other hand, was not so lucky: she was reportedly abused and molested relentlessly by Mayer during filming, ruining her entire life.
When Shirley Temple was 15 she met with Jewish producer David O. Selznick of Gone With the Wind fame to try out for the role of Bridget "Brig" Hilton in his movie Since you Went Away. She says, "Pulling free, I turned for the door, but even more quickly he reached back over the edge of his desk and flicked a switch I had learned from Colby was a remote door-locking device. I was trapped. Like the cartoon of wolf and piglet, once again we circled and reversed directions around his furniture. Blessed with the agility of a young dancer and confronted by an amorous but overweight producer, I had little difficulty avoiding passionate clumsiness."
"It's just the grease that oils Hollywood's wheels," he laughed, feinting ineffectively.
On another occasion, Shirley had a run-in on a train with the producer of the movie Mr. Belvedere Goes to College, whom she identifies only as "the Wizard" (hint: the producer of that movie was the Jew Samuel G. Engel):
A short time later, famous Jew actor, singer/songwriter and movie producer George Jessel asked her to his office to "discuss a key role" in his upcoming film.
He wasted no time in revealing what he really wanted from her:
http://www.express.co.uk/expressyourself/167269/Dark-side-of-Oz-The-exploitation-of-Judy-Garland
Judy Garland was 16 when she won the role of Dorothy in the MGM musical in 1938 and it was to mark both the beginning and the end of her career. The insecure teenager was by that time addicted to barbiturates and amphetamines and was on the road to alcoholism. In addition, she was routinely molested by older men including studio chiefs who considered her little more than their "property".
https://www.stormfront.org/forum/t1036013/
"X-Men" director Bryan Singer is being accused of drugging, raping, and using his power to exploit a teenage boy in a lawsuit filed Wednesday, according to court documents obtained by TheWrap.
According to the lawsuit filed in federal court in Hawaii, plaintiff Michael Egan, who was named in a press release by his lawyers, was 17 when he was forcibly sodomised by Singer, among other accusations.
https://www.nbcnews.com/storyline/harvey-weinstein-scandal/er-actor-anthony-edwards-accuses-producer-gary-goddard-molestation-n819901
"ER" actor Anthony Edwards in an online post on Friday accused producer and writer of Gary Goddard of molesting him as a child.
"I was molested by Goddard, my best friend was raped by him  —  and this went on for years. The group of us, the gang, stayed quiet," Edwards said victims of sexual abuse as children often feel responsible " as if it is somehow their fault" and that many years later he got help from a therapist.
https://fellowshipoftheminds.com/2016/05/23/have-you-wondered-how-all-the-young-stars-become-perverted/
Actor Elijah Wood claims that Hollywood's entertainment industry is rife with sexual abuse of young boys and girls — and that senior figures within it have been protecting pedophiles for decades.
In an interview with the Sunday Times, the Lord of the Rings star — who began acting in Hollywood at age nine — claimed that "organised" sexual abuse of children has taken place in the entertainment industry and compared the situation to that of notorious British pedophile Jimmy Savile…
http://www.dailymail.co.uk/news/article-2327415/Maid-claims-saw-Michael-Jackson-shower-Wade-Robson-8-agrees-testify-new-lawsuit.html
Michael Jackson's former housekeeper has agreed to back in court a choreographer's claim that the pop superstar molested him in the shower when he was a boy, it has been claimed.
Blanca Francia, 57, says she walked in on The King of Pop showering with Australian Wade Robson, then eight, and has at last summoned up the courage to describe what she saw to a judge.
Robson, 30, claims he was abused by Jackson for seven years who told him he'd go to jail for the rest of his life if he told anyone about it.
The choreographer approached Ms Francia to testify at his abuse civil lawsuit last week, according to reports, but only now has she agreed to do so, claiming Jackson also abused her son, Jason.
She told the Daily Mirror: 'Michael Jackson abused Wade. My opinion has never wavered. We have been through a lot since then.
'They [Wade's lawyers] would have to subpoena me to appear in the court case, but I would tell the same story. I will talk to them. I am still in shock that this has all happened.'
https://www.theguardian.com/film/2017/oct/13/harvey-weinstein-allegations-hollywood-enablers
It was a shadow production, an inverted version of Hollywood that leveraged entertainment industry might into an alleged spree of sexual harassment and assaults, including rape, and into a methodical way of hushing it all up with payments, threats and non-disclosure agreements.
Facilitators included colleagues and associates who set up meetings under false pretences and teams of lawyers and publicists who suppressed complaints.
It was a system of abuse involving some of the most famous people on the planet, in which success was measured not in awards or fame or box office revenue, but in silence.
"We're all used to predators working alone, but when they band up like a pack of hyenas, that's a whole other ballgame," said Zoë Brock, a model and writer who accused Weinstein of making unwanted sexual advances.
"There are enablers all over the place," said Jeff Herman, an attorney who represents sex abuse victims and is investigating options for some of Weinstein's alleged victims. Predators' companies often facilitated abusive encounters masquerading as work meetings, he said. "Sending limousines to pick up the victim, making flight arrangements. These guys aren't making their own plans, making reservations."
Other industry figures agreed, saying that transactions conducted amid sunshine, palm trees and dazzling smiles often concealed darker agendas.
http://www.neonnettle.com/news/3561-british-actress-says-oprah-baited-her-for-sex-to-hollywood-elite-rapists
The former movie mogul, Harvey Weinstein, hired hit men to suppress the stories of those who accused him of sexual assault and rape, including actress Rose McGowen.The ex-Mossad intelligence agents were also used to spy on his accusers and "dig dirt" on them as part of an elaborate plot to keep their stories of sex abuse and rape buried.
https://www.youtube.com/watch?v=Dgh0xLWgA0w
Ashton Kutcher Gives A Speech On Child Sex Trafficking And Sex Media And His Organisations Fight To Combat It In Front Of Congress (35:11)

Kincora 'VIP pedophile ring' victim Richard Kerr speaks out (13:18)
A Kincora abuse victim from Northern Ireland tells Channel 4 News how he was also abused at London's Elm Guest House and Dolphin Square at the hands of "very powerful people". The Home Office had said the Heart Inquiry in Northern Ireland could liaise with the UK wide inquiry
https://www.youtube.com/watch?v=4_DnbzHxqBc&feature=youtu.be
Peter McKelvie 7th July 2014 (3:03)
'There is evidence at least 20 prominent pedophiles – including former MPs and government ministers – abused children for "decades", a former child protection manager has told the BBC.Peter McKelvie, whose claims initially led to a 2012 police inquiry, said a "powerful elite" of pedophiles had escaped investigation for years, but there was now a chance of justice for the victims.' https://www.telegraph.co.uk/news/uknews/crime/10953043/20-establishment-figures-in-elite-paedophile-ring.html?fbclid=IwAR2v4f1gSdpoA12Kn8ti8jSNKwyVwF3li1ckgMCZplSxk5dnTmvNiwTqwMM
Mr McKelvie triggered a police investigation in 2012 when he revealed there were seven boxes of potential evidence of a powerful paedophile network, including letters between Righton and other paedophiles, being stored by West Mercia Police. "There has been sufficient reason to investigate it over and over again certainly for the past thirty years, and there has always been a block, and the cover-up and collusion, to prevent that happening."
"We are looking at the Lords, the Commons, the judiciary – all institutions where there will be a small percentage of paedophiles, and a slightly larger percentage of people who have known about it but have felt in terms of their own self-interest and self-preservation and for political party reasons it has been safer cover it up rather than deal with it," he told the BBC.
Silence in Academic Institutions:
https://www.wfla.com/news/pasco-county/former-pasco-asst-principal-sentenced-to-35-years-on-child-porn-charges/?fbclid=IwAR2UUXov-8hJDTWKVAVworZKjIV5MmPhL_exUDgW4R7nJzpUMiFmWGCu_WE
Pasco assistant principal sentenced to 35 years on child sex media charges.
https://www.washingtonpost.com/sports/2019/05/17/ohio-state-team-doctor-sexually-abused-students-over-decades-report-finds/?fbclid=IwAR0INmj-f9syEmumV0RLfx1yI2kZssRahJVLCdYzMZuNAl7AT4JGJFEm0Qw&noredirect=on&utm_term=.454e0cc69305 An Ohio State team doctor sexually abused at least 177 male students from 1979 to 1996, and school officials failed to take appropriate action despite being aware of numerous reports of the physician's misconduct over the 17-year period, according to an investigative report released Friday. The abuse included athletes from at least 15 sports and encompassed other students who saw physician Richard Strauss at the school's student health center and an off-campus clinic.
According to the report, the school "had knowledge" of sexually abusive treatment from Strauss as early as 1979, "but reports about Strauss' conduct were not elevated beyond the Athletics Department or Student Health until 1996." The report found male students regularly complained "that Strauss routinely performed excessive — and seemingly medically unnecessary — genital exams, regardless of the medical condition the student-patients presented."
https://www.lc.org/newsroom/details/child-victim-of-kinsey-sex-research-tells-story-of-rape
Lynchburg, VA – After claiming her father was paid by sexologist Alfred C. Kinsey during the 1940s to rape her for his "research" compilation, Esther White (pseudonym) is speaking out on how she was a child victim of these sex studies. Kinsey, the Indiana University researcher who is known as the father of the sexual revolution, founded The Kinsey Institute in 1953, which claims it "works toward advancing sexual health and knowledge worldwide." However, the methods Kinsey used are unethical by any standard, and the data is flawed.  Although the Kinsey Institute claims the research strategies never involved paying pedophiles, Esther is now asking for a congressional investigation of the Kinsey Institute at Indiana University. Until now, The Kinsey Institute has not provided any disclosure of the research records compiled during this time. However, Table 34 in Kinsey's book, "Sexual Behavior in the Human Male," published in 1948, lists the number of orgasms of children, some as young as two, performed within a 24-hour period. Table 34 was the subject of the documentary, "The Children of Table 34."
https://www.irishtimes.com/life-and-style/health-family/germany-s-secret-paedophilia-experiment-1.2897942?mode=amp&fbclid=IwAR3e2Am26Ntc7xv0PpP_5iRyvQaYcvn3HXtoOeDQOhDvqPIQu7XO9skQCyY#aoh=15629522340472&csi=1&referrer=https%3A%2F%2Fwww.google.com&amp_tf=Von%20%251%24s
Germany's secret paedophilia experiment. Under the 'Kentler Experiment' of the 1970s, Berlin welfare authorities handed over homeless teenagers to known paedophiles. Starting in 1969, Berlin welfare authorities handed over the care of at least three homeless teenagers to Dr Helmut Kentler, a sex researcher from Hanover. He placed the youths with known paedophiles, including one who already had a criminal record for child abuse, believing that it would give troubled teens a social anchor while giving the paedophiles a chance to become caring foster parents. In most cases the paedophiles were asked to care for 13-, 14- and 15-year-old drug addicts and prostitutes, of which there were about 1,000 in 1970s West Berlin. But how many children precisely were placed with paedophiles, what ages were they and how much did the city pay the paedophiles? "We don't know," Nentwig said at the launch of her report, explaining that city archivists blocked access to crucial data, claiming variously that files were missing, unsorted or sealed for data-protection reasons. "We would have wished for more co-operation in clearing this up," the researcher said. Despite the official stonewalling, Nentwig found clues that one of the youths still suffers from the effects of abuse and that two others slid into criminality.
https://katholisches.info/2018/01/20/berliner-sexualpaedagogik-in-der-spur-der-kentler-sielert-schule/?fbclid=IwAR1x-5dSHO0VdlfFQcZK2Y-qnA66NK9-af2C2sP8sVxSQvWRY0R1n6Bvt58
Helmut Kentler brought the muddled ideas of sexual revolution into the concept of so-called emancipatory sex education. According to Kentler's basic assumption, children are sexually active and receptive from the earliest age. This claim goes back to Alfred Kinsey. He had wanted to prove his thesis that he pedophile men had sexually trafficked toddlers – up to alleged orgasms. This is expressed in such formulations as if pre-pubertal children had "sexual needs for pleasure experiences and caresses."
https://medium.com/@LoriHandrahan2/professors-staff-arrested-for-trading-in-child-rape-6c39fcf62a9e
Professors & Staff Arrested for Trading in Child Rape
When a University of North Dakota professor was arrested on child pornography charges, The Dakota Student asked "We can't help but wonder if this type of thing is common in other schools around the nation?" The answer is yes. A concerning number professors and staff have been arrested for trading in brutal child sex abuse, including of infants. From University of Virginia's Assistant Dean, Michael Morris downloading infant anal rape toKirk Nesset, professor at Allegheny College with over 500,000 videos/images including folders called "kidsfuck," too many professors and staff are involved in child sex trafficking.
For the past few years I have been monitoring reports of professors and staff arrested for trading in child rape and torture; aka child pornography. My research, which is far from comprehensive, details 97 professors and staff arrested on child rape and torture, aka child porn, charges. This is a small sample and does not represent the total number of professors and staff arrested on these charges. Both the volume and type of crime should raise alarm bells. Yet academic institutions remain silent. Protect the institution, not the children, appears to be the rallying cry at far too many higher education institutions. http://www.lorihandrahan.com/
https://www.vox.com/identities/2018/1/19/16897722/sexual-abuse-usa-gymnastics-larry-nassar-explained
In 2016, the Indianapolis Star ran a scathing exposé on USA Gymnastics' systematic failure to protect young athletes from sexual abuse and to report allegations against coaches to authorities. It opened the floodgates and eventually led to dozens of allegations against the physician.
The initial article focused on coaches and did not name Nassar, but Rachael Denhollander of Louisville, Kentucky, reached out to the publication with her own story of abuse and filed a criminal complaint with the Michigan State University police. In it, she alleged that Nassar had sexually abused her in 2000, when she was 15.
Denhollander had sought treatment from Nassar for lower back pain at his sports treatment clinic at MSU, and she alleged that the doctor, without gloves, digitally penetrated her vagina and anus, and at another visit unhooked her bra and massaged her bare breasts with a "visible erection."
"For years, Mr. Nassar convinced me that he was the only person who could help me recover from multiple serious injuries. To me, he was like a knight [in] shining armour," Alexis Moore, who said Nassar molested her starting when she was 9, said in court in January. "But alas, that shine blinded me from the abuse. He betrayed my trust, took advantage of my youth and sexually abused me hundreds of times."
Eventually, 125 women filed criminal complaints with police, and more than 140 people have filed civil suits against the doctor and the institutions that employed him for so long, most notably USA Gymnastics and Michigan State University. Some of the victims say coaches and administrators were aware of complaints against Nassar, but no actions were taken against him.
Even Olympic athletes were told to feel grateful for Nassar's care; Raisman said an official with USA Gymnastics told her she should feel lucky for his treatment because he was such a good doctor.
Victims testified that he gave them gifts, offering trinkets from his Olympic travels. He was also outwardly supportive, and kind to many of those he abused. "He was always, always, always on my side," Raisman told Time magazine. "He was always that person who would stick up for me and make me feel like he had my back. The more I think about it, the more I realise how twisted he was, how he manipulated me to make me think that he had my back when he didn't."
Nassar, after initially denying the allegations of abuse and defending vaginal penetration as part of his medical treatment, pleaded guilty in two Michigan counties to a total of 10 counts of criminal sexual assault. The cases all involve women or girls who were assaulted by Nassar during the course of a medical examination, except one girl — a family friend of Nassar's whom he abused for six years, between the ages of 6 and 12.
In addition to the charges in Michigan, federal prosecutors charged Nassar in December 2016 with possession of child pornography, saying that the doctor had about 37,000 explicit images in his possession. Meanwhile, other gymnasts reached settlements that would keep them from speaking publicly: McKayla Maroney, who won gold with Raisman in 2012 in London, reportedly faced a $100,000 fine from USA Gymnastics if she spoke out about Nassar (she originally came forward in December 2016)as part of a $1.25 million settlement. USA Gymnastics later issued a statement that said it "has not sought and will not seek any money from McKayla Maroney for her brave statements made in describing her victimisation and abuse by Larry Nassar."
The problems at USA Gymnastics weren't limited to Nassar, as revealed in the Indianapolis Star's extensive investigation. The Star discovered a pattern of coaches and others failing to report sex abuse to authorities and later uncovered more than 360 cases spanning 20 years in which gymnasts accused coaches of sexual misconduct.
Many of Nassar's victims say Michigan State has yet to answer for enabling Nassar. Some of the lawsuits filed against the university say coaches, staff, and other university employees knew of the allegations against Nassar, and others have told ESPN Magazine and Detroit News that they warned coaches, trainers, and other university officials about his misconduct long before he was finally fired in 2016.
Reporting casts doubt on MSU's line that it first heard of Nassar's misconduct in 2016. ESPN Outside the Lines interviewed four women who said they told MSU coaches or trainers about Nassar as far back as the 1990s. Two of those women said that they told Kathie Klages, MSU's longtime gymnastic coach, in 1997 about Nassar. Klages resigned in February. Others came forward after that. Tiffany Thomas Lopez, a former MSU softball player, told ESPN she complained about Nassar to three athletic trainers in 1998:
"I felt like they thought I was a liar," Thomas Lopez says. She eventually met with Destiny Teachnor-Hauk, an athletic training supervisor. "She brushed me off, and made it seem like I was crazy. She made me feel like I was crazy." A separate Detroit News investigation found that no less than 14 MSU officials or representatives were aware of allegations against Nassar in the nearly 20 years before his arrest. At least eight women and girls had made complaints, including one who contacted local police officials.
In 2014, the university launched a Title IX investigation into Nassar after a recent MSU graduate reported that she had visited his clinic for hip pain, and he had massaged her breasts and vaginal area and appeared to be sexually aroused as he did so.
The university closed the investigation after three months, in July 2014. It dismissed the woman's claim, concluding that she hadn't understood the "nuanced difference" between sexual assault and an appropriate medical procedure. (The woman involved is now suing the university, along with dozens of others.) The Lansing State Journal reported that MSU police also launched an investigation (as required by the Title IX complaint), and the Ingham County prosecutors also declined to bring charges.
Meanwhile, Nassar was allowed to see patients during that 2014 criminal investigation. A New York Times report later found at least 40 women and girls who were abused between July 2015, when the allegations against Nassar first came to the attention of the FBI, and September 2016, when MSU finally fired Nassar.
— an environment journalist Joan Ryan described in 1995's Little Girls in Pretty Boxes, a book exposing the abuses top female gymnasts and figure skaters face.
https://www.washingtonpost.com/graphics/2017/sports/penn-state-six-years-after-sandusky-scandal/?utm_term=.a70b3e6fad9a
Six years after the Sandusky scandal rocked Penn State, university leadership is still fighting a civil war over the case, a conflict fuelled, in part, by weaknesses that have developed in investigations that concluded top Penn State officials covered up for the convicted child molester. According to Freeh, a former federal judge, in 2001 Paterno and three university administrators — president Graham Spanier, athletic director Tim Curley and senior vice president Gary Schultz — decided to conceal a report in 1998 of Sandusky assaulting a boy to avoid bad publicity for the university and its football team. The men displayed a "callous and shocking disregard for child victims," Freeh said, as they "empowered Sandusky" to abuse boys for another decade. Sandusky was cleared by Penn State police and a state child welfare agency. Freeh had concluded Paterno should have suspected then that his assistant was a pedophile.
School cases:
https://www.deplorablehousewives.news/mn-democrats-vote-for-elementary-school-pornography/?fbclid=IwAR1Y6GF8dsDEMnAY54En4wyBLSwGQWo4SnBcw8aGFwiwNUmyMIvDvYKrrk0#.XOVBuiOF7Fw
On Tuesday, April 23, 2019, Minnesota House Democrats voted in favour of including pornography and sexual perversions as part of the Minnesota House Education Omnibus Bill, HF2400.
https://www.dailymail.co.uk/news/article-7490415/Children-young-SIX-given-compulsory-self-touching-lessons.html?fbclid=IwAR026ttZqULfXQY53uRDAqQ8PFbH4bww6KaQE66KL0RdsD7vV5JzgnpEe5c
Children as young as six are being taught about touching or 'stimulating' their own genitals as part of classes that will become compulsory in hundreds of primary schools. Some parents believe the lessons – part of a controversial new sex and relationships teaching programme called All About Me – are 'sexualising' their young children. One couple told last night how they were so disturbed they withdrew their sons from lessons at a school where the programme is already being taught. Family campaigners and religious groups warned that vague guidelines issued by the Department for Education meant schools could soon be providing sexual material to young children that many parents would consider inappropriate.
https://nypost.com/2019/12/30/top-doe-official-busted-for-allegedly-trying-to-set-up-sex-with-underage-boy/amp/?__twitter_impression=true&fbclid=IwAR11HVm0wok0wcBCE5m7sU5JN7HmAXcIWvadqBeirrAfp1-p69G5U9Z_hBc
A top deputy to city schools Chancellor Richard Carranza arranged to have sex with a 14-year-old boy over a dating app — booking a hotel suite for the pair without realizing he was talking to an undercover cop, the feds said Friday. Department of Education deputy chief of staff David Hay began sending explicit messages to "Colton" — who he believed to be a Wisconsin teenager — in July 2019. Additionally, prosecutors revealed that a search of Hay's cell phone following his arrest turned up sexually explicit images of a former student at Tomah High School, where he was between 2011-2014.
https://www.rbb-online.de/kontraste/archiv/kontraste-vom-24-10-2019/kindesmissbrauch-an-deutschen-kitas.html?fbclid=IwAR0cXIT1TpPnWqnjVUc5G-6-jVntXxzJj_Y0fc2w5Hs-F_TImBcCugfbqWw Original Play is the business model of a dubious, internationally active club. While parents do not know what's going on in the day care center, strangers may "play" with their children. And sometimes the game gets serious: Parents in Berlin and Hamburg reported cases of abuse and even rape. Anmoderation 1: A child plays with an adult man … The child is tickled, caressed, pressed. But the two are not related, they may not know each other at all. It is an organized meeting that takes place in children's institutions in Germany and worldwide – and often: Without the knowledge of the parents.
Anmoderation 2: Original Play – that's the name of the original game. If you pay a course fee, you can just go straight to the kids. Together with the ORF we show for the first time and exclusively how dangerous it is easy for pedophiles to get to children. Gabi Probst.
Father B., Berlin: "When I saw in the photos how many strangers played with our children, I felt really sick – evil, anger and powerlessness, that's what happened."
In some cases, the game is said to have led to abuse and rape. This is confirmed by another father. Father A., Berlin: "Our son has told us in the context of this original play very explicit, yes, sexual and violent things and also played it. We are not only talking about serious sexual abuse, rapes, but also about violence, humiliation, sadism, and for us it seemed relatively fast, as if the whole thing has a system. "
A serious charge. His child goes to a Protestant day care center in Berlin-Kreuzberg. To protect everyone involved, they remain anonymous. The therapist of his son believes him. Other affected children also suffer like his five-year-old child, she says. Dagmar Eckers, trauma therapist Berlin: "The children have behavioral problems, they have nightmares, the child is scared, they get angry, they are vulnerable to certain triggers, a child can not produce that for themselves."
The Kita-Leitung sells the parents "Original Play" as an educational concept. What lies behind, the father learns later. Father A., Berlin: "Once upon a time there was some information that the founder of this game, an American, was due to come to the day care center and was said to be giving a lecture in connection with this, but what we did not know was that at least nine foreign adults came we had never seen before. "
No one has asked for permission. The inventor of Original Play is a 76-year-old American, Fred O. Donaldson. One who likes to introduce himself as a former university professor, but never was one. He studied geography. He speaks of the "original game" against childlike aggression, on an esoteric level.
Fred O. Donaldson, inventor of "Original Play":  "The idea of the original game is my attempt to translate into words what children and animals demonstrate without language. " The prerequisite for the game – as it says on the website – are usually two-day workshops with Donaldson, and anyone can sign up. Cost per participant: 200-250 Euro. After the workshops, his so-called apprentices organize mat games for strangers in children's institutions https://www.facebook.com/ard.kontraste/videos/425336494846113/UzpfSTEwMDAyODY1ODQ3OTQ2NDoyNDU0MDA3OTk3NTg1MzQ/?comment_id=245965059702108&notif_id=1572347146948078&notif_t=feedback_reaction_generic    Original Play: Kindesmissbrauch in deutschen Kitas [8:46]
[Note: This push for this strange "Original Play" while at the same time: https://www.mirror.co.uk/news/us-news/boy-5-autism-put-record-20173215?utm_source=facebook.com&utm_medium=social&utm_campaign=mirror_main&fbclid=IwAR3ZV_FYjKeuS4L9zE5HdA5R5VwFBmNR_prEUmqti7rEO1S2cY4ozlwCZOU A five-year-old boy with autism was reportedly put on a record as a sex offender after hugging his classmate. Nursery school pupil Nathan was reported for hugging the child and his parents warned he would be placed on a record "for the rest of his life", his family claim. Nathan, who attends East Ridge Elementary in Chattanooga, Tennessee, U.S.A., was allegedly accused by teachers of overstepping a boundary. Summery Putnam, Nathan's guardian, told News Channel 9 , that she received a call from his teacher at the start of September.  She said the teacher told her he had been accused of "sexual activities" for hugging a child and kissing another child on the cheek. ]
https://www.winknews.com/2019/06/04/teacher-arrested-for-not-reporting-spouses-child-sexual-abuse-crimes/?fbclid=IwAR1WWhfNsB96F4hxoNtQ56Ds3zir4N6Ubcbidy2Mb7SC6EeGYz_a5C0g8Dk
A teacher, someone who is supposed to protect kids, is accused of not reporting a child's sexual abuse. Investigators arrested Stacey Gridley, after her husband Matthew was arrested on child porn, molestation and sexual battery charges. They were both big parts of the Boy Scouts, too. On Tuesday evening, we are learning they were stripped of their duties with the organisation. The arrests come a the end of a four-month-long investigation: Operation Safe Summer. More than a dozen people were arrested, but a Florida Department of Law Enforcement agent said this is the first case he has had where a husband and wife were arrested.
Deputies found hundreds of files of child porn on Matthew's computer. His wife, Stacey, was a teacher at Varsity Lakes Middle School. The School District of Lee County said she had been an employee since 2012. But they removed her from the classroom as soon as her husband was arrested.
https://www.cbc.ca/sports/amateur-sports-coaches-sexual-offences-minors-1.5006609?fbclid=IwAR2b_9uQpWIcLtGw9gXu-QWMkpoKFKzlyxAcSCAyUFr7XcLssQJSdMbf4ZQ
Sex offences against minors: Investigation reveals more than 200 Canadian coaches convicted in last 20 years
https://www1.wdr.de/nachrichten/westfalen-lippe/missbrauch-fussballtrainer-muenster-100.html
The man had already been arrested in mid-March. In interrogations, he confessed to the abuse of six children. He is said to have abused some of them several times. According to WDR information, the 38-year-old was football coach of youth teams. The children are supposed to have been 12 and 13 years old at the time of the crime. Whether there was actually a connection between his work as a football coach and the acts of abuse is still unclear. Two other men were arrested in connection with the case – in Münster and in Warendorf. They are accused of abusing two of the children whom the football coach is said to have known. The three men are said to have met via Internet forums.The new suspects come from Münster and the Warendorf district; they are 50 and 52 years old.
https://truecrimenewsweekly.com/manky-molestor-mundine-indigenous-leader-and-catholic-church-chief-graeme-mundine-unmasked-as-paedophile-rapist-while-family-church-media-politicians-all-stay-silent/?fbclid=IwAR2wXQUVu92Uk7QlVVAEiP5ATgyOMIohAWin0laePGCyqD6orrokRi9Bymo
EXCLUSIVE: He is a senior member of one of the nation's most famous Aboriginal families, and is widely considered to be one of Australia's most powerful Indigenous and Catholic advocacy leaders, as well as a 'good guy'. But just last week, Graeme Mundine, was unmasked as a prolific and dangerous paedophile after being found guilty and sentenced for assaulting five young boys over a period of five years. It's undoubtedly a major story of great relevance but one that, for some reason, has so far been ignored by the country's media and political class, and almost everybody else too. Our publisher, Serkan Ozturk, digs deeper. He was found guilty of four charges of indecent assault, three charges of assault, as well as an act of indecency involving five student victims, all under the age of 16. The offences occurred at St Gregory's College and at the Marist Brothers College in Pagewood while Mundine was employed as a teacher. It is now open knowledge that a semi-organised paedophile ring operated amongst Mundine's colleagues across several schools run by the Marist Brothers during the era.
https://www.dailymail.co.uk/news/article-6509609/Paedophile-referee-Hayden-Voigt-walk-free-just-four-months-despite-preying-young-boys.html?fbclid=IwAR2hFUFEdfgvK3mn4miwV-vfu4Opx31_QY2oNXvEPOE79YDKfxmmUmLiLJg
A junior sports referee has been jailed after pleading guilty to indecent contact with children under the age of 16 who he had met through his role as a referee. Gold Coast man Hayden Peter Voigt, 23, pleaded guilty to indecent treatment of a child in the Southport District Court on Tuesday.
He was sentenced to three and a half years' jail with parole eligibility from March 2019, and has been in jail since April this year. The court heard Voigt used his position as a junior sports referee to groom and prey on young boys, and managed to coerce two into performing sex acts, the Gold Coast Bulletin reported. 
https://www.dailymail.co.uk/news/article-5979765/Paedophile-teacher-jailed-sexual-assaults-enrages-victims-charging-taxpayers-launch-appeal.html?fbclid=IwAR0hrtqw_TRTbqfrWWT_rpq3r6LSKD1uN4vlmRFQWpE-4kOs_PyY2zrcrWk
Victims of a paedophile teacher granted Legal Aid to fund his appeal have been outraged to learn he reportedly gave away his share in a Sydney harbourside unit days prior to being convicted. Former Trinity Grammar School teacher Neil Albert Futcher, 69, was found guilty of 22 child sex charges in September 2016. He was later jailed for 18 years with a minimum term of 11 years but has since lodged an appeal­ in the NSW Court of Criminal Appeal. Documents show that a week prior to being found guilty in September 2016, Futcher transferred his $562,500 share of a harbourside unit in Drummoyne to his brother Geoffrey, The Daily Telegraph reported.
https://metro.co.uk/2019/01/18/woman-wants-teach-primary-school-kids-masturbate-sparks-outrage-just-wrong-8359368/?fbclid=IwAR2k_Ray2DV4U2P8_iNs9QnN85jvlLP-5XgF90-vdEBVr-l_eTKPMcfHiq8
Woman who wants to teach primary school kids how to masturbate sparks outrage: 'This is just wrong'
https://www.dailymail.co.uk/news/article-6744485/Northern-Territory-man-convicted-rape-four-years.html?fbclid=IwAR0G1KMVwC5edmodZryev2GX2ssV4aSzBKg3kgfOPXgsloqC2CFaSaZDT1Y
An after-school care worker who raped two girls and abused another two while they were in his care continued to work and was not investigated for four years.  The 31-year-old man, who worked at a school in the Northern Territory capital of Darwin, was jailed for 16 years earlier this month for rapes and abuse he committed from 2012 to 2013. Despite the horrific nature of the sex attacks and multiple reports by concerned parents and a school teacher, police didn't start investigating until January 2017.  The first report of the man's sexual abuse was made by one of the girl's mothers to child protection services as early as November 2013. Another of the young victims told her teacher in November 2014 the school worker had touched her genitals, but the matter progressed no further than an official report, the court heard. For a third time in April 2016, another of the girls told her parents she had been abused by the school worker but they decided not to go further with the complaint. One of the victims is scared and afraid she will be raped again, while another has attempted suicide and now keeps a knife under her bed for protection.   
https://www.independent.co.uk/news/uk/home-news/bristol-paedophile-teacher-clifton-college-school-ignored-man-who-wrapped-boy-in-clingfilm-report-a7195391.html
An independent investigator found there had been 'several incidents' which indicated Jonathan Thomson-Glover he was unsuitable to work with children, but complaints were ignored by head teachers
Jonathan Thomson-Glover, 53, was jailed for three years and nine months after being found guilty of sex offences involving young boys at Clifton College in Bristol. He taught German and was a housemaster at the co-ed day and boarding school, which houses up to 560 boys and girls aged 13-18.
Thomson-Glover was convicted of taking and possessing hundreds of indecent images of children and secretly filming pupils over a period of 16 years at the college.
At his trial at Bristol Crown Court last year he was found to have hidden cameras in school bathrooms and in a bedroom where the children were encouraged to engage in sexual activity.
An independent report commissioned by the school noted that warning signs of Thomson-Glover's activities should have been picked up sooner, after it was found that three head teachers had failed to take effective action following complaints made to them by staff, pupils and parents.
Letters and notes of meetings were not placed on his personnel file, a note of disciplinary action was lost, and each incident was considered in isolation, she said.
In a number of cases, parents who complained were told they should find another school for their child.
Thomson-Glover pleaded guilty to 36 counts of making, taking and possessing indecent images of children between 1987 and 1992.
Earlier this year he was also convicted of sexually abusing young boys at his holiday home in Cornwall, and was given an additional six month prison sentence.
Around 80 current and former staff were interviewed for the investigation, and former head teachers Andrew Hugh Monro, Stephen Spurr and Mark Moore were called to give evidence.
The report revealed that Thomson-Glover had started filming pupils in 1998 when he put a camcorder in a shower changing room.
In summer 1999, a cleaner and a young student reported that the housemaster had been found taped to a chair at the college half-naked.
A few months later, he was found taped to a chair again in just his underwear by a teacher who told headmaster Mr Munro, it was reported.
In September 2000, then  head teacher Mr Spurr launched an enquiry after reports Thomson-Glover was again tied to a chair as a prank but told him "whatever happened don't do it again". A cleaner also reported that one of the boys was wrapped up in cling film by Thomson-Glover in 2005.
In another incident, a deputy head of pastoral care raised concerns about Thomson-Glover's activities to head teacher Mr Moore, but was told the matter was 'dealt with'.
Referring to Thomson-Glover as "X", Ms Jones wrote in her findings: "Poor record keeping meant that successive heads were unable to see that a large number of concerns about X had been raised during his career at Clifton.
"Each incident was considered in isolation, none met the threshold applied at the time for disciplinary action, and the cumulative effect of the various incidents and behaviours was never considered.
"A lack of consistent systems, procedures, oversight and accountability allowed X to establish what would now be recognised as grooming behaviour.
'There were no regulations or school rules at the time requiring specific systems and procedures to be in place, neither was there a good public understanding of the way children might be groomed by trusted adults.'
Tim Greene, the current head teacher at Clifton College, has since apologised to pupils and parents and said changes have been made to the school's staff training and complaints procedure, as well as the way it logs and shares child protection information.
An NSPCC spokesperson said the report was "deeply concerning" and highlighted "how Thomson-Glover was able to abuse a position of trust over many years without action being taken".
"He was a serial sex offender, responsible for dozens of offences and with no regard for the consequences of his actions on his victims.
"It's crucial that schools are a place of safety for children any allegations of abuse are taken seriously and fully investigated."
https://medium.com/@LoriHandrahan2/government-employees-trafficking-children-in-maine-303a8224ac37
The Bangor Daily News saysMaine is an East Coast source to procure children. Those who know Maine's history are not surprised.
Only a few years ago, when students at Baxter School for the Deaf refused sexual abuse by their director, Dr. Robert Kelly, he tied them naked to a tree and left them, all night, in the Maine woods; to break them. Dr. Robert Kelly was not prosecuted. The State of Maine protected Kelly and not Maine's children. The Attorney General (AG) refused to prosecute any of the Baxter School rapists. Instead, Maine used tax-payer funds to pay Kelly's pension through-out his retirement in Florida until he finally died, as reported by Rick Wormwood, in 2004.
Maine treated Robert Kelly the same way Maine is handling retired Biddeford Police Officer Stephen Dodd; a cop who anally raped children now living free in Florida on Maine tax-payer funds.
http://www.denverpost.com/news/ci_26092783/few-punishments-those-who-fail-report-abuse
Investigators would have found numerous inappropriate photos of a 13-year-old girl posted on the walls of her math teacher's office, but administrators at her Douglas County school never called them.
At least two students and their parents warned school officials about an inappropriate relationship between the teacher and his student. But instead of calling law enforcement or child welfare services — as required under a state law to help prevent child abuse — two former administrators at Rocky Heights Middle School punished the children who reported the abuse, and failed to trigger an investigation that could have stopped the 30-year-old from preying on the girl for months before he raped her for the first time, according to a lawsuit filed by the girl's parents.
http://www.metronews.ca/news/toronto/2018/01/21/teachers-who-commit-certain-forms-of-sexual-abuse-allowed-to-kee.html
Former Bluewater District School Board teacher Richard Buckley was found guilty by the Ontario College of Teachers of sexually and psychologically abusing a high school girl. The sexual abuser was allowed to keep his teaching licence.
http://www.abc.net.au/news/2016-03-16/george-christensen-links-safe-schools-program-to-paedophilia/7252476
A Federal Government MP accuse the Safe Schools program of being linked to a "pedophile advocate".
Liberal Nationals MP George Christensen said Professor Gary Dowsett from La Trobe University helped establish the anti-bullying campaign.
Mr Christensen, who has called for the Safe Schools program to be scrapped, quoted a report containing "controversial views" which he said was published by Professor Dowsett in 1982.
The Member for Dawson told Parliament Professor Dowsett was a "longtime advocate of intergenerational sex, otherwise known as pedophile".
"He says: 'How different then is the gentle, tentative sexuality between parent and child from the love of a pedophile and his or her lover. That kind of love, warmth and nurture is an important part of the pedophiliac relationship'," Mr Christensen told Parliament.
"He argued in that journal that pedophilia should be part of the gay movement, it must be legally recognised and depicts it as a wider sexual liberation.
"I think it would shock many parents to know that a pedophilia advocate was overseeing the organisation that came up with the Safe Schools program.
http://www.foxnews.com/us/2018/02/08/2-texas-principals-arrested-for-failing-to-report-sexual-abuse-allegations.html
Two elementary school principals at a Texas school district were arrested within a week of each other for failing to report cases of sexual abuse to law enforcement.
Cindy Sue Underwood, 35, the principal of Kate Haynes Northwest Academy was booked into the Wichita County jail on Monday and released soon after.
Kory Fancher Dorman, 45, the principal of Crocket Elementary school was arrested last week.
Both educators were charged with failing to report separate and unrelated incidents of sexual abuse concerning students in their care.
The Wichita Fall Times Record News reported Underwood was arrested for failing to tell police a school iPad was used by three 6-year-old boys to take photos as they engaged in various sexual acts in a classroom.
According to the arrest warrant, the photos were taken on Oct. 3 and were reportedly found on Oct. 25 by the students' homeroom teacher.
The teacher informed Underwood of the findings. She told the parents, but did not alert law enforcement.
The children were sent home, which detectives said put others at risk.
Dorman was arrested Jan. 31 for allegedly not reporting a sexual assault of a first grader at her school.
According to the arrest warrant, Dorman was notified by three grandparents in mid-December that their 7-year-old grandson was sexually assaulted by a fellow 6-year-old student while in a bathroom at Crockett elementary school.  It's unclear when the assault occurred.
Dorman told authorities that she delegated the responsibility of investigating the allegations to the school counsellor. She did not report the allegations to law enforcement and was unaware that anyone had reported the incident after they returned from the holidays about 20 days later.
Both Underwood and Dorman were put on administrative leave by Wichita Falls ISD district officials on Friday.
The Texas Family Code states that teachers are mandatory reporters.
https://www.smh.com.au/national/nsw/brett-oconnor-head-of-child-protection-in-queensland-schools-charged-with-historical-sex-abuse-offences-against-pupils-at-two-sydney-private-schools-20150409-1mh5zg.html
Brett O'Connor, HEAD OF CHILD PROTECTION in Queensland schools, charged with historical sex abuse offences against pupils at two Sydney private schools
Last month, Mr O'Connor was charged by NSW detectives over indecent and sexual assaults allegedly committed against a 12-year-old boy when he was a Marist Brother at Sydney's prestigious St Joseph's College, Hunters Hill in 1987.
He was also charged with sexually and indecently assaulting a 12-year-old-boy at St Gregory's College, Campbelltown in 1989. Both colleges are large independent Catholic day and boarding schools for boys, run by the Marist Brothers.
O'Connor later left the religious order and qualified as a psychologist.
On March 20, O'Connor was arrested at Tweed Heads Police Station and charged with four counts of indecent assault of a child aged 16 and under authority, and six counts of sexual intercourse with a child under 16 and under authority.
https://www.lifesitenews.com/news/sex-offender-linked-to-ontario-sex-ed-curriculum-defends-porn-online?utm_source=LifeSiteNews.com&utm_campaign=f39ffbb605-Canadian_11_21_2017&utm_medium=email&utm_term=0_12387f0e3e-f39ffbb605-401487345
Ben Levin, 65, ONTARIO EDUCATION 'EXPERT'
was sentenced to three years in prison in May 2015 after pleading guilty to possessing and creating child pornography, and the indictable offence of counselling others to commit rape.
The revelation is "bone-chilling," says Jack Fonseca, senior political strategist for Campaign Life Coalition.
Levin is "actually working in a strategic way by encouraging influential academics and journals to normalise the viewing of child pornography and pedophiliac attraction to children," he warned.
https://www.ctvnews.ca/canada/nearly-1-300-children-sexually-abused-by-school-staff-over-past-20-years-report-1.3973473
More than 700 school employees committed or were alleged to have committed sexual offences against nearly 1,300 children over the last 20 years, according to a first-of-its kind study of child sexual abuse in Canada.
The report, released Thursday by the Canadian Centre for Child Protection, identified 750 cases of sexual offences (or alleged offences) against "a minimum of 1,272 children" between 1997 and 2017.
The offences were carried out or allegedly carried out by 714 employees working in kindergarten to Grade 12 schools across Canada.
The majority of the offenders (86 per cent) were certified teachers, but other school employees charged with crimes also included educational assistants, student teachers, lunch monitors, volunteers, secretaries, custodians and school bus drivers, the report says.
Nearly 140 offenders had secondary occupations, such as sports coaches and tutors, which provided them even greater access to children, the report says.
Many of the offenders included in the study groomed their victims in order to build trust and spend time alone with them, according to the study. Those offenders manipulated their victims to reduce the likelihood of the child reporting the abuse, the report says.
https://www.abc.net.au/news/2020-02-17/st-kevins-college-supported-sex-offender-over-student-victim/11957510?fbclid=IwAR2iiFdeBFYsroYfTBUjLnqGGO8u7eUrdxu3qkffk9DvEWbQzqHkJPDjUQY A top Catholic boys' school is facing accusations of a culture of cover-up, after revelations its principal and dean of sport gave references for a now-convicted child sex offender but gave no support to the victim during the court process. St Kevin's College in Melbourne hit the headlines last year when its students were filmed singing a sexist chant on a Melbourne tram. The incident tarred the reputation of the school andignited wider debates about private boys' school culture. In recent years, St Kevin's was also caught up in one of the biggest scandals to hit the Catholic Church. A jury found Cardinal George Pell guilty of sexually abusing two 13-year-old choirboys at St Patrick's Cathedral. The two victims were on scholarships at St Kevin's. The school has found itself at the centre of a new scandal, after Four Corners discovered that in 2015 its current headmaster, Stephen Russell, wrote a character reference for former coach Peter Kehoe, which was given to the magistrate after Kehoe's conviction for grooming a St Kevin's student. The dean of sport at the college, Luke Travers, also gave character evidence for Kehoe at the trial.
Are those who stand up/speak out for the victims of child sex abuse been blocked/attacked/punished? Here are examples:
https://www.express.co.uk/news/uk/890495/Police-whistleblowers-independent-body-corruption-job-protection
Two former detective constables, John Wedger and Rochdale whistleblower Maggie Oliver told the Sunday Express how their lives were made unbearable once they reported police corruption to their senior officers. Former Greater Manchester Police officer Ms Oliver said she was bullied by high-ranking officers after exposing Muslim grooming gangs preying on young girls.
"I'm sure there are police officers now going through what I went through and something like this is needed desperately. I'm not sure what depths senior officers will stoop to in order to keep people silent."
Mr Wedger has now begun a civil claim against the Metropolitan Police claiming damages for psychiatric injury arising from work-related stress.
He said he was bullied by superiors after filing an intelligence report alleging that some of his colleagues knew a prostitute was pimping out girls as young as nine but turned a blind eye.

The Child Abuse Cover Up – A Police Whistleblower Speaks (1:01:42)
In a courageous and explosive audio interview with UK Column "Despatches from the Front", a Metropolitan Police Detective Constable child protection specialist takes the lid off the scale of child abuse, trafficking and prostitution in London and UK.
http://mobile.abc.net.au/news/2018-05-07/denis-ryan-victorian-detective-police-pension-booted-force/9645982?pfmredir=sm
A former detective, who was financially and professionally ruined by his own superiors for trying to bring a pedophile priest to justice, will receive compensation almost 50 years after he was pushed out of Victoria Police.
Denis Ryan gave up his police pension when he chose to resign from the force after being ordered to drop his investigation into Monsignor John Day, a Catholic pedophile priest who preyed on children in the Mallee.
Vigilante group Creep Catcher violates privacy of their targets, B.C. watchdog rules
Surrey Creep Catcher, a vigilante organisation that lures suspected pedophiles to meetings in order to shame them on social media, has been found to be violating the privacy of the "creeps" it exposes.
In a ruling released Tuesday, British Columbia's Information and Privacy Commissioner ordered Creep Catcher to remove from the internet and destroy all recordings of meetings and chats with two men who arranged online to meet someone they thought was an underage girl.
Seven NYPD Officers Arrested in Connection with Prostitution and Gambling Ring

After a three-year investigation, seven NYPD officers and one retired NYPD detective have been arrested in connection with an alleged prostitution and gambling ring, reports The New York Times. Ludwig Paz, a retired NYPD Vice Detective, is the alleged mastermind behind this conspiracy. Paz, along with his wife, allegedly operated or assisted with the day-to-day operations of seven out of eight brothels involved in the ring. Using his expertise as a former Vice detective, he helped set up new protocols for sex buyers to enter the brothel in order to weed out undercover police officers. Paz has been charged with enterprise corruption, third degree promoting prostitution, fifth-degree conspiracy, third-degree bribery, second degree rewarding official misconduct, first degree promoting gambling and second-degree hindering prosecution.
http://yournewswire.com/british-police-arrest-pedophile-hunters/
There are at least 75 of these pedophile hunter groups operating in Britain. They pose as underage youngsters on sites where kids gather and bait the trap. Should they get a potential pedophile taking interest they play along until the pedophile sets up a meet, then they confront him with a video camera and hand the evidence to police.
But now, national police chiefs have vowed to put an end to these groups, instructing police officers to start arresting the pedophile hunters. The reason?  Well, its debatable if it's a reason, or an excuse, but what's reported is that "pedophile hunters don't safeguard the privacy of the victims". This is a wondrous example of double-think: because the only "victim" of these groups is the caught-out pedophiles.
The new guidance tells officers NOT to work with groups who are trying to catch potential child predators – and to pursue the hunters with the full force of the law!
Quite rightly the British people are deeply suspicious as to what's REALLY going on here. After all, an estimated 1,400 young white girls were only able to be entrapped into child prostitution with the police turning a blind eye to years' worth of reports and demonising those who spoke up as "racists"
http://www.cnn.com/2015/09/28/politics/green-beret-discharged-for-beating-alleged-child-rapist-speaks-out/
Sergeant 1st Class Charles Martland, the Green Beret was separated involuntarily from the U.S. Army for kicking and body slamming an Afghan police commander he describes as a "brutal child rapist," began telling his side of the story Monday.
Martland is under a gag order imposed by the Pentagon, but at the request of Rep. Duncan Hunter, R-Calif, he wrote a statement. The Pentagon denies that telling soldiers to look the other way is official practice.
Martland and former Captain Daniel Quinn were disciplined by the Army. They say they had been encouraged by higher-ups that there was nothing to do about such horrific acts.
Quinn and Martland were told by a young Afghan boy and his mother, through an Afghan interpreter, that the boy had been tied to a post at the home of Afghan Local Police commander Abdul Rahman and raped repeatedly for up to two weeks. When his mother tried to stop the attacks, Rahman's brother beat her. Quinn says he verified the story with other ALP commanders from neighbouring villages. Then they invited Rahman to the camp.
"After the child rapist laughed it off and referenced that it was only a boy, Captain Quinn picked him up and threw him," Martland writes. "I continued to body slam him and throw him for fifty meters until he was outside the camp," Martland writes. "He was never knocked out, and he ran away from our camp."
http://ireport.cnn.com/docs/DOC-861166
Testimony: Life was wonderful until the Council, hired a police chief (I was brand new) who was accused in a book, "The Franklin Cover-Up" written by former Nebraska state senator, John W. DeCamp of all kinds of crimes against children. During the same time, a mother asked for my help to get a copy of a police report of the complaint that she had filed numerous times on behalf of her son who had been molested by the executive director of an after school program. It took me two years to get her a copy of the report. The executive director moved on to manager one of the finest restaurants in Wilmington and continues to volunteer with children;
A well-known business woman was later convicted of 55 counts of sexual harassment and many of her victims were children. She served little or no jail time. I continued to seek justice for the twelve year old victim and turned to the local sheriff for help. The sheriff, who had served the county for fourteen years, usually running unopposed, promptly resigned his position and moved to another city.
I was left in financial ruin with a campaign of character assassination, a false arrest, and the near destruction of the careers of both of my children: both attorneys. The remainder of my story can best be viewed on my two websites: www.childlinehelpline.com and www.oneagleswingsfearnoevil.com
http://www.sott.net/article/292461-The-story-of-Alisa-and-Gabriel-Dearman-and-pedophilia-in-high-places
In early September 2014, Ms. Draper informed Barnet police of the molestation testimony of her children and provided them with the video-taped evidence. A police medical examination was ordered that confirmed that the children had been sexually abused, with injuries to the inside of rectum area noted. A hair sample analysis was also conducted to determine if the children had ingested any drugs. On September 11th Gabriel and Alisa were taken into protective custody and six days later Ms. Draper was informed that both children had retracted their allegations against their abusers (incl. their father). Barnet police then closed the case.
It appears that the police inquiry concluded that the allegations were fabricated and that the children had probably been coached by Mr. Christie (the man heard in the videos).
Some investigation has been conducted into proving or disproving, however most appear to be slanted towards merely disproving the offences occurred […]
Other named suspects who are professionals were not formally interviewed.
The two children are now in the custody of child welfare. Their mother is allowed to see them once every two weeks while their father is allowed to see them once a week.
http://www.humanrightseurope.org/2012/07/legal-victory-for-doctor-forced-to-take-drugs/
Judges today ruled that Finland's decision to confine X, a paediatrician, to a mental health hospital where she was injected forcibly with drugs breached human rights laws.
The case concerned her confinement in the context of criminal proceedings against her for aiding and abetting a mother to kidnap her daughter, suspected of being sexually abused by her father. The child was taken into public care in June 2000; the mother had retained the right to spend time with her daughter. Following a health check-up in mid-December 2000 at X's practice, the mother and daughter left but the girl did not return to the family support centre where she was expected. An in-house doctor concluded that Dr. X, aiding the mother, suffered from a delusional disorder and that she met the criteria for involuntary confinement. As of March 2005 (and for 8 months), the hospital started confinement and forcibly injecting X with Zyprexa and then Risperdal Consta.
http://www.vice.com/read/australian-government-contractors-will-now-go-to-jail-for-reporting-detention-centre-child-abuse
Last month the Australian government, with the support of the opposition, passed the Border Force Protection Act through both houses of Parliament. It will come into effect on July 1.
If the act defines you as an "entrusted person," you might be facing jail for up to two years if you reveal anything about what happens in Australia's immigration detention centres to anybody else. That's doctors, nurses, psychologists, teachers, counsellors, security staff, maintenance workers, or anyone who has signed a government contract.
Outside of detention centres, they're legally obligated to report child abuse. As of July 1, they can't do the same with abuse witnessed on the inside.
Refugee advocates and human rights lawyers say the legislation is a veiled attempt to silence whistleblowers from revealing human rights violations inside Australia's detention centres.
And the mounting evidence of such violations makes this legislation all the more disturbing.
In October last year, Australia's Immigration Department ordered ten workers from Save The Children to leave Nauru's detention centre after they alleged sexual abuse against women and children.
https://thefreethoughtproject.com/model-elite-pedo-ring-dead/?fbclid=IwAR21WXZvILmCGSFWiPDzb6NxnsYr0lSOp6ZI7DojyFTuM0i8VH7CdYmxcKE
Model Who Exposed Elite Pedophile Ring Found Dead After Tweet Predicting She'd Be Killed. Last year, Natacha Jaitt, a model, socialite, TV presenter, and former contestant on the show Big Brother, came forward claiming she had evidence of a high level pedophile ring involving VIPs, politicians, movie stars, and other celebrities. The allegations led to a barrage of attacks against her—including death threats. And, this month, she was found dead in a nightclub, prompting calls of foul play by her family.After making these allegations of child sex rings, Jaitt made several television appearances and noted that she received death threats and a slew of backlash. This prompted the former model to go on Twitter to let people know that she would never harm herself.
"WARNING: I am not going to commit suicide, I am not going to take too much cocaine and drown in a bath, or shoot myself. So if this happens, it wasn't me. Save this Tweet," she wrote in April, 2018 according to a translation from the Times.https://www.youtube.com/watch?v=6TgHxIdkZls Natasha Jaitt Discusses Pedophile Network (31:29)