https://www.youtube.com/watch?v=E9uoqOWHosg
Brothers and Sisters: Keeping Siblings in Foster Care Connected (8:47)
https://www.bbc.com/news/uk-51095939?fbclid=IwAR3LGt6nf3BpEgufJwzhKozP1Zeabv5j6yJ8wljcBfsMEvS0ZQtuw3Y2vlA
Freedom of Information requests sent to more than 200 UK local authorities revealed that more than half of sibling groups in care are split up.
The law says brothers and sisters should be placed together if possible because it is in their best interests.
Latest figures show the number of children in care is rising. In England alone there are more than 78,000, which is an increase of 28% in the last decade.
Many of them will have brothers and sisters, but there is little data about the extent of sibling separation.
File on 4 submitted Freedom of Information requests to all UK local authorities with responsibilities for care, and two-thirds provided data.
Figures also showed that at least 1,375 children who were placed for adoption between April 2018 and November 2019 had been separated from birth siblings.
However, the real figure could be higher because a third of authorities did not provide data.
"The evidence from some young people is they found this hugely traumatic," he said.
"Wherever possible they should be kept together and I think people will say that is what the current law states at the moment. The problem is that is easily outweighed by other considerations."
https://www.youtube.com/watch?v=exBoQVKVXfM&app=desktop
'Child Exchange': US adoptive parents pass on unwanted children to strangers via internet (5:38)
http://www.dailymail.co.uk/news/article-2643637/Foster-mother-jailed-14-years-torturing-three-children-care-set-released-prison-rehomed-near-terrified-victims.html
Foster mother who was jailed for 14 years for torturing three children in her care is set to be released from prison – and could now be re-homed near her victims
During her reign of terror, Spry forced sticks down her daughters' throat and made her eat her own vomit and rat excrement.
As punishment for misbehaving, she would also beat her on the soles of her feet and force her to drink washing-up liquid and bleach.
She even confined her to a wheelchair for three years after a car crash in a cynical bid to maximise compensation for the accident.
The Jehovah's Witness, who committed the offences at her two homes in Gloucestershire between 1986 and 2005, also abused two other children in her care during the 19-year period.
But a jury at Bristol Crown Court convicted her of 26 charges, ranging from unlawful wounding, cruelty to a person under 16, assault occasioning actual bodily harm, perverting the course of justice and witness intimidation.
http://mobile.abc.net.au/news/2017-11-15/calls-to-clear-criminal-records-of-care-leavers-records/9150384?pfmredir=sm
Nell Butler was 13 years old in 1989 when she was repeatedly sexually abused fleeing family violence.
When she reported her rape to the police, they did not go after the offender.
Instead, they charged her with being exposed to moral danger and sent her to Winlaton Girls' Training Centre.
"They put me in a prison called Winlaton, on a care and protection order, and every week they took me out of that prison and took me to court, and asked me — would I go home?" she said.
"They knew I was being sexually abused at home because I had told them, so they were giving me a choice between a prison where I had already been so badly beaten I threw up all night, and a home where they knew I was being sexually abused." But she said in having to face the police and the court, children felt that they were treated as criminals.
For Ms Butler, the charge and her treatment by the system compounded her suffering.
"I was asked to admit that I was promiscuous," she said.
https://www.youtube.com/watch?v=YXCByofJ9D0
Foster Shock [56:49]
Published on Mar 5, 2018
Foster care is rarely discussed. The only time we here about it is when a child gets hurt or dies. This documentary will reveal some of the worst systematic abuses in Florida's history by state and federally funded companies which were originally created to help severely abused children.
https://www.parkeschampionpost.com.au/story/5018338/parkes-woman-jailed-for-brutally-assaulting-foster-child/?cs=1874
A 31-year-old Parkes woman, Brooke Roberts, was sentenced to seven years' jail today in Parkes District Court after assaulting a five-year-old foster child in her care.
Dr Hotton described the child's brain injury as severe and concludes that the most likely mechanism for this injury is significant blunt force trauma.
He further reported that it is difficult to age the subdural haematomas, however the degree of brain injury along with shearing of the brain would suggest the event occurred within the 24 hours of being found by ambulance.
Dr Hotton also detailed evidence of likely strangulation, hair pulling, forceful pinching and pulling of ears, bruising in areas difficult for children to inflict on themselves and human bite marks.
Dr Hotton concluded that the story given by the offender, of the victim throwing herself against the wall and falling down, is not plausible for the extent of her injuries.
"The type of brain injury the victim has is often seen in children in significant high speed motor vehicle accidents and often needs high velocity and speed," the report read.
"More than the forces generated by a child running into a wall.
"The overall clinical picture is that of definite inflicted injury."
https://www.youtube.com/watch?v=9lGfuvLae9o
UK police is busy helping corrupt social workers to take the child hostage (16:27)
White foster carer jailed for 7 years after torturing Aboriginal girl

A 31 year old foster carer, Brooke Roberts or Middleton str was sentenced to seven years jail last Friday in Parkes district court, over the assault of a 5 year old Aboriginal girl.
This is something that is common across Australia. Non Indigenous carers earning an income from the government to raise Indigenous kids.
The woman pleaded guilty even though she first denied the abuse claims by saying that the injuries were self inflicted by the girl.
http://www.oregonlive.com/politics/index.ssf/2016/03/60_millon_lawsuit_2_preschoole.html
Under the watch of the Oregon Department of Human Services, a lawsuit alleges, a young sister and brother were starved so severely by their foster parents and guardians that they weighed the same at ages 4 and 5 as they did at ages 1 and 2. The suit says caseworkers and their supervisors and managers overlooked repeated specific complaints and glaring red flags during the 2½ years that the children lived with Danielle and John Yates, the foster parents and guardians that DHS chose for them. The couple face felony charges of assault and criminal mistreatment of both children. At the time they were hospitalised, the girl was 5 years and 3 months old and weighed 30 pounds – the normal weight for a girl between 2½ and 3. She weighed exactly the same when she moved in with the Yateses.
The boy, then 4, weighed 27 pounds – normal for a boy just turning 2. He had gained just 14 ounces after the human services department placed him with the Yateses at age 17 months. The state's own investigation is damning. A state-trained case worker who saw the children in person seven weeks before they were hospitalised wrote in her official report that the girl was short for a 5-year-old but her appearance "raised no concerns." She wrote that the boy had an average height and weight for his age, when in fact his weight was so low it isn't listed on growth charts for boys turning 4. According to the lawsuit, both children continue to suffer severe consequences of being starved, neglected and abused. The girl, now 6, is weak, lacks fine motor skills, has cognitive delays, lacks trust in adults and has post-traumatic stress, the suit says.
Her brother, now 5, has even more severe problems, since he did not grow beyond his 17-month weight until being hospitalised at age 4. His speech is delayed, his vision is impaired, he has trouble balancing, and he is weak, has trouble comprehending and is behind in social skills, the suit says. Like his sister, he lacks trust, has trouble sleeping, is anxious and stressed and has trouble forming relationships, the suit says. Even before the little girl and boy moved in to the Yates home, a 15-year-old foster child already living there complained to the state the Yates couple were mistreating her and her 4-year-old brother. Yates admitted she locked up food to prevent the children from "stealing" it.
In response, the younger children's caseworker decided to put in place a "safety plan" for how the Yateses would better treat the 1- and 2-year-old still in their care.
That is contrary to DHS policy; "safety plans" are used to allow biological parents to keep custody of their own children despite concerns. Foster parents, certified by the state as qualified to care for children, aren't supposed to need "safety plans." But the department submitted sworn statements that the Yates home was suitable and the Yateses were the best available caregivers for these children.
https://www.irishtimes.com/news/allegations-of-child-abuse-in-foster-care-1.672021
FORTY ALLEGATIONS of child abuse have been made against foster carers living in two local health office areas in Dublin.
In three of the cases the carers had not undergone Garda vetting, which is mandatory under national guidelines. Two of the foster carers in these cases were still awaiting Garda vetting and the HSE had not assessed and approved 10 of the carers, as it is required to do.
Records released under the Freedom of Information Act show that 25 allegations of child abuse against foster carers have been made in the Dublin North West area.
A breakdown of the allegations includes: three cases of emotional and physical abuse; four cases of emotional abuse; five cases of physical abuse; six cases of neglect; three cases of sexual abuse; one case of emotional abuse and neglect; and a single case that combines physical, emotional abuse and neglect. The 40 allegations of child abuse made in two of the 32 local health office areas are not contained in the HSE's audit of foster care services, which was recently published on its website.
However, this audit revealed serious deficiencies in foster care services and a failure to comply with the national guidelines. For example 481 children in foster care have no social worker and 334 children in "relative care" do not have a social worker. There are 606 children in foster care and 572 children in relative care without a "care plan", which is contrary to the national standards.
http://www.news.com.au/lifestyle/real-life/true-stories/rebekah-king-who-was-beaten-and-sexually-abused-while-in-care-vows-to-change-foster-care-system/news-story/35114531aca628651b4add249d14f197
WHEN Rebekah King was just six years old, her mother went to children services and told them she didn't want her and her brothers.
According to Rebekah, her mother, an alcoholic prostitute, would regularly threaten to end their lives.
But, sadly, for Rebekah and her brothers, the abuse did not end.
Instead, the trio were subjected to varying degrees of physical and emotional abuse for their decade-long stint in the NSW foster care system.
Rebekah was made a ward of the state at the age of eight and by the time she turned 13 she had tried to take her own life.
She was beaten regularly and was emotionally and verbally abused. She was also sexually abused twice. Once, she claims, by a man who had come to visit her mother, another time while she was in a group home.
"We just have such a messed-up system," Rebecca explained. "It's broken. There's no common sense in it. Rebekah explained that, besides the sexual abuse, she was subjected to varying levels of physical abuse and neglect.
"I remembered being placed with this woman who would put me in the garage for 90 per cent of the day," she said. "I wasn't allowed to talk to anybody in the street because I had let people know in the past what was happening.
"So she hid me, so to speak. I was only allowed inside to go to the bathroom, shower and eat and go to bed."
Rebekah said the woman's cruelty also extended to her brother, whose face the foster carer once rubbed in vomit. He was only five years old.
"This woman used to belt me across the head," she said. "She told me I was never allowed to smile in photos because my smile was ugly.
"She dragged me at least 50m to 100m by my hair to a public cubicle to do whatever she wanted to out of spite.
"After that, I was placed into another family and it was pretty much the same. I was about nine or 10 then."
Rebekah said that when she turned 18 she became her brothers' carer, to spare them from further years in the foster care system. "This system has had so many inquiries, reviews and commissions yet nothing has changed in over 30 years. That's not good enough anymore.
"These kids (foster kids) just want some hope and a future to look forward to. Please don't let the abuse and deaths continue unchecked."
http://www.oregonlive.com/news/index.ssf/2009/01/exfoster_dad_gets_jail_sentenc.html
Stephen Kuntupis and Monique Peals had long awaited Monday — the day the foster parent who beat or shook their 2-year-old daughter blind was sentenced to prison.
But 2 1/2 years behind bars just didn't seem like enough to Kuntupis and Peals. Their daughter, Stephanie Kuntupis, spent nearly three months in the hospital, is still blind in one eye and now struggles with developmental delays.
"Thirty months? It should be 30 years," said Stephen Kuntupis, as he sat in Multnomah County Circuit Court.
Foster dad Cesar Cruz-Reyes Sr. had been charged with the June 2007 first-degree assault of Stephanie, who was living in his state-certified foster home. Cruz-Reyes admitted he was alone with the child when prosecutors believe he either bashed or shook her head so violently she immediately fell unconscious with bleeding around her brain and eyes.
Stephanie entered state custody in January 2007 when she was 22 months old after her parents were arrested on charges of possessing meth.
Stephanie settled into the home of Cesar and Michele Cruz-Reyes, a Gresham couple with two children of their own. After Stephanie collapsed with brain injuries June 22, 2007, the Oregon Department of Human Services identified mistakes in placing the toddler with the couple.
Among them, child-welfare workers didn't interview Cesar Cruz-Reyes during a recertification of the home, didn't make sure he had completed the required 10 hours of foster-parent training and didn't do a criminal background check on a number of his aliases. Workers, however, were aware that he had been convicted of lying to police in 1992, but they determined that was long enough ago that it wouldn't affect his eligibility to be a foster dad.
Stephanie's parents say they complained to a caseworker about bumps on their daughter's head, scratches on the cheeks and chunks of missing hair in the months before Stephanie was hospitalised, but they said they were ignored.
Kuntupis and Peals are still fighting to regain custody nearly two years after losing both children: Stephanie, now 3, and her older brother, 14-year-old Romero. Their struggle stings all the more because the Cruz-Reyeses regained custody of their children — then 11 and 13 — roughly two months after Stephanie was hospitalised.
http://www.wweek.com/portland/blog-29564-abused-foster-children-sue-oregon-for-8-million.html
Two other foster children were living with the Cruz-Reyeses: a brother and sister listed in the court documents as A.N. and C.N. The suit, filed by Portland attorney Neil Jackson on their behalf, alleges the young boy and girl (now 11 and 8), also were beaten and subjected to harsh conditions. The two suits combined ask for more than $8 million.
The suit—much like the one filed on behalf of Kuntupis—alleges that the Oregon Department of Human Services child welfare workers Patricia Hall-Jones and Daniel Rembert, failed to find Cruz-Reyes' extended criminal background. The suit also alleges the state failed to follow up with two reports in just six days that the children appeared to be neglected and abused.
C.N., the young sister, had her hair pulled so hard it broke blood vessels in her eyes, bruised her head and face and lead to hair loss, the suit says. The suits also say the children were "hit on soles of feet, palms of hands and buttocks with a plastic or metal rod; forced to take cold showers; forced to remain on her knees with her hands behind her head for long periods of time; forced face down to the ground with her legs bent back over her shoulders; (and) being locked in the closet for long periods of time."
The children's suit also goes after the former foster mother, Michele Cruz-Reyes, who has since changed her name to Michele Schmer.
Kristine Blokzyl
This is my son Mason. This is how he came to me in a visit – this same foster home would later be the location where my daughter and 5 other little girls were raped by the adopted son in the home. He plead guilty October 26, 2015. The bruises on my daughter are far too graphic for this page. 
Currently my worker is under investigation for Fraud and Perjury by Affidavit. (After I begged Lake Enforcement to help). Foster mother testified that this happened in her home, that he "fell off of a table out of a bumbo seat" – it would later come out that the adopted son who raped my daughter was left alone with my son. He admitted to repeatedly punching him "because he cried too much". – the more I press the issue, the more they come after me. 
I have an attorney reviewing this – but I'm scared. I'm scared they will come after my kids again if I speak up. 
The family based service in home worker who spoke up about the injuries to police was fired the following week. Before I forget, my daughters aunt is Cory Costello, former Regional Field Director for CPS – after I turned her in, causing her to loose her job, my kids were removed. This is what they suffered through. My poor babies 😞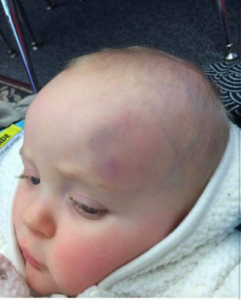 Kristine Blokzyl: Lastly, no medical attention was ever given to my child. Even though it says in their policy that medical care is mandatory for injuries to the head, neck, and back. – it wasn't until he was throwing up at daycare that someone spoke up and thought he had a concussion. Instead of taking him to the hospital or to his paediatrician, the foster mother pulled him out of daycare and took him home. I was kept from visiting him for 2 months after this picture was taken.
https://www.scribd.com/document/325531674/Class-action-lawsuit-against-Oregon-DHS
CLASS ACTION COMPLAINT
Plaintiffs file this complaint against the state of Oregon by and through the Oregon
Department of Human Services; its Director; and its Deputy Director; and allege as follows:
INTRODUCTION
Tonight, some of the most vulnerable children in the state of Oregon will sleep on
temporary cots in state offices; in hotel rooms; in hospitals, despite being cleared for discharge; or in juvenile detention facilities, despite the absence of any criminal charge against them. Some may have spent the day sitting in a DHS office, missing school. These are children over whom the state has custody. Some are as young as two years old; many are children with disabilities; all have experienced trauma. The state has removed these children from their homes despite not having any home to move them to. As experts in the field agree, the state's practice of rendering foster children functionally homeless is unconscionable. It is also unlawful.
These locations at issue in this litigation are not 'placements' under any standard or norm in the realm of foster care.
As several state court judges recently articulated, the state's failure to find appropriate foster homes has placed the children, it is obligated to protect and care for, in crisis.
http://www.oregonlive.com/news/index.ssf/2009/12/attorneys_for_abused_foster_ch.html
Five years ago this week, the Sandy-area girl was flown by Life Flight helicopter to OHSU Hospital with a broken skull. She was 5 years old and weighed 28 pounds, a weight so low it isn't listed on growth charts for children of that age.
Her condition in the crowded double-wide trailer she shared with her brother, six other children and their foster parents, Thelma and William Beaver, stirred an uproar across the state with demands for reform of the foster care system.
The suit details how Jordan Knapp repeatedly told DHS workers she was beaten and starved, but they did not believe her. Caseworkers or supervisors failed to intervene as Jordan and her brother wasted away. Those details were not included in the agency's published reports.
Jordan and her brother were removed from their biological mother's home because of concerns she was using meth. They moved in with the Beavers in September 2002.
According to the suits, the Beavers horribly mistreated the children, striking Jordan's head against a bench until she lost consciousness, fracturing her skull and causing bleeding near her brain and brain damage. They also withheld food, beat her hands with a wooden spoon, beat her head against the floor, hit her with a hairbrush, held her upside down by her feet and hit her head against furniture and door frames, and forced her to sleep outdoors without blankets.
In May 2003, Jordan asked to speak to a DHS caseworker privately, then told the caseworker that her foster mother "always spanks me. I want her to stop spanking me."
The following month, a caseworker documented that Jordan ate five cups of fruit in the presence of the caseworker.
And while at McDonald's, Jordan asked for food from a stranger and told the stranger that her foster mom was starving her, according to the suits.
Jordan's little brother, too, was starving and was hospitalised, according to his suit. His previous child advocate nicknamed him "Mr. Won't Smile." The child-welfare agency received an anonymous call in February 2004 about the little boy's weight and unexplained bruises.
http://www.oregonlive.com/politics/index.ssf/2009/09/abuse_in_foster_care_state_off.html
The second report released Wednesday involves Gail and Marvin Thompson, a Gresham couple certified as foster parents in 1967 to care for infants and toddlers with severe medical or developmental needs. The couple took in hundreds of children over nearly four decades.
This year, however, the state agreed to pay $2 million to settle a lawsuit alleging the Thompsons had abused two twins.
According to the lawsuit, the twins, age 3, were kept in a darkened room in a crib covered with chicken wire.
The report finds that caseworkers did not visit every room in the home, as required today. It also says foster care certifiers did not assess whether the aging couple could keep up with high-needs children.
Thompson said doctors, therapists and caseworkers frequently visited their home and that he and his wife had ongoing training. "All the paediatricians we dealt with recommended our home because we knew how to handle these kids."
http://www.oregonlive.com/politics/index.ssf/2015/09/latest_abuse_accusations_feed.html#incart_river_index_topics
Oregon lawmakers have begun casting a critical eye on the state's foster care system, pressing officials to defend their ability to protect thousands of vulnerable children.
The issue flared this week when the Senate's human services committee confronted the Department of Human Services over accusations that a publicly funded foster care agency abused or neglected children with little apparent oversight from state officials.
Those accusations — that the agency denied food and clean bedding, used improper force, rewrote reports, tolerated mold and rodents — have prompted an internal review as well as scathing questions from lawmakers who worry children served by other providers might be experiencing similar treatment. More hearings are planned before February's legislative session.
https://www.azcentral.com/story/laurieroberts/2015/02/03/foster-children-lawsuit-arizona/22804043/
Finally, the foster children of this state are standing up for themselves.
Or more specifically, a pair of law firms and a national advocacy group are standing up for them.
The lawsuit alleges:
-Too many kids torn apart from their brothers and sisters and not just for a few days but for years.
-Too few children helped with basic needs, like eyeglasses or treatment for the physical and mental traumas they've endured.
-Too few investigators coming to the aid of children who are being abused while in foster care.
-Too few foster care homes for the kids who are stacking up like cord wood, shuttled here and there, growing up in institutions rather than homes and even sleeping at times in DCS offices.
It's a heck of a way to spend those precious few years of childhood.
Unlike most of the country and despite last year's reforms that were supposed to start fixing the mess that was Child Protective Services, Arizona continues to yank kids out of their homes in unprecedented numbers.
http://www.wral.com/sheriff-dss-worker-arrested-after-boy-found-handcuffed-to-porch-with-dead-chicken-around-neck/13117884/
Harper and Wanda Sue Larson, 57 and a supervisor with Union County Department of Social Services, were charged with intentional child abuse, inflicting serious injury, false imprisonment and cruelty to animals, according to authorities.
Officials told WBTV that while Larson was not present at the time the children were discovered, she is accused of being complicit in the ongoing mistreatment of the children. She and Harper had adopted four of the children, and were serving as foster parents of the 11-year-old, who was found handcuffed to the porch with a dead chicken around his neck.
https://missingandmurderedchildren.wordpress.com/2008/07/16/new-lead-in-everlyse-cabrera-case/
July 16, 2008 – Two-year-old Everlyse Cabrera was reported missing on June 10, 2006 by her foster parents. They claim that Everlyse must have climbed up on a stool and opened the deadbolt lock and wandered off. Reports claim she was not wearing any shoes at the time of her disappearance. The foster parents are no longer cooperating with the investigation. Her biological parents traveled from California to Nevada to aid in the search for their missing daughter. If you see Everlyse please call the Las Vegas Police Department or 1-800-THE LOST.
http://www.kirklandreporter.com/news/complaint-filed-against-dshs-on-behalf-of-child-abused-by-kirkland-foster-mom/
The child was placed into a Kirkland foster home under the care of David and Tonja Maciolek on Oct. 6, 2012, less than a month after his second birthday, and remained there for nearly a year, until Aug. 15, 2013.
According to the complaint, a DSHS social worker entered a case note on Jan. 31, 2013, that stated, according to Tonja Maciolek, the child "bruised very easily" and may need treatment for anaemia.
A May 3, 2013, social service case note mentioned that the child's maternal aunt, who had been allowed to visit her nephew at the Kirkland foster home, had expressed concerns about the foster parents' treatment of the child and the "caretaker (abusers) have determined they can no longer allow (the aunt) to come to the home."
On May 10, 2013, Maciolek brought the child to the emergency room at EvergreenHealth. She said the child had an un-witnessed fall a few days prior and was complaining about pain. A doctor diagnosed the child with a supracondylar fracture to his left elbow. During a follow-up visit on May 16, 2013, the child told Dr. Jeffrey Stickney, "Mommy did it."
DSHS received a letter from Stickney relaying his concerns on May 21.
"We will have to keep this in the back of our mind if he has any further injuries," the letter states.
In June 2013, a DSHS social worker noted that the child had an observable bump on his head.
In late July/early August 2013, the child arrived at his daycare with a bandage on the bridge of his nose and two black eyes. A teacher asked Maciolek about the injuries, and she said the boy was "hit in the face with a baseball bat" and called him a "tough guy."
In August 2013, the boy returned to EvergreenHealth with an injury to his mouth. A doctor noted an abrasion on his nose and a torn frenulum (a fold of skin between the lip and the gum). That month, a DSHS social worker entered a case note where the Macioleks alleged the boy would hurt himself to get attention. His low weight was also noted on a few occasions, and the foster mom explained it was due to anaemia, parasites, celiac disease or some kind of metabolic disorder.
On Aug. 15, 2013, the child arrived at Seattle Children's Hospital following an emergency transport from EvergreenHealth. Doctors discovered bleeding within the boy's skull and a haemorrhage of blood on his scalp. They also found a subdural hematoma, which is blood between the covering of the brain and the brain, on the child's right frontal lobe, and swelling. The boy also had a hematoma, or abnormal swelling of clotted blood, on the left scalp.
Doctors also noted he had bruises of varying colour and size all over his body and he was underweight. They performed a skeletal survey, which revealed fractures in various stages of healing on both arms and fingers on his right hand. The doctors reported the extent of the child's bruising was not consistent with falling or normal child's play.
A dietician at the hospital found that the child had protein-energy malnutrition related to social environment and probable limited feeding. A hospital social worker contacted DSHS to inform them of the boy's hospitalisation, and they did not provide an immediate employee response to the hospital due to the late hour.
The KPD investigated the abuse, and the King County Prosecutor's Office filed felony charges against the foster mother. On March 10, 2016, Maciolek pled guilty to second-degree assault. On June 28, 2016, she was sentenced to nine months in jail.
The complaint for personal injuries filed on behalf of the boy claims the State of Washington is liable for the injuries he suffered as a result of its "negligent licensing of the Macioleks as foster parents, its negligent supervision of the Maciolek foster home, and its negligent investigation into reports of abuse in the Maciolek home."
"This is a clear case of DSHS social workers ignoring all of the red flags," Snow said in a statement. "This boy is lucky to be alive. It was immediately clear to this boy's extended family, law enforcement and Children's Hospital doctors and their social workers that this boy was in danger."
https://www.sbs.com.au/news/i-felt-like-the-house-slave-the-whipping-boy
The day after his second birthday, Wayne Fazldeen was brought before the courts in the central western New South Wales town of Cobar and "charged" with being a neglected child.
Half a century on, the terminology makes him snort.
"It's funny when you stop and think about it," he tells SBS News.
"I was guilty of being neglected."– marked the start of a process that, even now, seems equally absurd to him.
Wayne was taken from his mother and hometown, separated from his three siblings and alienated from his Indigenous heritage for a foster system where love was supplanted by abuse.
"Throughout my childhood I used to ask myself, 'why am I here?'" the 52-year-old Sydney resident says.
"With my foster mother, I never really quite understood why she would pretend, or somebody could pretend, 'yes, I will take this child and raise him as my own', however they do the opposite."
The Royal Commission into Institutional Responses to Child Sexual Abuse provided a chance for Wayne to share his story of sexual abuse at the hands of his foster mother's brother.
He says it was a situation that, for all its awfulness, still wasn't as bad as the physical and emotional abuse he received from his foster mother herself.
"My foster mother was a cruel woman who regularly bashed me and never gave me any love or affection," he told the commission. "I felt like the house slave; the whipping boy."
https://www.eurekastreet.com.au/article.aspx?aeid=50532
Horror year of state care abuse justifies intervention – Eureka Street
Victorian man Russell Mulry spent his childhood being shuffled between 87 foster homes across three states. In one placement, he was badly bashed by his carer's husband. When he told his agency, they moved him to a house just 750m away from his abuser. The agency allowed the carer and her husband to continue fostering kids, and failed to provide Russell with any counselling. 'I also wanted to complain about the emotional abuse of being moved so often,' says Russell, but his calls to various agencies always fell on deaf ears.
I have heard many similar stories from former wards of the state. Foster care agencies have little incentive to act against abusive carers.
https://www.youtube.com/watch?v=LfDUE0yvuho
Story of child and her sister kept in a cage by foster parents – told by now grown victim (4:23)
http://www.dailymail.co.uk/news/article-3686441/Ohio-couple-gets-10-year-term-locking-adopted-kids.html
David and Rejeana Moss pleaded guilty to endangering the four adopted children
Their Adopted children were only allowed out of the room for two hours a day
They had no food, beds or proper toilet while they were in the basement
They were beaten 10 times with a paddle for every homework mistake
One son left the house as an adult and informed child services of the abuse
But his two teenager sisters and disabled adult brother were not removed for another four years, when the girls escaped and crashed a car
Mosses pleaded guilty to child endangerment and were jailed for 10 years
https://www.houstonchronicle.com/news/houston-texas/texas/article/Adoptive-parents-of-10-indicted-on-child-abuse-4870995.php
LUBBOCK – The adoptive parents of 10 children were indicted this week on felony charges, accused of withholding food and water from their 12-year-old adoptive daughter and telling her siblings to hit her.
Dave Howard Dixon, 62, and Wonda Faye Dixon, 58, are each indicted on a charge of injury to a child. They remained jailed Friday in lieu of $150,000 bond each.
The girl was kept 24 hours a day in a room that smelled of urine and was allowed out only to shower and eat, according to the affidavit.
In August the girl had a black eye and a busted lip as a result of injuries inflicted by her adoptive siblings at the direction of Wonda Dixon, according to the affidavit.
CPS spokesman Paul Zimmerman said in an email that four reports to CPS in the past 18 months that accused the Dixons of abuse had been ignored and ruled out.
Wonda Dixon told investigators that if the girl "would not throw her food over the fence and feed the dogs when she is angry, she would not lose weight," documents state.
Records show the girl at one point had weighed as much as 90 pounds.
The children include six boys, ages 3 to 14, and three other girls, ages 5 to 10.
http://www.kcbd.com/story/23876119/kcbd-investigates-a-history-of-child-abuse
The report says a therapist who met with the 12-year-old victim in her hospital bed said the girl spoke about sexual and physical abuse going on inside the Dixon's adoptive home.
History of child abuse: Back in 1992, Dave Dixon pleaded no contest when charged with Child Abuse in Orlando, Florida. Florida's Department of Children and Families couldn't provide details in the criminal case, but they did confirm, the Dixons were involved with their agency in the late '80s and early '90s. We also found out CPS was called to the Dixon's house four other times in the past year and a half, but that the complaints were dismissed.
http://www.dailymail.co.uk/news/article-128618/Foster-parents-jailed-reign-terror.html
Sadistic foster parents Jeffrey and Brenda Tanner were jailed today for a catalogue of brutal terror and abuse they inflicted on a 12-year-old boy and a girl, 13.
The couple's three adult children were also imprisoned for assaulting and harassing a a 40-year-old woman.
Kings Lynn Crown Court heard that social services had awarded the Tanners their status as foster parents despite knowing that Tanner, 55, had two previous convictions for assault occasioning actual bodily harm in 1981 and 1987.
The couple had also refused to undergo any formal training as foster parents, the court heard.
However, their reign of terror did not come to light until January 2000 after the Tanners' adult children and a family friend were accused of assault by the 40-year-old woman, Jacqueline Coleman.
The children – now young adults – came forward during the investigation into Miss Coleman's treatment.
The court also heard that the 12-year-old boy was forced to drink urine and eat excrement, hold books over his head for long periods and was regularly beaten. His head was shaved with an electric cutter used to trim the family's pets and was not allowed to sit on the sofa or chairs – these were reserved for the pets.
He was washed by being scrubbed down with a scouring pad, the court heard.
The girl, 13, who endured the Tanners' bizarre methods of discipline and cruel treatment for more than two years was punched and forced to hold weight lifting barbells over her head for long periods.
Excrement was forced into her mouth and Tammy Tanner encouraged one of the dogs to scratch and claw at her back, the court heard.
The Tanners' three children were also jailed: Preston, 20, for 12 months; Aaron, 25, for 12 months, and daughter Tammy, 28, for 18 months.
The Tanner children, said to be copying the behaviour of their parents, humiliated and abused Miss Coleman, making her dance naked in front of them holding heavy weights.
The girl had moved in with the Tanners as a foster daughter in October 1989, around two years after Jeffrey Tanner's last conviction for assault. She was finally removed from their home by social services in December 1991.
She had earlier written a letter warning of her plight to social services but the court heard that her plea for help had "fallen on deaf ears."
http://wfla.com/2018/02/20/former-hillsborough-foster-teen-says-she-survived-foster-care-failures-exposed-by-8-on-your-side/
TAMPA, Fla. (WFLA) — Hope Austrie is 18 years old, but as recently as a year ago, her most ambitious dream was a warm bed, a hot meal and someone who might listen to her story about life as a foster child in Hillsborough County.
Austrie called 8 On Your Side after our investigation exposed other foster kids spending their days, week after week, sitting in caseworkers' cars in the parking lot of a Wawa gas station on Waters Avenue because they had nowhere else to go. We saw the same girl there week after week sitting in cars instead of school. That struck a chord with Austrie, who aged out of foster care last April after five years as a ward of the state
"That girl was me," Austrie said. "It felt like a cage."
She's now living independently and attending HCC, but Austrie says her five years in foster care left scars on her soul that will be hard to forget.
"It felt like I was in a dungeon and I didn't have anybody to help me escape," Austrie said. She told us of bouncing between 20 or more homes during her five years in foster care, single night placements as far away as Orlando or Volusia County and spending many nights hungry and without the ability to take a shower or have fresh clothes because of her foster care instability.
Austrie remembers the kindness of a few caseworkers who seemed to care about her, and many who did not.
"They're monsters, that's how I see them – as monsters."
After giving birth at the age of 14 while in foster care, Austrie says she complained to DCF, the Inspector General and the private child welfare agencies the state pays to provide foster care in Hillsborough County such as Eckerd, YFA and Camelot. She railed about her own treatment and the inability to be with her daughter, who is now four years old and also in foster care.
Austrie said no one acted on any of her complaints of mistreatment, even after she reported bruises on her daughter that she believed was the result of abuse in a foster home.
"It makes me feel angry because it's like there's nothing I can do about it and I was in that situation," Austrie said. If Austrie could speak with DCF Secretary Mike Carroll who ordered the review, she says this is what she'd tell him: "Please, please do what you can to get the right people to help these kids. Otherwise its just going to be a revolving door."
http://articles.sun-sentinel.com/2000-06-15/news/0006150322_1_karen-gievers-federal-court-abuse-reports
One toddler from Flagler County is now partially paralysed after being beaten by a foster parent. Two sisters from Manatee County were tied by their wrists and ankles to their beds by their adoptive parents and made to sleep on concrete surrounded by a brick cage. A 14-year-old Hillsborough County girl lived for a nearly a year in an overcrowded foster home where children were punished with hot sauce on their tongues and with their heads dunked in toilets.
Meanwhile, a 5-year-old Miramar girl has spent the past 26 months in an emergency shelter without the benefit of a formal hearing placing her in foster care, even though state law requires such a hearing be held within 30 days of a child being removed from his or her home.
The state, the suit also said, discriminates against children based on their race, fails to properly investigate abuse reports about state-financed programs and purposefully keeps kids in care as long as possible to collect more federal money.
http://poundpuplegacy.org/
Three children taken into protective custody, adoptive parents arrested
Date: 2016-02-16
By Avery Anderson
NORTH NEWTON, Kansas – North Newton police said on Tuesday that they have taken three children and placed them into protective police custody.
The three children, two 11 year olds and one 14 year old, had been adopted from an orphanage in Peru.
Police say, it all started when the 11-year-old buy ran away.
"There were some concerns by the law enforcement that found him," stated Harvey County Sheriff, T. Walton.
After officials found the young boy, Sheriff Walton says they noticed bruises all over his body.
"That's what stemmed this investigation that was pretty intense," said Sheriff Walton.
After an examination, it was discovered that both 11-year-old children, one boy and one girl, were severely malnourished and had multiple bruises and broken bones.
Police say the adoptive parents, Jim Nachtigal and his wife Paige, were arrested for abuse of child, aggravated child endangerment, and aggravated battery.
KSN spoke to some of the Nachigal's neighbours, who say they had their suspicions, but had no idea that the situation was this far out of hand.
https://www.kron4.com/news/deputies-florida-couple-restrained-daughter-with-zip-ties-kept-her-in-playhouse/1033112735
Deputies: Florida couple restrained daughter with zip ties, kept her in playhouse
The 12-year-old girl told investigators that Eugenio and Victoria Erquiaga restrained her with zip-ties in front of her body when she gets angry and regularly locked her in a playhouse in a loft area of the home, which is used as her bedroom. She also demonstrated to investigators how she was "hog-tied" in the front of her body. Detectives went to the child's home and found a playhouse that was 5′ by 7′ wide and 7′ tall. The door can be barred shut by a large piece of wood and all but one of the windows had been screwed shut.
Deputies said the playhouse reeked of urine and the wooden floor was discoloured. The girl said that because she can't get out of the playhouse, she is often forced to soil herself.
Deputies asked the Erquiagas about an eye hook that was inside the playhouse. The Erquiagas allegedly said that they would secure the girl's zip ties to it to keep her from kicking the playhouse apart.
According to an arrest affidavit, the Erquiagas' told investigators that they only recently began using the zip ties after seeing them used on a police show on television.
They said the girl wore zip ties at all times so she could be immediately restrained whenever necessary. They said the girl would have violent outbursts without provocation and they believed she was delighted by the chaos she would create, according to the arrest affidavit.
They also told deputies that while the child is allowed to eat dinner with the family, which includes seven other children, she is sometimes forced to sit on the floor to eat.
Investigators say the couple defended their actions and blamed the girl's behavioural issues. They believed she needed to be restrained to protect her from herself and to protect the other seven children living in the home. [Author's note: Notice that it is not possible for the reader of the article to easily decipher, with "seven children living in the home", if the "couple" are the biological parents, foster or adoptive parents of this "daughter".]
http://hsinvisiblechildren.org/2014/05/20/2-children-of-erin-and-jennifer-pickel/
2 children of Erin and Jennifer Pickel
Erin and Jennifer Pickel abused and imprisoned two of their five children, a 15-year-old boy and a 13-year-old girl, starting in 2008. There were also two younger children and one child over 18 in the home. All the children were home-schooled.
The children, who were both adopted (the boy in 2005 and the girl in 2006) when the family lived in South Carolina, were periodically locked out of the home and forced to stay in the backyard playhouse, which had no electricity or running water. When they were taken into protective custody they were covered with cuts and bruises.
http://thefreethoughtproject.com/70-kids-missing-foster-care-kansas/
'Missing' from State Foster Care & No One's Stopping It
KVC Kansas, one of the foster care contractors, said it has roughly 38 missing children. The other company, Saint Francis Community Services, said 36 in its system are missing, according to KAKE. Senator. Laura Kelly told the Child Welfare System Task Force that she was "flabbergasted" after contacting the Kansas DCF about the sisters (ages 12,14 and 15 years)' disappearance from a northeast Kansas foster home – incredibly, Secretary of Kansas Department of Children and Family Services, Phyllis Gilmore, told Senator Kelly that they knew nothing about the missing girls.
Kelly said, adding that the Gilmore is not simply the head of Kansas DCF, but, also "custodian of these children and she should have known."
Although legislators expressed dismay over the missing foster kids, Chad Anderson, chief clinical officer at KVC Kansas, told the task force that the number of missing kids in Kansas represented about 1 percent of the foster care population – which is on par with the national average.
"I don't know that we as contractors have shared as much in terms of missing youth and the day to day as we probably should," Anderson said.
Gilmore said that while she couldn't comment on the missing sisters', in many cases, foster children simply go back to their own biological families or with other people they have a significant relationship.
"So it isn't always a tragedy, but some certainly can be and that's why we have to take it all very seriously," Gilmore said, according to KAKE. Sen. Kelly disagreed with her assessment, noting "that's not good" since they were initially removed from the home for a serious reason.
Chairman of the task force, Rep. Steve Alford, said after the meeting he wasn't really surprised and noted the broken nature of the foster system. "Once the children … (go from the court) into the possession of the secretary, she hands them off to the contractors and it's their responsibility, you know, it's kind of like out of sight, out of mind in a lot of aspects."
If these kids are slipping through the cracks, and virtually nobody in a position of stewardship seems to take responsibility or care, is the system really built to help these kids at all — or is it simply another case of crony capitalism, similar to the private prison industry?
https://www.kotatv.com/content/news/Search-for-missing-girl-continues-for-3rd-day-505366501.html?fbclid=IwAR3PEtthMapqhJ1JOZB-ZR36JQjiFjqtor8ScaGHjL1FNuZJME7s5z9_UTg
ROCKERVILLE, S.D. (KOTA TV) – More than 100 people, some with dogs, continue for the third day to search for a 9-year-old girl who ran away from the Children's Home Society near Rockerville. Serenity Dennard was last seen about 10:45 a.m. Sunday when she left the children's home.
https://www.kshb.com/news/local-news/child-struck-by-vehicle-at-us-40-and-phelps
KANSAS CITY, Mo. — A child was critically injured after being struck by a vehicle at US Highway 40 and Phelps Road in Kansas City, Missouri.
Police say the accident happened around 7:30 p.m Friday.
A six-year-old girl ran away from her nearby foster home and attempted to cross the street against the light when she was hit.
The driver of the vehicle stayed at the scene and is cooperating with the investigation.
https://www.theatlantic.com/education/archive/2014/02/every-time-foster-kids-move-they-lose-months-of-academic-progress/284134/
Students in foster care move schools at least once or twice a year, and by the time they age out of the system, over one third will have experienced five or more school moves. – Feb 28, 2014
Stacy West
October 7 at 8:17 PM
My children were put into a foster home thorough the State of Tennessee CPS in 2008 because their father liked to beat on me and i left him finally after 8 years of abuse, even with order of protection he would still harass me and find ways to get his hands on me! I had a nervous breakdown and cut my arms up pretty bad and he went and told cps and my children were taken from me. For 26 months i fought for them, i did Everything cps asked of me and in the process lost my apartment because i didn't turn it in that i didn't have my kids because if i did they would've put me in a 1 bedroom and i needed 3 to get them home. CPS then stopped any help , they wouldn't give me a letter stating i would get them back if i had a 3 bedroom apartment, i even had a lady through cac trying to help me and my cps worker told her with or without the app i wasn't getting them back , therefore the lady would no longer help me. Even though the apartment situation was the ONLY Thing Left on my perm plan… At my final hearing they said i had reached the max time of fighting to get them back and told me i could surrender my rights and the "foster parents" wanted to adopt and agreed to still allow visits and communications OR they were going to terminate and i wouldn't see them again till they were old enough to come find me. So Naturally i surrendered thinking that was best! Here it is 10 years later and up until my oldest two( Now 15 and 16) found me on Facebook last year i had went NINE YEARS WITHOUT SEEING or hearing from my children. My girls start telling me about all this abuse and neglect they've been through, about how Adopted mom is having a sexual relationship with her husbands son ( which was 12 years old when my children were brought into their home) is 20 now but still very disturbing… Adopted parents are in the middle of a divorce and the lady has completely abandoned my children and left my two teenage girls and my 12 year old son with this man and his brother! My girls talked to so many people…teachers, counsellors, police, CPS workers etc and told them of all of this and even showed pictures of bruises on them from being hit and pinched and yanked around, pictures of dishes broken all over the house from the "parents" fighting, and more and it took an entire Year for them to FINALLY remove my kids from that home just for them to return my son right back into it less then a week later and put my girls into a foster home/ residential facility … Im not sure if there is ANYTHING AT ALL i can do but my girls go to court the 9th and my youngest girl turns 16 on the 10th and my oldest turns 17 on the 22nd.can Anybody give me any advice?
Michelle Chan
9 October 2018 Yesterday at 8:19 AM
My son started crying hysterically tonight. He said he couldn't explain why he is crying, that he wasn't crying Bc he is scared of anything that is happening now, but that he was scared of the future- that he was scared that one day he might lose me.
#FuckCPS
There was nothing that they ever claimed that my son was at risk of suffering that was anywhere near the trauma they inflicted upon him. The social worker in my case smiled ear to ear the day she told me that my reunification services were terminated in a hearing I knew nothing about, in a case where I had been deprived of my right to trial the entire time. That day she said to me, "your son loves you, and you're a good mom. Too bad you couldn't get it together."
That day I walked out of her office and printed 1,000 flyers and started my campaign against those assholes. That day I swore that until my son came home, I would wage an all out war and that my enemies would regret the day they took my son away from his loving mother.
When my son first came home, he had nightmares that sliced through the heart. He tells me often that he misses me whenever I'm not around, and that even when I'm with him sometimes he misses me, if he doesn't have 100% of my attention.
Tonight was the first time he cried in months.
#fuckCPS
https://www.youtube.com/watch?v=UyYnw1rrvoM
Former Foster Child Shares Her Story: My Sky Is Falling [6:46] Published on Jun 11, 2013
By the time foster child, Lydia Joyner, was 18 years old, she had lived in 35 different homes, had 18 social workers, and had her name changed 4 times. In this emotional episode of Epiphany, Lydia, now an adult, opens up about her traumatic experience navigating the foster care system.
https://www.youtube.com/watch?v=6jgrKzG4pPA
My First Foster Home Experience #Fosties [23:56]
https://www.youtube.com/watch?v=ljDu4nNUPWI
Foster life story [8:28]
https://www.youtube.com/watch?v=C59Sv7LCN84
My Foster Care Abuse Experience | My Story pt. 2 [19:05]
https://www.knowable.com/kids-in-the-foster-care-system-share-their-horror-stories?rebelltitem=5#rebelltitem5
Marmilak
My parents just recently got divorced and they were fighting really bad. My mom moved us back to Florida from Illinois and had us stay at our Aunts house for a month or two. At the time there was 4 of us. I was 3 to 4 years old. My younger brother was around 2, my older sister and brother were no older then 11 or 12. Anyway. My mom went back to Illinois to finalize some things and get some belongings of ours. So we lived with our Aunt. Within those first two weeks, from what my mom told us, after signing temporary power of attorney over to my aunt, she put us in foster care. I was in multiple homes, from what I can remember. I was so young but some memories will never leave. One of the first homes was the worst one. If I didn't eat my food, I stayed the night at the kitchen table. One time I threw up and I got thrown into a room for a full day and wasn't allowed out. I remember crying under the door saying I was sorry. That same house had like 6-7 kids in it. I shared a room with 4 other children. From what I remember though, the children were very nice. The parent/Foster parents were terrible. They fought each other. It was honestly the scariest s*** I saw when i was that young. Then I got moved houses after some time. I can't remember them all, but I do remember temporarily being under the same household as my younger brother. We had a very very nice woman and her older son? Maybe husband? They were So nice. We called her Mrs. Kim. She bought us so many toys, took us to the park all the time. She was an angel. I remember her face still to this day. I hope she's doing well.
PoopFlavoredGum
Children are not a check! Almost failing my classes in high school because 10 teen girls in a 3 bedroom house with 2 staff members and 1 van meant getting home from everybody's drug test appointments and grocery shopping at like 8 at night, and nobody was allowed to be in their rooms until bedtime, so no homework got done until 10PM under my sheets with a flashlight. Only ever got half my work done and started getting into trouble for falling asleep in class. Bullied for being the only girl in the house who didn't drink at every possible opportunity. New staff every month or so because the pay was crap, so never had anyone to talk to. Verbally and emotionally abused by the power-tripping b***h who owned the place and collected checks for every girl who stayed there. Got beat up for reading. Had to watch Grease and Legally Blonde on repeat every night because those were the only two movies we had. No privacy, no respect, no compassion. We were simply cattle.
KishinB
I wasn't in foster care but I was in and out of group homes which is similar. Many things have happened but the most memorable one is being chased by a kid Ashley down the hall and calling for a staff to help and not being helped. Other ones include falling asleep in the shower due to meds I didn't need to be on and being dragged out. I also remember seeing people's ribs broken. Stuff like that.
Skullvapor
Well I wasn't allowed to shower. Only once every couple of weeks. I had to go to other people's houses and the schools to wash. I had to walk on the freeway to school and it rained a lot in the town so my shoes smelt bad and my toes kinda pushed together from where the shoes got smaller. Then my toe nails got infected and they still are. I got called ugly and dumb. Oh and best part! The system told me to suck it up because I could get worse people.
https://www.independent.co.uk/news/uk/politics/children-in-care-residential-homes-missing-paedophiles-drugs-gangs-adoption-a8340006.html
Hundreds more children 'farmed out' to care homes miles from where they live despite pledge to cut number of out-of-borough placements.
The number of children who were sent to residential homes far away from their home town in England rose by 64 per cent between 2012 and 2017, Labour MP Ann Coffey has revealed.
There has also been a surge in the number of sent-away children going missing from their care homes, with the number of incidents more than doubling – from 4,380 in 2015 to 9,190 in 2017.
'These children are being targeted and preyed upon by pedophiles and criminals who know they are vulnerable,' says Labour MP Ann Coffey.
Follow this link for further State/Foster child abuse case information:
http://hsinvisiblechildren.org/category/adoption/
Or this link:
http://poundpuplegacy.org
Or this link:
http://medicalkidnap.com/
http://medicalkidnap.com/2018/09/25/medical-kidnapping-is-big-pharma-responsible-for-the-majority-of-the-nearly-half-million-children-put-into-the-u-s-foster-care-system/
Justina – Kidnapped by Boston Children's Hospital
Medical kidnapping has been defined as the State removing a family member from their home for medical kinds of reasons, such as parents asking for a second opinion or disagreeing with a doctor. It is a subset of the larger issue of "State-sponsored kidnapping," where Child Protective Services forcefully seizes custody of children from their families.
Lou Pelletier used the word "kidnapping" in an interview with Beau Berman of Fox 61 News, telling him that "It was kidnapping" when Boston Children's Hospital and Massachusetts CPS seized his 14 year old daughter Justina from her parents' custody over a medical disagreement.
Mr. Pelletier defied an unconstitutional gag order in order to tell the public what was happening to his daughter: A doctor at Boston Children's Hospital was conducting a study on somatoform disorder when Justina came into their emergency room. The doctor disagreed with the diagnosis of mitochondrial disorder by her regular doctors at Tufts Medical Center, saying that Justina actually had the medical condition for which he needed another subject in his medical trial. Justina was made a ward of the state, for her "parents disagreeing with the diagnosis" of this doctor. The doctor continued his studies.
It was through Justina's story that we learned that children who are wards of the state – foster children – can legally be used in medical research projects and pharmaceutical drug studies without their parents' knowledge or consent.
Former U.S. Representative Michelle Bachmann sponsored the bill "Justina's Law" on Capital Hill in the attempt to thwart such unethical behaviour by doctors. She told Fox 61 News:
We know that this is happening all over the country in all 50 states, that children who are designated wards of the state, are having medical research done on them that may not have any direct benefit whatsoever to the child and in Justina's case,- who was kidnapped as a ward of state. Justina was paralysed by this hospital/doctor's medical research. (See link).
The bill went nowhere, and to this day, the practice of medical experimentation on foster children is still legally allowed to take place.
There were other stories that made headlines. Health Impact News covered these stories after local media reported them, including:
• the Godboldo family of Detroit, where CPS sent a SWAT team in 2011 after a mother who refused to give her daughter dangerous psychotropic drugs. See story here.
• the Nikolayev family in Sacramento, California, in 2013. The parents wanted a second opinion before allowing surgeons to perform heart surgery on their baby. When they took their baby out of the hospital, CPS sent police to their home to seize the baby. See story here.
• Isaiah Rider, the Missouri teen who had surgery in Chicago. When doctors told them that there was nothing they could do for Isaiah's pain and seizures, his mother wanted to take him to another hospital. CPS was called and Michelle Rider was kicked out of the hospital. See our extensive coverage of their story here.
https://www.crimeonline.com/2019/02/07/foster-parent-of-the-year-charged-with-abuse-after-children-show-signs-of-burns-beating-report/
A woman who had been honoured among "Foster Parents of the Year" has been charged with abuse. The Niagara Gazette reports that Kathleen M. Jackson, 50, of the City of North Tonawanda, New York, which is near Buffalo, was arrested on December 19 and faces two charges related to the alleged abuse of a child in her care.
Law enforcement sources told WGRZ that the alleged abuse victim is a 2-year-old boy who was being fostered at Jackson's home along with his two siblings, ages 1 and 5. The children had reportedly been with Jackson since August, when their mother lost custody due to a complaint regarding unsuitable conditions at her home. " …the case worker told us it was to be with a woman that was awarded the number one foster home in May … that I had nothing to worry about and my kids were lucky to go there," Adams said. But during supervised visits, Adams said she began to have concerns that her children were not being properly cared for. In one case, she said her 5-year-old son had an infected burn on his wrist, and she also saw what appeared to be indications of abuse to her 2-year-old son. "He complained that his back hurt, and he had diaper cream from high up on his back all the way down to his ankles," Adams told the news station. "It looked very much like someone took a belt to my 2-year-old son and beat him with it."
https://www.columbian.com/news/2015/aug/26/vancouver-couple-who-abused-children-will-serve-20/
Jeffrey Weller, 46, and Sandra Weller, 52, had been sentenced to 21 and 20 years in prison, respectively, in March 2013 following a jury trial. A judge on Thursday ordered the couple to each serve 20 years. The couple abused the adopted twins, a boy and girl, by keeping them confined to their rooms for long periods of time. They fed the children only once a day, sometimes with moldy or rotten food. Meanwhile, the Wellers' four other children were fed hot prepared meals. When the twins attempted to steal food, they were beaten with a board until they bled, according to court documents. The twins, who are now young adults, and their siblings were removed from the Weller house on Oct. 7, 2011. The Wellers would have served no more than 10 years in prison under standard sentencing guidelines. However, the jury found there were aggravating factors that allowed for an exceptional sentence. Jeffrey Weller had received an extra year in prison because he was convicted of assaulting two more children: his biological son and Sandra Weller's biological son. On appeal, the couple argued, among other things, that their exceptional sentence was invalid because there was insufficient evidence to support the jury's findings of the aggravating factors — deliberate cruelty and an ongoing pattern of abuse.
https://www.youtube.com/watch?v=q3HHGEblnWg
Twin Details The Extreme Abuse She And Her Brother Suffered At Hands Of Adoptive Parents [4:08] Published on Mar 23, 2016. Christa and her twin brother were adopted by Jeff and Sandra Weller when they were young – and she says what followed was years of extreme physical and emotional abuse at the hands of their adoptive parents.
https://www.seattletimes.com/seattle-news/when-a-14-year-old-foster-kid-runs-away-is-jail-the-answer/?fbclid=IwAR1SItsWK8bZ8hbysB1JXgVgFef-_ZZ_IYqJZ06FrHZotfxzCBDZ-UCCyRM
She is 14, and looking for a family. She had one once. Her mom died of cancer a couple of years ago, and her dad killed himself five months later. She became a ward of the state. But the state, as she sees it, doesn't know what do with her. Short on foster families willing to take teens, it first parked her in a group facility. So, in January 2018, when a teen she met at the facility offered an introduction to a "street mom," she ran. She's been running off and on ever since — once remaining missing for four months. Thin, with dark hair she sometimes tucks into a bun, leaving a sweep of hair in front, she preferred living with the "family" she found herself, even if they were all in desperate straits together, holed up in tents on dismal patches of land near the freeway.
Last month, though, she was stuck again. More precisely, she was locked up — in King County's youth jail. She hadn't committed a crime. In Washington, unlike in many states, running from a foster placement is a jailable offense. Juvenile-detention facilities throughout the state jailed 123 foster kids in 2017, sometimes multiple times.
https://lasvegassun.com/news/2005/nov/30/grandmother-wants-answers-in-babys-death/
Genesis Acosta-Garcia was among the most vulnerable children in society.
Society, sadly, could not save her. And now, her grandmother worries that society is unwilling to even perform an autopsy that perhaps could fully answer why. The 3-month-old was born prematurely to an 11-year-old mother. Her 23-year-old father, Carlos Noguera, is behind bars at Clark County Detention Center, facing multiple charges of sexual assault and lewdness with a minor. The county quickly took Genesis out of her young mother's custody and placed her into the Department of Family Services' foster care system, first at the county-run shelter Child Haven and later with an unidentified foster mother. A day before she turned 3 months old, however, Genesis died of an apparent viral infection at University Medical Center while still in the county's custody. Her grandmother said she had told Child Protective Services caseworkers that her granddaughter was showing symptoms of a fever or cold for at least a week. "I told the social worker, 'The baby is sick,' " the grandmother, 31, said. "She told me she would tell the foster mother so they can take (Genesis) to the doctor." The grandmother said she told a caseworker that the baby was sick on Nov. 13, during a routine visit between the baby and her biological family at Child Haven. Genesis was coughing, had a runny nose and was warm to the touch, her grandmother said. After expressing concern about the baby's health on Nov. 13, the grandmother next heard from Child Protective Services on Nov. 16, when a caseworker called and told her that Genesis had been rushed to UMC at 1 a.m. because the infant "refused to drink and eat," the grandmother said. Three days later, on Nov. 19, the baby died. The coroner later ruled that Genesis died from organ failure caused by a viral infection.
https://www.wowt.com/content/news/Couple-gets-probation-for-abusing-adopted-sons-506854221.html?fbclid=IwAR12Xow407mN6v9M2-ZmDdPGOannjNYEJ7AosldyalV-E0ftfvQQk25OkBo
Court documents state the couple, Blaine and Donella Busker, locked the cupboards and refrigerator to keep their 14- and 15-year-old adopted sons from eating snacks and restricted their ability to wash. They also sometimes sat on the boys' chests as punishment, the documents state. The boys are in state custody and say they don't want to reunite with their adoptive parents anytime soon.
https://www.nbcnews.com/news/us-news/mother-accused-abusing-7-adopted-children-force-them-perform-youtube-n985216?cid=sm_npd_nn_fb_ma&fbclid=IwAR3BWjapVhG202crxYbDyUu4HOSPRfk3b-d-RZZgB1qdkeOgReEKtzPULlI
An Arizona mother is accused of abusing her seven adopted children to get them to perform for her popular YouTube channel, "Fantastic Adventures."
Machelle Hackney and her two adult sons were arrested Friday and are facing abuse charges. Police said Hackney withheld food and water, restricted restroom access, beat and pepper-sprayed the children when they failed to follow direction for YouTube videos, according to a probable cause statement from the Maricopa Police Department. Hackney, who goes by her maiden name Hobson, denied abusing the children and stated the only forms of punishment she uses is spanking and grounding children and having them stand in the corner, according to police documents. They also claimed their adoptive mother abused them whenever they forgot their lines or didn't participate as instructed, according to court documents. They said Hackney would use a hanger, belt brush or her knuckles to beat them.
YouTube confirmed the channel was demonetized once they were made aware of the arrest. Officials performed a welfare check after police were contacted by Hackney's biological daughter, who was informed of the allegations by her adopted siblings. During the check, officers found one child in an unlocked closet wearing only a pull-up diaper. "Officers came in contact with the six other children, who appeared to be malnourished, due to their pale complexion, dark rings under their eyes, underweight, and they stated they were thirsty and hungry," according to the probable cause statement.
https://www.dailymail.co.uk/news/article-6963169/Foster-mother-45-abused-five-year-old-girl-point-death-jailed-7-years.html?fbclid=IwAR1VJrd_bGKPFgcuzxI4R0dxfQ_9GQZBYOT-qqQbhQDmT2zYj3UjBfLZn_4
Sharon Lippett, 45, put her five-year-old victim through a horrendous campaign of abuse spanning three-and-a-half years after adopting her at the age of two in 2012. The little girl was hospitalised in June 2015 with injuries so bad doctors said she was lucky to be alive.  Lippett was found guilty by a jury unanimously yesterday of three charges of cruelty to a child under 16, causing unnecessary suffering to a child, and wilful neglect of a child between January 2012 and June 2015 at Gloucester Crown Court.Lippett's partner, Kyle Marshall, 22, of the same address, was found guilty of wilful neglect by a jury majority of 11-1 but not guilty of a second count. Her son Tony Lippett, 28, also of the same address, was convicted unanimously of wilful neglect and by a majority of 10-2 on a charge of 10-2 on the child cruelty charge. Both men will be sentenced at Bristol Crown Court on May 15.  'She [the victim] was extremely unwell,' said prosecutor Simon Dent at the beginning of the four week trial. 'She had two fits, and was drifting in and out of consciousness. 'When examined, and when her clothing was removed, they found really quite severe bruising on a lot of her body.'
https://www.dailymail.co.uk/news/article-7028213/Foster-son-Jehovahs-Witness-Enice-Spry-describes-evil-child-abuse-Channel-5-documentary.html?fbclid=IwAR0ntgCAqDpKWZs4C83jIcVWh1vRVqB8ZbbwQy8_VZ0n8pJUnCiIg9mYQQg
Christopher Spry, 30, suffered horrific abuse at the hands of his foster mother Eunice Spry, now 75, over a 13-year period. She systematically tortured him from the age of three, along with her other two foster children Victoria and Alloma.  Mr Spry, who lives in Gloucestershire, has been left in constant pain and battling mental health issues after she made him eat his own vomit and rat excrement.  He says, 'I don't think she was insane, I don't think she was particularly mad, just evil. Just pure evil.' He tells the documentary how she used to force sticks, knives and even a machete down his throat and that he is now terrified of going to the dentist because he suffers flashbacks. Medics found a small part of a metal blade lodged in his jaw where the Jehovah's Witness foster mother had attacked him with a knife. Foster mother Eunice Spry, now 75, would beat the three children with a chair leg at their remote farm in Tewkesbury. She would often starve them and on one occasion locked them naked in a room with nothing for a month. The abuse was finally discovered after a Jehovah's Witness secretly confronted Victoria about marks to her head caused when Eunice Spry rubbed sandpaper over her face.
After managing to escape the house in 2004, aged 19, she then plucked up the courage to report her foster mother to the police. Eunice Spry was initially jailed for 14 years for her crimes in 2007, but had the tariff reduced to 12 years by the High Court and was released in the summer of 2014.  Mr Christopher Spry (30), who is now a youth worker and married to his wife Emma with whom he wants to have children, suffers from post-traumatic stress and often sleeps for just three hours a night because of the impact the abuse has had on him. He is in constant pain, walks with a limp, and is getting treatment for scars that have turned cancerous.   
https://atlantablackstar.com/2019/08/05/white-iowa-couple-sentenced-to-two-months-probation-after-pleading-guilty-to-abuse-starvation-of-adoptive-ghanaian-children/?fbclid=IwAR2Qlx-d0bhSh_sBsQ4nZnHZfigXNXj3gPvzyroKdmOAdLjowfVyeVMA_3o
Couple Kenny Fry, 42, and wife Kelly Fry, 40, pleaded guilty to two counts each of child endangerment, an aggravated misdemeanour, the Des Moines Register reported. The couple originally faced charges of child endangerment causing bodily injury, and neglect [or] abandonment of a dependent person after doctors determined their two adoptive kids — a 10-year-old girl and an 11-year-old boy from Ghana — were severely malnourished — The pair had adopted the siblings years earlier, only to subject them to starvation, emotional abuse and unsanitary living conditions inside their Osceola home. Still, they won't face any jail time.
The children, who were removed from the residence last year, told police they were remanded to their bedrooms for several hours a day and forced to use a plastic bucket as a toilet. If they dared to leave their rooms, the kids said an alarm would sound and they'd be disciplined with physical exercise, including squats and push ups. In addition to being served oatmeal for breakfast, lunch and dinner, the brother and sister shared a bedroom furnished with nothing but a small plastic mat, a throw blanket and a single shelf on the wall, according to investigators. Doctors later found that the girl child had a "distention of her abdomen" consistent with malnutrition while the boy was much too small for his age. Meanwhile, the Frys' five biological children weren't subjected to such inhumane treatment and were cared for properly. The couple claimed the  abuse was a form of punishment for the adopted children's bad behaviour.
https://www.walesonline.co.uk/news/wales-news/dad-stabbed-young-boys-mum-17148537
for Chris Kinsey, one of his first memories is the dark night his father stabbed his mother to death when he was aged just four years old. Despite the horrific murder of his 31-year-old mother, Chris's father, who also had an address in Port Talbot, was out of prison in less than two years and back in custody (given custody) of his son.  After a court trial he received a four year sentence of which he served 18 months before being released for "good behaviour". Chris said: "Back then it was called crime through passion. To me, he had murdered her. "He stabbed her on the garden at my grandmother's house." During the trial and his father's prison sentence, Chris was passed around family members before later entering the care system.
But he and his brother were then sent back to live with their father. Chris said: "Those two years were probably the scariest time of my life. At five years old I would defy anyone to have any childhood memories, but I can honestly say after that age my memories are sharp. I can remember everything. "Being sent back to live with him at seven years old until the age of around eight and a half, nine years old, was awful. "It was neglect and abuse of the highest level. It was constant. We were totally ignored.
With his father and his new wife rarely feeding them, Chris relied on school dinners, the generosity of neighbours or shoplifting to survive. But just a couple of years later Chris's father was back in prison – for almost beating his second wife Dianne to death in the family home. "The first fear of mine was that we were next, because he'd locked us in and we couldn't get out. "There was blood, glass, beer bottles, the bedding was everywhere the lamp was on the floor. "I could only describe it as like an Alfred Hitchcock or Agatha Christie murder scene." Jimmy, his father, was once again sent to prison for 18 months, and Chris was later adopted. Chris said: "They talk about the system letting you down. But there wasn't a system in place for our sort of situation then. They let us be dispersed amongst her members of family and some of us went to his members of family. And we were all brought up to mistrust and despise each other."
https://www.expressnews.com/news/local/politics/article/Federal-judge-reacts-to-cinder-block-cells-14828991.php?fbclid=IwAR36QjNFexlAhvV6TPstS-UKhmqoUhVlXpCiVi3FWnmwXEVVZSc_NMyPFy8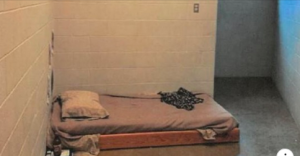 AUSTIN — The leader of the Texas child protection agency said she was "horrified" by photos that show children in foster care staying in small, cinder-block rooms at a Hill Country facility, with virtually no furniture except for metal sink-toilet combos like those found in state prisons. An image of one room shows a child lying on a green mat on the concrete floor with a mural of an angel cradling a child on the wall above. U.S. District Judge Janis Graham Jack and the court-appointed monitors working for her were shocked by the conditions.
"It is hard to envision a less therapeutic environment — aside from jail — for youth with a history of trauma or intense psychiatric needs," the monitors wrote in a report filed last week. But Hill Country Youth Ranch in Kerr County has undergone 54 state inspections in the past three years that mention nothing about the eight rooms. Founder of the private organisation Gary Priour said the monitors took the photos out of context and didn't highlight the campus' many cottage homes, horse program and arts center that have earned praise from the state. "We have to have a couple of minimalist rooms where the children can't hurt themselves," Priour said. "I felt hammered by the way they presented it. It's just a shame."
The monitors, however, reported they interviewed children who said they hate the unit so much they avoided telling anyone when they were ill because they didn't want to be sent there. Jack in 2015 found Texas manages its foster care system so poorly that children "almost uniformly leave state custody more damaged than when they entered." Jack appeared to be most troubled by the mural in a room where the monitors said children who may be suicidal are held, which depicts "an angel taking a child up to, assuming, it was heaven," Jack said. "What would be the message in that?" she asked Associate Commissioner of Child Protective Services Kristene Blackstone during the hearing in Dallas last week. "Did you see that picture? What did you think of that?" "I was pretty horrified," Blackstone said.
https://www.youtube.com/watch?v=UbAeH6DSBsI&fbclid=IwAR28-0W3Jsd29y2cJ6XmRj4ZYNoPW4b-OcXox4vwpoJjVIh_MUR1vqKEGD0
Former foster children say they endured abuse for years (7:16) [Author's note: The victims of this crime calls it torture, not abuse. The author agrees with the victims.]
https://www.wkyt.com/content/news/Winchester-foster-mother-accused-of-pouring-hot-drink-on-10-month-old-child-565693901.html?fbclid=IwAR0WIRpe4npNMFt85JSxdlZQhvKgPvJpMINC-J1LbIA5Z1KZ7_kkEAWQLeg
Foster mother Ashley Neal is facing a criminal abuse charge after police say she poured hot chocolate on a 10-month-old baby's head. (Clark County Detention Center / WKYT)
https://www.youtube.com/watch?v=UJVKivzDLR8&feature=share&fbclid=IwAR294CrQ36j6W6y4lYVddD5kIObL_v0uZoSBr4LUyKFtbmmzt7xsmR0sgcE
Teen in care treated 'like stray dog' – BBC Newsnight (10:36)
https://www.youtube.com/watch?v=WQIjwpcc2sk
Britain's hidden children's homes – BBC Newsnight(22:05)
https://www.kron4.com/news/national/boy-found-near-death-after-locked-in-basement-for-2-years-lawsuit-says/?fbclid=IwAR3LMeAMSjWjCburCR6o22EFSqpih2LbhKuZzDPwVpaXIAE9tHjLVCUJuzs
HELENA, Ala. (WIAT) — The brother of a boy found malnourished and locked in a basement in 2016 has sued their adoptive parents, his attorney confirms to CBS 42. Eddie Carter, now 21, filed a lawsuit Friday, seeking $5 million in compensatory damages for his now 17-year-old brother against their adoptive parents, Richard and Cynthia Kelly. The couple pleaded guilty to aggravated child abuse earlier this month.
https://patch.com/california/banning-beaumont/foster-mom-arrested-accused-child-abuse-rivco?utm_source=facebook.com&utm_medium=social&utm_term=crime+%26+safety&utm_campaign=autopost&utm_content=banning-beaumont&fbclid=IwAR2GasqJoZJyWxqyxvavzXNXAfTLckNR6HJX9TMS-AJiCbdFxN8N6SK21u4
TEMECULA, CA — A 43-year-old foster parent from Temecula was arrested Wednesday morning on child abuse-related charges after a months-long investigation that began when a 3-year-old girl, in her care, was seen at an area hospital for injuries that appeared "suspicious in nature," according to authorities. The child-abuse case, launched in October when Temecula sheriff's station deputies were called to the medical facility for the youngster's injuries, now includes allegations of possible physical and verbal abuse of the child's 11-year-old brother, also in the care of the suspect, Yoko Issac, the Riverside County Sheriff's Department said. The siblings resided for the past two years with Issac in her family home.
State/Foster care psychiatric drug abuse performed on children:
http://www.huffingtonpost.com/anne-stevenson/top-5-hhs-programs-endang_b_1511613.html
This report by ABC News reporter Diane Sawyer showed that 25% of all foster kids were on psychotropic drugs, and the States did not do enough to oversee them.
https://www.youtube.com/watch?v=nnNyA3v7U80
Child Protective Services Destroys Kids & Here's PROOF.flv (9:47)
Published on Apr 19, 2010
Child protective Services hates, and wants to destroy, children. 
If you think that's a crazy, wacko conspiracy theory nut-job statement, then watch this video and tell me why they are doing what they are doing if they don't hate children? Only someone who hates children could do this….
https://www.youtube.com/watch?v=VYC-EJ18IT0
3-year-old prescribed six psychotropic drugs in CPS' care ~ 4th Report (5:50)
https://www.youtube.com/watch?v=QxkCjeyeCXk
Psychotropic Drugs on Foster Children ABC 20/20 2 Dec 2011 (4:50)
Once children are "in care", all their expenses are on taxpayer's tab. This includes expenses on prescription drugs. Such deep pocket permits another round of free spending on the psychotherapy industry. There are more and more complaints of "Child Protective" Services in English-speaking nations of forcing removed children to take lethal, addictive drugs for non-medical reasons. These drugs include antidepressants, anti-psychotics, mood stabilisers, anxiety medications, anti-convulsants medications.
Edgy and jumpy children are nightmares to foster parents. It is imperative for service providers in the "child protection" industry to keep children "in care" under control and silence their desire to go home. Be mindful that CFCSA theoretically obliges judges to hear the views of children, although this is seldom practiced. A noteworthy observation is that judges occasionally hear secondhand hearsay information via testimonies from "child protection" workers and assessments from MCFD paid psychologists, who obviously have a vested interest in preventing prompt return of children to their families. We have not seen removed children to voice their views when making "plan of care" in court.
https://youthlaw.org/federal-court-allows-missouri-foster-care-suit-proceed/
The first federal class action lawsuit to shine a spotlight exclusively on the widespread, and potentially dangerous, use of psychotropic medications among children in state care,M.B. v. Corsi alleges that the Missouri Children's Division (CD) is engaging in longstanding and deliberately indifferent practices that fail to ensure these drugs are administered safely and only when necessary. National non-profit organisations Children's Rights and the National Center for Youth Law (NCYL), the Saint Louis University School of Law Legal Clinics and pro-bono counsel Morgan, Lewis & Bockius LLP filed the case in June 2017 on behalf of a putative class: all minor children and youth who are or will be in Missouri foster care.
In denying the majority of Defendants' motion to dismiss the case, United States District Judge Nanette K. Laughrey wrote: "There are clearly plausible allegations that Defendants (Missouri Foster Care) … actually knew of the serious risk of harm. Yet they have not adopted any systematic administrative review because Defendants can't find the medical records of the children. But the absence of the medical records itself creates an unreasonable risk of harm and the Defendants (Missouri Foster care) are aware of that risk as well."
http://www.smh.com.au/nsw/mother-branded-mentally-ill-after-complaint-20100929-15xij.html
A MOTHER who raised serious concerns about the care of her intellectually disabled daughter at a group home was taken to the Guardianship Tribunal where the state government tried to strip her parental rights.
Documents obtained under freedom of information show disability bureaucrats tried to portray the mother as mentally ill and unfit to make decisions about her daughter.
The mother, staff at her daughter's special school and her psychiatrist had made complaints that Lifestyle Solutions, the government-funded non-profit organisation that ran the Sutherland Shire group home, was failing to follow treatment plans, had untrained and inexperienced staff, and used psychotropic medication on residents without consent.
The daughter, who has a moderate intellectual disability, extreme anxiety disorder and autistic tendencies, was given such high doses of sedatives that she had difficulty speaking, standing or staying awake.
http://mobile.wnd.com/2012/12/psych-meds-linked-to-90-of-school-shootings/
Some 90 percent of school shootings over more than a decade have been linked to a widely prescribed type of antidepressant called selective serotonin re-uptake inhibitors or SSRIs, according to British psychiatrist Dr. David Healy, a founder of RxISK.org, an independent website for researching and reporting on prescription drugs.
Though there has been no definitive confirmation that drugs played a role in the Newtown, Conn., assault, that killed 20 children and six adults, media have cited family members and acquaintances saying suspect adopted child Adam Lanza was taking prescription medication to treat "a neurological-development disorder," possibly Aspergers.
Healy cautioned that the public needs "to wait to find out what Adam Lanza was on, and whether his behaviour does fit the template of a treatment-induced problem."
However, in an email to WND, he said he suspected prescribed psychiatric medications was the cause of Lanza's violent behaviour.
Healy said that while the public waits to learn more about Lanza, there are two general points that can be made.
First, he said, "psychotropic drugs of pretty well any group can trigger violence up to and including homicide."
"Second, the advocates of treatment claim both that it is the illness and not the drugs that causes violence and that we are leaving huge numbers of people untreated."
But Healy argued that if this were the case, "we should not find that comfortably over 90 percent of school shootings are linked to medication intake."
Dr. Peter R. Breggin, a Harvard-trained psychiatrist and former full-time consultant at the National Institute of Mental Health, told WND it's likely that problems for Lanza began with "getting tangled up" with psychiatric medicine.
Breggin insisted there has been overwhelming scientific evidence for decades correlating psychiatrically prescribed drugs with violence.
https://www.youtube.com/watch?v=DjVhJFiRGjU
Big Pharma Mafia & FDA Exposed by Whistleblower Gwen Olsen! (5:03)
http://medicalkidnap.com/2015/05/21/former-foster-parent-exposes-how-cps-kidnaps-kids-away-from-good-homes-puts-them-on-drugs/?fbclid=IwAR1qDsiDzVFZi09CdOv9id8XLcRkJFOlrndHQKjk6cSX3Z2lq11-mCvgp1c
FORMER FOSTER PARENT BLASTS CPS AND FOSTER CARE SYSTEM'S ABUSES OF POWER (DRUGGING CHILDREN) By Nehemiah Flynt
author of Legal Discrimination. I became a foster parent with the intentions of putting a roof over the heads of orphaned children. I had no idea what I was getting myself into. By the time I completed the training process, I understood that the majority of the children that would be entering my home were not orphans. I was brainwashed into believing the children had come from abusive and neglectful homes. I was told the state had rescued them from horrible living environments and that I was somewhat of a hero for taking them in. They were all lies. It took several years for me to truly see what I had become a part of. Child Protective Services was stealing children from loving biological families. The reasons they took children into their custody varied. A few had actually been abused or neglected in their biological homes, but the majority had not been. Some of the children that entered my home were taken from their families because their parents had argued out in public, because the children had punched holes in their walls, because the children refused to go to school and the parents were afraid of getting in trouble for physically making them go, etc. I began to notice a pattern. AT LEAST  90% OF THE CHILDREN ENTERING MY HOME WERE ON MEDICATION FOR LABELS SUCH AS, ADD, ADHD, or ODD.
I didn't understand that. I began researching statistics and realised that children in foster care were being labeled with hyperactivity disorders at rates well above those of children in mainstream society. I wondered why, but didn't question that. Foster Care Drug Problem In time, however, I began looking at the specific medications individual children were on. One young man that moved into my home, at around the age of eight, was having trouble getting up in the mornings. I would have to literally stand him up to his feet to wake him up.
His teachers complained that he was falling asleep in class. His hands trembled. He was malnourished. He had already been passed in and out of a multitude of other foster homes, due to his out-of-control behaviors. When I looked into his medications, I discovered he was taking three different medications to stabilize his moods, two other medications to control hyperactivity, and different sleeping pills. I contacted his legal guardian through the DHHR and told her I felt he was being overmedicated. She insisted he was not. I contacted his case manager through the foster care agency. She said this boy needed medications and I should not try to convince them otherwise. I questioned the psychiatrist he was seeing about the medications, but he said the DHHR had repeatedly requested increases to his medications as he was tossed from home to home. After battling this for quite some time, the state finally partially admitted he had been over-medicated, and began weaning him off most of those medications. From that point forward, I began looking further into what was taking place in "the system."
Foster Children Abuse
The stories foster children told me were unbelievable. Can you imagine a new foster child moving into your home and saying, "In my last foster home I had to sleep in a cat's bed because they didn't have enough beds in the home. The cat kept pawing and meowing at me every time I was trying to sleep."? Or an older teenager telling you, "My former foster mother made me sit in the back of her Lexus, so her dog could sit up front in the passenger seat."? How about another foster parent telling you, "I asked the foster care agency if they can place an older boy in my home so he can mow my grass."? What about a case manager from the foster care agency saying, "We appreciate you agreeing to take this boy in. His former foster parents said they couldn't control him. By the way, when you get his belongings, you might want to put them in the trunk of your car and roll your windows down. The foster family lived on a farm and his belongings have a foul odor to them. You may even have to put everything down in your basement and air them out before you bring them into the main house."?
The longer I fostered, the more upset I became. As I questioned my superiors, I was frequently told that I needed to simply worry about caring for the children that were placed in my home. I was threatened with having my foster home shut down simply for standing up for the rights of the various children that had been herded in and out of my home like cattle.
Quitting Foster Care – Joining Christian-based Ministry
Later on, when I finally decided enough was enough, I ceased fostering and began working for a Christian-based program that believed in helping troubled youths without the aid of medications. It was a very successful program and was making a huge difference in the lives of America's youths.
CPS Attacks Drug-free Ministry to Youth
A few years later, however, Child Protective Services got wind of our program. They didn't like the fact that we were teaching our youth Biblical standards, a work ethic, that they were not victims of society but were responsible for the choices they were making, and that medication was not the answer to all of life's problems. They placed a target on our heads and did everything in their power to override our constitutional rights and to stop the work we were doing. They have an agenda to medicate as many children as they can, to label them with mental health disorders, and to stop anyone who stands in their way – at any cost.
In an effort to put a stop to this wickedness, I have recently written a book, Legal Discrimination, which details many different facets of the corrupt system that is ruining our nation's children and families. The book will soon be available for purchase on Amazon in both paperback and in Kindle versions.